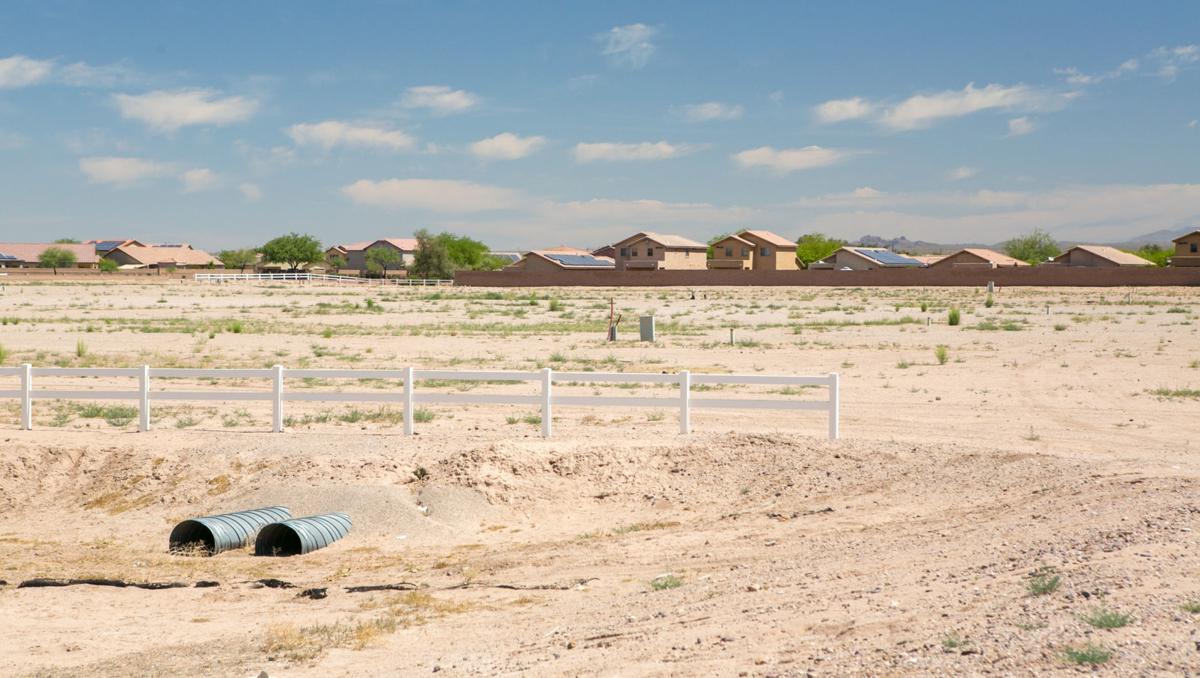 Residents eagerly awaiting the arrival of a planned Fry's store near the rapidly growing Gladden Farms area in Marana will have to wait for another grocer.
Kroger, Fry's parent company, recently announced plans to scrap the planned store and will sell the 11-acre site on Tangerine and Lon Adams roads.
"Although this is not the outcome we have all been hoping for, the association and your board of directors believe that this news can result in a positive turn of events for the community," a note sent to area residents says. "Rather than have a corporation continue to own the parcel but have no definitive plans or schedule for construction, the site can now be purchased by an entity that will move the project forward."
Last year, Kroger announced plans to cut back on new stores by 35 percent and focus on remodels and digital sales.
Competitors kept out
In the last 16 months there have been 421 new home permits issued in and around Gladden Farms, data from Bright Future Real Estate Research LLC shows.
There are six new home communities and three neighborhoods opening this year and in 2019, said housing analyst Ginger Kneup, owner of Bright Future.
Fry's bought the Marana site in 2006 and started site improvements in 2007 that halted when the recession hit, said Dean Wingert, vice president of Crown West Land Group, which is working on developing the parcel.
"Ever since Fry's purchased their Gladden Farms site, the fact that they planted their flag at that location and could decide to build a store at any time has deterred other grocers from jumping into that trade area," he said. "Just the fact that a dominant grocer like Fry's owns a really nice site and could move forward at any time has helped keep competition at bay. So it's generally been 'Fry's or nothing' in the area."
New Fry's projects are now mainly to replace older stores, such as the new store in Midvale Park that replaced one at Irvington Road and Interstate 19 and a planned store at Houghton Road and 22nd Street that will replace the Harrison Road store about a mile away.
"It's frustrating with homebuilding now moving along at a good pace that Fry's isn't motivated to go forward at that location, but rather than continue to stand still they're now going to sell the property," Wingert said. "Instead of having a company continue to hold still, it would be better to have the site owned by a new entity that would move forward. We're looking forward to that."
While the growing rooftops in the Gladden Farms area call for a major grocer, changing shopper habits are influencing retailers' decisions to invest.
"There's been a lot of national stories about changing shopping trends and the ability to shop online and have groceries delivered to your house within 24 hours or even on the same day," Wingert said. "In general, retail development will follow the rooftops and the vast majority of retail development will follow the anchor stores.
"When the anchor store, or a couple of anchor stores, are ready to move forward, it provides the impetus for the overall shopping center to be developed, and all of the smaller shops, service providers and fast-food outlets follow along."