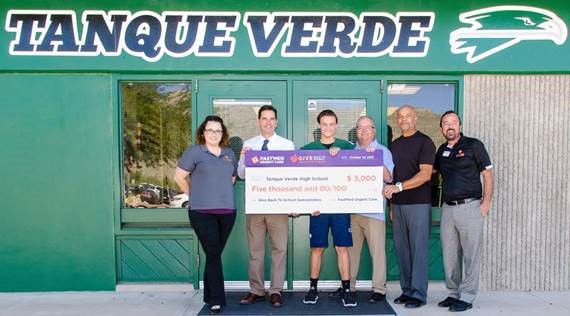 Walmart and Sam's Club: This year, through the their spring "Fight Hunger. Spark Change." campaign, Walmart and Sam's Club customers and associates raised more than $647,000 for Arizona food banks, including $117,594 for Community Food Bank of Southern Arizona in Tucson.
FastMed Urgent Care: FastMed Urgent Care presented Tanque Verde High School with a $5,000 donation through the company's Back to School sweepstakes.
Tucson Allstate Agencies: Local Allstate agency owners secured Allstate Foundation Helping Hands Grants to present locally: Michael Brown earned a $1,000 grant to fund Catalina Foothills High School football and baseball programs; Rhiannon Ward earned a $1,000 grant for the Tucson Children's Museum to fund the Tucson Earth Day festival; and John Dooling earned a $500 grant for the Marana Rotary Foundation.
Submit items about charitable donations by local businesses or nonprofits to business@tucson.com; please use Giving Back in the email subject line and include photos in JPEG format. Sign up for a weekly update of business headlines at Tucson.com/business.