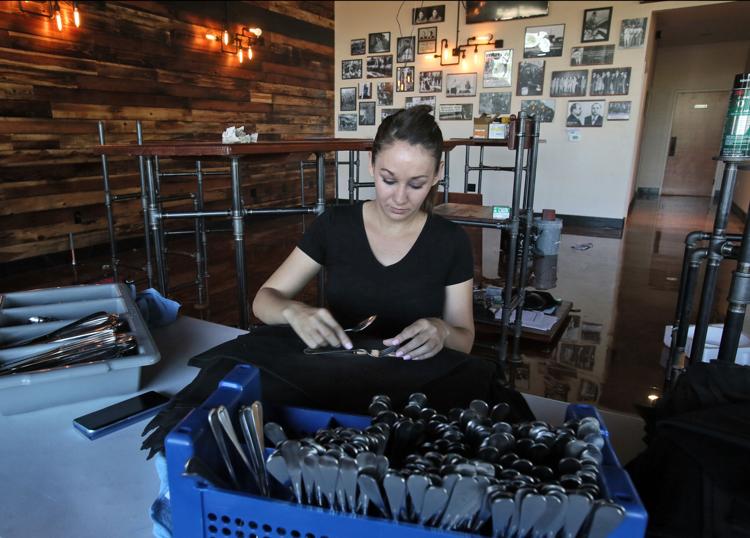 The parking lot at Home Plate a quarter mile down Silverbell fills up early on those same big-game days.
And on Thursday, Aug. 10, they got some company in the Continental Ranch neighborhood when Growler's Taphouse opened at 8275 N. Silverbell Road.
But Growler's in the plaza next door to The Station isn't positioning itself as a sports bar like its neighbors.
It's more of a grown-ups-who-love-craft-brews kinda place, where Executive Chef James LaMont will dip fresh-cut rings of onion in a rich Barrio's stout beer batter and fry them golden to go with the 30 regional and national craft brews on tap.
Sports will no doubt be blaring from the 10 TVs mounted over the bar and hanging on the walls of the 3,000-square-foot restaurant/taproom. But the focus will be on the craft beers and microbrews from several Tucson breweries, a few around the state and some as far-flung as New York, New Jersey and the New England region, all curated by veteran Tucson bar manager Tommy DeStefano.
To complement the beer, LaMont and his staff have a streamlined Prohibition-themed menu that will employ co-owner/general manager Dustin McMillan's love of smoking. Smoked baby back ribs and pulled pork are highlights of the "Gettin' Smoked" section of the menu; "Babyface Sides" include the beer-battered onion rings, and "Bootlegger Breadboards" are highlighted by the all-inclusive meat and cheese board "The Loot." "Chopper Squad Salads" feature the "Scarface Caesar" and "Happy Days are Beer Again," bar snacks include "Packin' Heat" chips and house salsa.
Growler's Taphouse takes its inspiration from the Prohibition era and celebrates Prohibition's liberation. Photos of 1930s mobsters and crime fighters — mob boss Al Capone and his FBI nemesis Eliot Ness are cornerstones — are blended in with photos of barkeeps filling the metal growlers that originated in the 1880s.
The theme builds on that history, said McMillan's mother and partner Dawn. The mother and son co-own the restaurant with Dawn's husband of seven years, Lee Fabrizio, a retired FBI special agent who spent most of his 27-year career in Chicago before relocating to Kingman in 1996 to take the lead in the Oklahoma City bombing investigation into Timothy McVeigh's Arizona associates. Dawn McMillan and Fabrizio for years have operated a pair of private investigation-centered businesses in Kingman, where they lived until moving to Oro Valley in January.
Dawn McMillan said the family researched the origin of the term "growler" — it dates to the late 20th century when workers filled their metal lunch pails with beer from the bar or breweries after work and the containers made a growling sound as the CO2 escaped — and built the restaurant's theme around that history. A photo of a disheveled worker carrying a pail graces the menu and other photos on the walls include black-and-white images of bartenders filling rows of metal buckets from the taps and young boys carrying them to the workers. They even serve some of the food in small metal pails.
A craft-brew-centered restaurant was Dustin McMillan's idea and after the former firefighter/EMT came up with a detailed business plan, his mom and stepdad were all in. The family found the Marana location early this year and started work on the $500,000-plus buildout in the spring. The idea was to open sometime between mid-May and early July, but construction took longer than they had planned.
Special touches include hand-stained wood-slat walls and handcrafted industrial-style metal-pipe-and-wood high tables and chairs that were still in various stages of put-together on Wednesday afternoon. With scant hours to go before the family hosted a friends-and-family trial run Wednesday night, workers welded the pipe table frames as bar manager DeStefano and Dustin McMillan tested the beer taps to make sure each was attached to the proper kegs.
Chef LaMont was in and out of the kitchen with his staff while Dawn McMillan pointed out the special touches in the 80-seat dining room that complete the Prohibition theme including Edison-style bare bulbs dangling from the ceiling. They covered the concrete floors with shiny epoxy, and in the restrooms, Dawn McMillan painstakingly hand-laid thousands of pennies to create penny floors using that same epoxy.
The patio's half-dozen wicker tables have solar-powered lights built into the umbrellas. A fireplace against the outside wall will come in handy during the colder months, and Dawn McMillan said she would eventually like to create a water wall in the far corner accented by solar lights. In the dining room, her other son Jimmy Stock and his friend Tyler Thompson came down from Phoenix to install the sound system for the live bands the family plans to bring in including for the grand opening Aug. 26.
"Craft beer is a growing industry," Dawn McMillan said as a worker grabbed a stack of wooden planks the family laser-engraved with "Growler's Taphouse" to place on the chair backs. "When you see the potential, and this area, because we are new, we've gotten so much positive feedback."
"It's become so popular," added Dustin McMillan. "The craft-beer thing is huge; it's exploding."
Dustin McMillan said he wanted to create a place where people could be entertained in a different way.
"I wanted to bring something unique, something special to the people," he said, recalling how he dreamed years ago about opening a nightclub. But as he got older — he's 29 — and became a father — he has a 6-year-old daughter — his ideas of entertainment matured.
"This is more the place where I think it's at," he said.
Growler's is the first craft-brew taproom west of Interstate 10 in Marana. The town also is home to Monsoons Tap & Grill, which opened in 2013 at 6781 N. Thornydale Road; and the nearly year-old Dove Mountain Brewing Co., at 12130 N. Dove Mountain Blvd.
Catalina Brewing Company, a cycling-centric brewery in an industrial area at 6918 N. Camino Martin, off West Ina Road, has been open since 2014. And on Sept. 16 it will get some company when Todd and Erika Button open Button Brew House at 6800 N. Camino Martin.