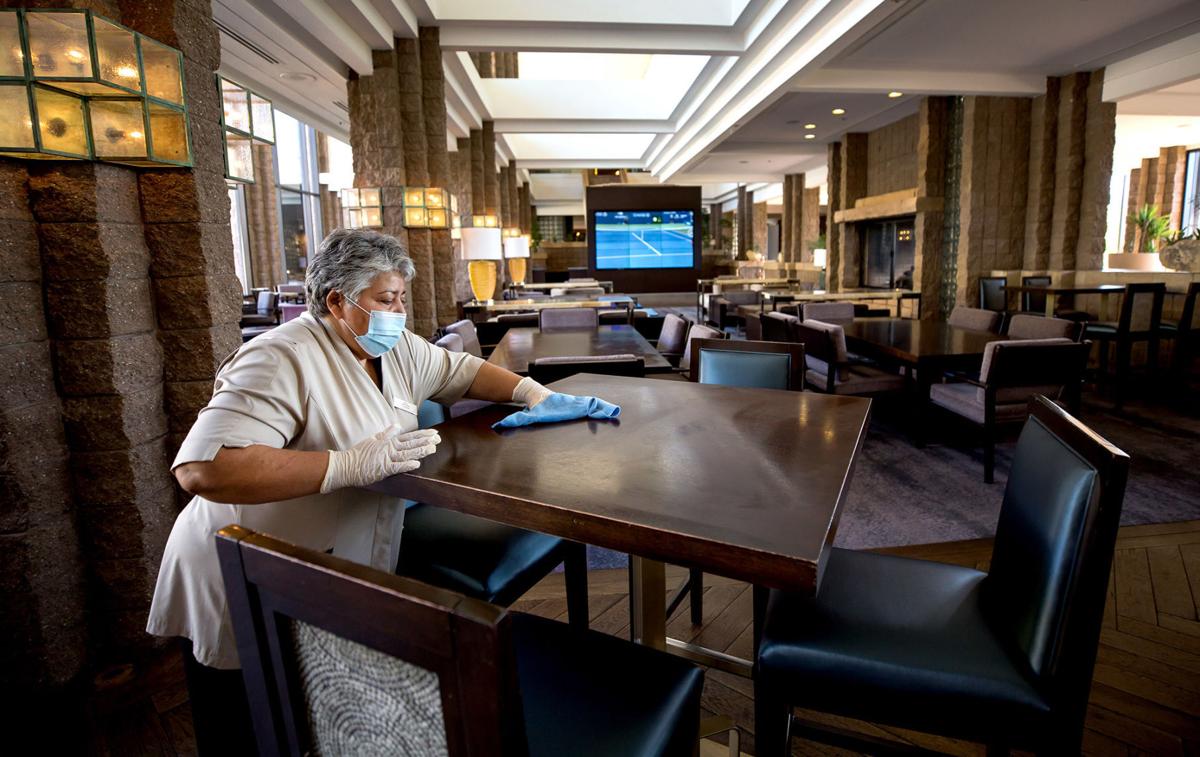 Hotels across Tucson, like those across Arizona and the nation, are still reeling from the effects of the COVID-19 pandemic with no end in sight.
While most local hotels are staying open with COVID-19 restrictions, they have significantly reduced their staffs as occupancy and room revenue have plunged.
Tucson-area resorts have been especially hard-hit and have laid off employees en masse as their critical meetings business quickly dried up amid the pandemic.
While the latest occupancy figures show hotels in Tucson and Phoenix are doing better than other cities in the West, cities like Scottsdale that depend largely on meeting and conventions aren't doing as well, said Brent DeRaad, president and CEO of Visit Tucson and current chairman of the Arizona Lodging and Tourism Association.
"The resorts are just so reliant on meetings, that's going to be important for our resorts to be able to recover, moving forward," DeRaad said, noting that meetings typically make up 40% to 60% of a resort's sales.
The Hilton El Conquistador Resort, Loews Ventana Canyon Resort, the JW Marriott Starr Pass Tucson Resort & Spa, the Westin La Paloma Resort and Spa and the Ritz Carlton Dove Mountain have reported hundreds of layoffs to the state since April, under a federal law requiring large employers to give such notice to the states to help workers find new jobs.
"Group business, meetings, is a big part of what we do, particularly here in Tucson, and that's really hard right now because people are reluctant to travel," said Dale McDaniel, who manages the Loews Ventana Canyon Resort as area managing director for several Loews properties.
McDaniel said Ventana Canyon, which reported 272 layoffs to the state in late May, has hired back some employees as the resort has lured some leisure travelers and locals for "staycations," with a marketing campaign highlighting the resort's COVID-19 safety measures.
"Everyone's been inside for a long time, they're excited about going on a staycation, so it up to us to do everything we can to make sure people feel comfortable," he said, citing safety steps including stepped-up sanitation of public areas and leaving rooms vacant for a day or two before cleaning and reusing them.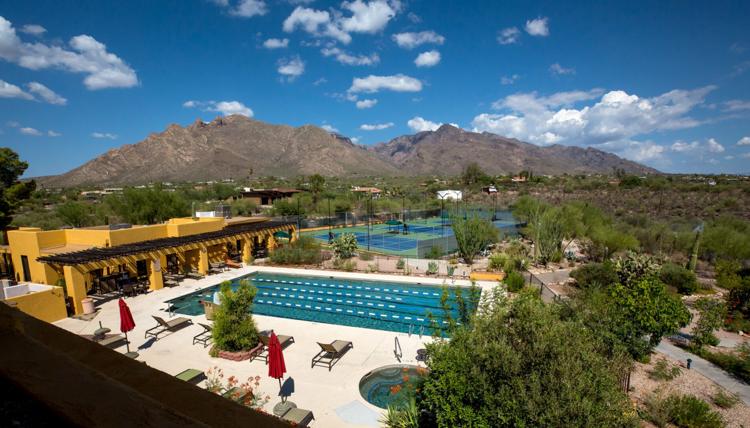 Marketing to leisure travelers
Andrew Stegen, general manager of the Wyndham Westward Look Grand Resort and Spa, said the resort was forced to furlough about 70% of its workforce of about 150 to 200 people as all of its group bookings canceled or postponed events and summer occupancy has dropped by half.
"Our hotel is group-driven, we do a large amount of business with groups," Stegen said, "We have absolutely no groups on the books — we don't even have a group of 10, let alone our usual groups of 300 or so, and so that has really has hurt our business."
"Definitely, leisure (travel) has helped, but these hotels were all built for group business," he said, adding that said he doesn't see group business returning as it normally would this fall.
Stegen said he hopes the Westward Look can increase its leisure traffic by marketing to the region and the state. The resort has nearly completed a $10 million renovation project.
"Not a lot of us can travel any place, whether it's cross-country or across borders or overseas," he said. "We're hoping that as the virus at least in Arizona is on a better track, that folks will get out and visit Arizona, because that's the only viable travel option for most at this point."
Among the other resorts that reported mass layoffs to the state, the JW Marriott Starr Pass on June 1 reported layoffs affecting 657 workers, close to the total number of employees Starr Pass has reported to Pima County in recent years.
Officials of Starr Pass, which remains open for business, would not comment on its filing.
Though it's not clear, the resort may have included in its notice all of its employees, under part of the law that defines "affected employees" as those "who may reasonably be expected to experience an employment loss."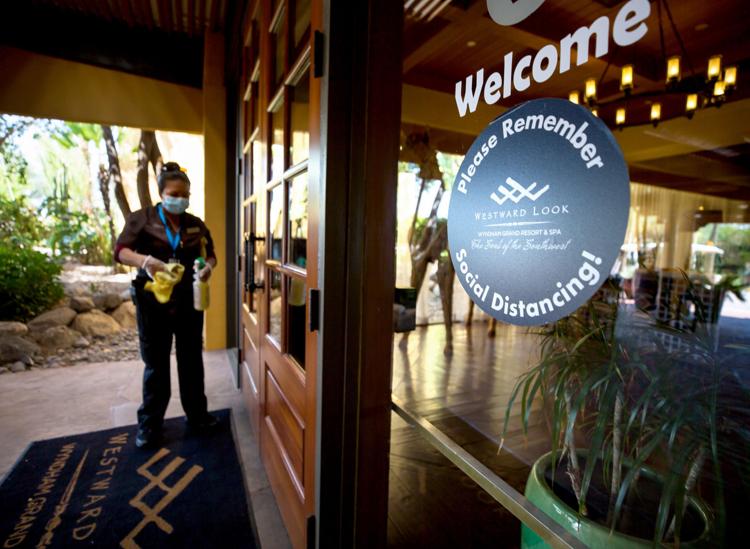 The Worker Retraining and Adjustment Notification act, or WARN, generally applies only to private employers with 100 or more workers, so the notices don't capture layoffs at many smaller hotels. Though tribal casino hotels across Arizona have also laid off hundreds of workers, Native American tribes are exempt from the WARN notification requirement.
Depending on COVID-19 control
Ventana Canyon's McDaniel said most groups have postponed their meetings instead of canceling them outright, lending hope of some recovery next spring.
"We were having a fantastic year here, and the rest of the year was looking good with a lot of group business on the books," he said. "Most groups aren't canceling, they're just moving to a later date."
Looking ahead, the hotels are pinning their hopes on COVID-19 being under control by early next year so they can salvage something of the 2021 high season for group business here.
For now, the annual Tucson Gem, Mineral and Fossil Showcase — Tucson's biggest event with a direct economic impact of $131 million in 2019 — is still scheduled to start in February, DeRaad said.
"Our projection is for the first quarter to be weak, and as we move through the year, we'll do better with the vaccine coming out," Ventana Canyon's McDaniel said.
While many events are going online, meeting planners are developing "hybrid" meetings, combining elements on in-person programs with virtual links like Zoom.
Due to physical distancing rules, some meetings may require more space than in the past as attendees are spread out, McDaniel said.
"What we're seeing is, groups will have a presentation in one ballroom and have a simulcast of it in another ballroom," he said.
Westward Look's Stegen said COVID-19 will forever change how business meetings are conducted, but streaming video will never fully replace human gatherings.
"At the end of the day, it's better to meet in person, because over Zoom you can only do so much," he said.
Tucson is poised to host more large business meetings and conventions downtown, with several new hotels now online or under construction representing some 800 rooms within walking distance of the Tucson Convention Center, DeRaad said.
But it will take years for the large convention business to rebound, he added.
"On the meetings front it's going to absolutely take a few years to recover," he said. "We need to get the maximum group size up and get people comfortable with traveling by airplane and getting back out there."
Hotels hurting nationwide
The story is much the same across the nation, where nine out of 10 hotels had to lay off workers at the peak of the pandemic, according to the American Hotel and Lodging Association.
And four out of 10 furloughed or laid-off hotel employees in the U.S. remained out of work last week, the hotel association said in an update.
Though some hotels have been hiring some people back, gains in the larger leisure and hospitality sector are mainly due to bars and restaurants reopening, the group said.
Meanwhile nearly two-thirds of hotels remained at or below 50% occupancy — which is below the threshold at which most hotels can break even and pay debt, the national hotel group found.
DeRaad said Tucson and Phoenix have fared somewhat better than the nation and a group of 15 peer cities the state association studies.
Tucson's occupancy rate this year through July was 49.2% and the occupancy rate for Phoenix was 51.4%, compared with a national average of 43.7%, according to figures from the travel research firm STR.
"We're weathering it maybe a little bit better than some other cities, and I think part of it comes back to the wide open spaces we have here, and the ability of people to easily physically distance," DeRaad said.
Additionally, Tucson's room revenue was down 35% through July, which compares with a decline of nearly 49% nationally and was the best showing of the 15 peer cities.
Besides leisure travel, DeRaad attributed the relatively strong room revenue partly to steady government business, and an increase in the maximum hotel rate allowed by the federal government.
Smaller hotels, extended-stay hotels and short-term rentals like Airbnbs are doing relatively well, DeRaad added.
The business news you need
With a weekly newsletter looking back at local history.