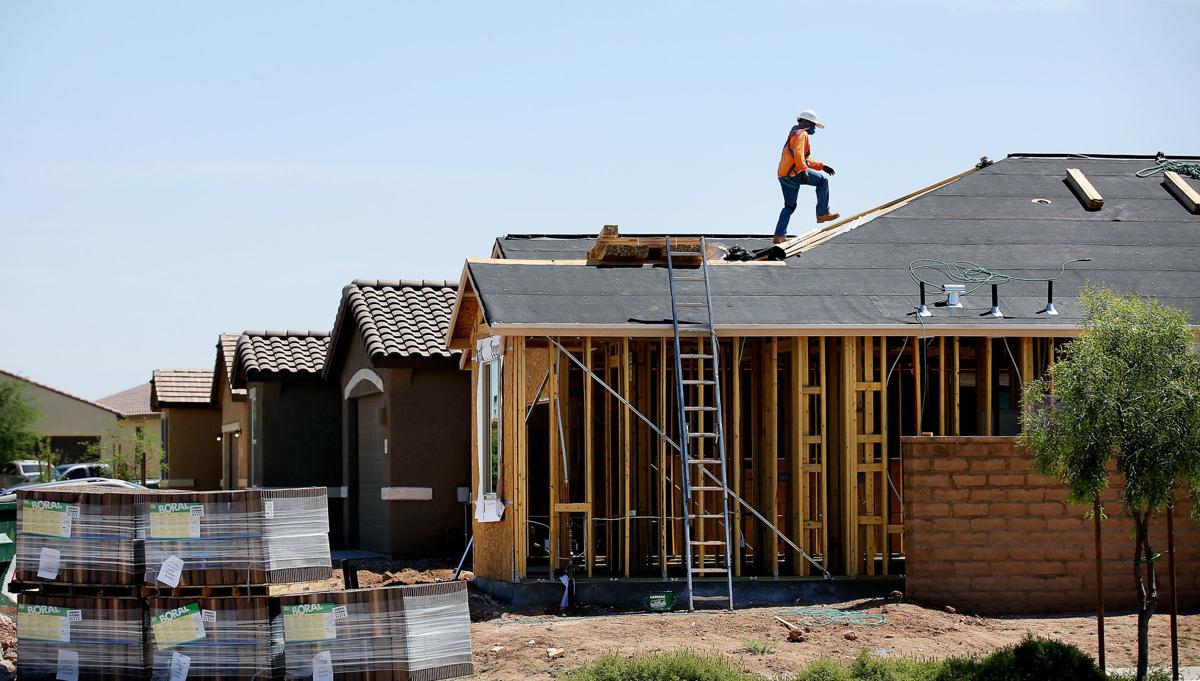 A master-planned community on Tucson's southeast side, which has enjoyed above-average home sales since breaking ground three years ago, is getting an unconventional perk.
Carondelet Health Network plans to build a microhospital at La Estancia, near Wilmot Road and Interstate 10, to serve the rapidly growing residential area.
Services at the 32,500-square-foot hospital will include a 13-bed emergency department, an operating room and eight inpatient rooms, said Frank Molinaro, Carondelet's CEO.
It is the second such development for Carondelet, which is also building a microhospital in Marana, near Cortaro Farms Road and Interstate 10. However, the Marana project is not within a master-planned housing development.
"The La Estancia hospital, like the Marana facility, will offer a patient-friendly design with emergency and less complex acute-care services in an efficient, convenient location," Molinaro said. "It's designed to provide close integration with our other facilities for patients who may require more complex care."
The microhospital at La Estancia will serve the neighborhood's growing population as well as the public at large.
Scottsdale-based Sunbelt Holdings bought the 540-acre La Estancia site in 2014, drawn by its location.
Meritage Homes was the first homebuilder in the development with homes for sale in May 2016. Two other homebuilders, Richmond American and Lennar Homes, have since joined in.
Proximity to the Vail School District has also been a big draw for residents with young families, said Jeff Grobstein, regional manager for Meritage Homes. Service members from Davis-Monthan Air Force Base are also a large part of the population.
"We've had great success in La Estancia," he said. "It's a nice master-planned community with good standards."
With an average price point of about $250,000, the development has been selling about six homes a month in each of its three communities — compared to the average of three homes a month for other Tucson communities — according to Belfiore Real Estate Consulting, a residential market-research firm.
The average new-home price in the Tucson market is now around $343,000.
"I believe that the success is due to a number of factors combined," said local housing analyst Ginger Kneup. "The pricing has been very competitive, particularly in light of the limited options that have been available in that submarket (and) it is the only community in the area where buyers can get amenities like safe, encapsulated parks and a community pool."

Onsite amenities include resort pool with lap lanes, a splash pad, covered patios with bathrooms and children's parks. The Julian Wash Trail also passes through La Estancia.
The development is expected to grow to about 2,500 homes. Already, 622 lots have been sold and about 300 homes are occupied, said Bob Bambauer, executive vice president of Sunbelt Holdings, which has three other residential developments in Southern Arizona.
"Moving in 300 families in three years is fantastic," he said.
ECONOMIC IMPACT
The $13.5 million project is eligible for the city's Primary Jobs Incentive Program because it will add 37 jobs, with 22 of those positions paying at least $54,932, records filed with the city show.
The city's program requires companies to invest at least $5 million in facilities or equipment, create at least 25 jobs that pay wages of $52,400 or more and cover at least 75% of employee health-insurance premiums in exchange for building-fee exemptions.
The City Manager's Office has recommended an 88% prorated package based on the number of jobs at the minimum required salary, city records show. The estimated value of the incentive package is $194,729.
Over five years, city staff estimate, the development will generate $349,453 in total gross direct revenue, including $50,047 for public safety and zoo improvements and more than $1.8 million to the state and county.
"I am very happy that this project is moving forward," said Vice Mayor Shirley Scott, who represents Ward 4 where La Estancia is located. "I have been pushing for medical services out here in the southeast area for quite some time and I am looking forward to seeing it come to fruition."
Demand for housing along that stretch of the I-10 corridor has been strong because of the convenience for workers from Raytheon Missile Systems, University of Arizona Tech Park, Davis-Monthan, the Tucson International Airport, various prisons and the soon-to-open Amazon fulfillment center at the Port of Tucson.
"Homes follow businesses and services follow homes," said Mayor Jonathan Rothschild. "This is smart, planned growth, and the developers are to be commended for planning to put a microhospital in the middle of this new community."
When Carondelet reached out to developers about the microhospital, Sunbelt was all in.
"They liked the visibility from the freeway," Bambauer said. "And, they liked the hundreds of new homes and thousands of eventual new homes in the area."
Will White, who runs the Tucson office of Land Advisors Organization and handles marketing for Sunbelt at La Estancia, said lots sales should top 900 by year's end with home sizes ranging from 1,467 to 3,200 square feet.
"From the beginning, the story at La Estancia was location, convenience and price point," White said. "Now, with all the momentum the builders in the project have, those components are proving to be a great recipe."
The microhospital is expected to open in late 2020.
The business news you need
With a weekly newsletter looking back at local history.