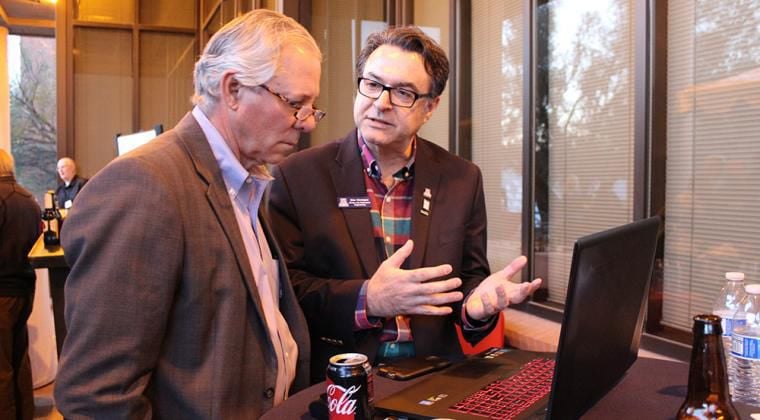 An astronomer, a biotech scientist and a prominent Tucson businessman were among those honored this week by Tech Launch Arizona, the University of Arizona's technology-commercialization arm.
The fifth annual I-Squared Expo & Awards, held Monday at the UA's Center for Creative Photography, honored "those whose work impacts the quality of life for people in Tucson, across Arizona and throughout the world through research, invention, collaboration and commercialization."
UA President Robert Robbins said the event is a way to showcase the UA's talent and encourage other UA inventors to work with TLA.
"The UA's future impact depends on turning discoveries into products, processes, and goods that will benefit all of us and help drive Arizona's economy," Robbins said at the awards ceremony.
A rundown of the awardees:
Inventor of the Year, Physical Sciences: Christopher Walker
As a professor in the UA Department of Astronomy and Steward Observatory, Walker specializes in galactic astronomy, star formation and instrumentation. In 2016, Walker's Stratospheric Terahertz Observatory team successfully launched the balloon-borne observatory from Antarctica. Walker's work has led to the development of a number of inventions — including a new inflatable space-based communications antenna reflector that is now under development by startup FreeFall Aerospace.
Inventor of the Year, Life Sciences: Frederic Zenhausern
Zenhausern, a professor and director of the Center for Applied NanoBioscience at the UA College of Medicine-Phoenix, has worked closely with TLA on the protection and commercialization of a miniature electronic model of human intestines that can analyze the interactions between human cells and the microbial ecosystems of the gut. He has been the lead inventor on 26 technologies and contributed to three others brought to TLA.
Startup of the Year: Codelucida
The company's new error-correction technology for data storage and communications is based on dissertation research by Codelucida CEO Shiva Planjery, with company co-founders and doctoral advisers, Bane Vasic, UA professor of electrical and computer engineering; and David Declercq, professor at the École Nationale Supérieure de l'Électronique et de ses Applications in Cergy-Pontoise, France. Since the company was launched in 2014, Codelucida has won more than $700,000 in angel investment funding and research grants totaling $900,000 from the National Science Foundation.
Campus Collaborator of the Year: Roger Miesfeld
Under the leadership of Miesfeld, a professor in the UA Department of Chemistry & Biochemistry, the department has focused its efforts on finding applications for research and "has demonstrated more dedication to invention and commercialization than any other at the university," TLA said.
Ecosystem Impact: Fletcher McCusker
Born in Tucson, the UA alumnus collaborated with TLA and Kevin Boesen at the College of Pharmacy in 2013 to launch TLA's first startup, SinfoníaRx, which was acquired in 2017 by a major digital health-care company. McCusker also co-founded UA Venture, a Tucson-based investment fund directed toward helping finance startups emerging from UA faculty research, as well as student-connected enterprises.
The David N. Allen Award: David Allen
To cap off the event, Tech Launch Arizona assistant vice president Doug Hockstad presented vice president David Allen with the first-ever David N. Allen Award, named in his honor.
Allen, who helped the UA start Tech Launch in 2012, plans to retire at the end of April, and Hockstad has been named as his successor.
Described as an award for leadership and vision, the Allen award will be given "to exceptional individuals who bring those qualities to bear in support of UA technology commercialization."