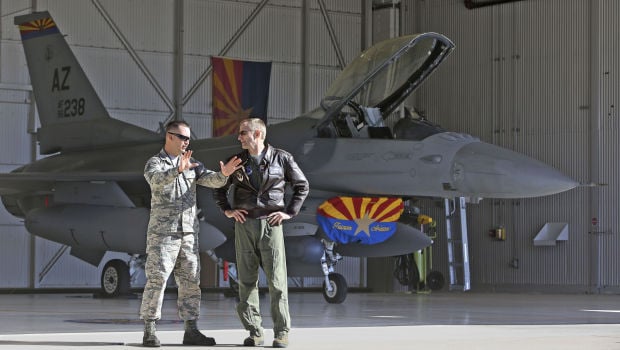 When Super Bowl XLIX kicks off on Feb. 1, the only airborne threats fans at Glendale's University of Phoenix Stadium should have to worry about are deep passes.
Armed F-16 Fighting Falcon fighter jets from a homeland-security detachment of the Tucson-based Air National Guard 162nd Fighter Wing will help enforce a temporary federal flight restriction over the NFL's title game, with the help of U.S. Customs and Border Protection and other agencies.
Lt. Col. Christopher O'Neill, air sovereignty alert commander with the 162nd Air Guard detachment, said that, if called on, the unit will scramble fighters to intercept aircraft violating the restricted flight zone.
"The intent is to find the aircraft, make them aware of us there, if we can get their attention, get them on the radio, and if required, we'll escort them safely out of the restricted airspace," O'Neill said.
The 162nd's Alert Detachment, based at Davis-Monthan Air Force Base, keeps a pair of F-16s armed and ready to fly at a moment's notice 24 hours a day, as part of Operation Noble Eagle, a homeland-security mission launched immediately after the Sept. 11 terrorist attacks in 2001.
That mission is directed by the North American Aerospace Defense Command, which is also involved in the Super Bowl security effort.
For its Super Bowl mission, the local alert detachment will help enforce a temporary flight restriction established by the Federal Aviation Administration.
Though a decision hasn't been finalized, the local unit will likely draw the duty of patrolling the restricted airspace during the game.
The restricted space is 30 nautical miles — or about 34.5 statute or land miles — in diameter around University of Phoenix Stadium, up to an altitude of 17,999 feet.
The restrictions will go into effect at 3:25 p.m., about an hour before game time, and end at 11:59 p.m.
Inside an inner, 10-nautical-mile diameter ring inside the 30-mile zone, all aircraft operations are prohibited except for approved law enforcement, military aircraft, air ambulance, and regularly scheduled commercial passenger and cargo carriers operating under federally approved security programs.
Between the 10-mile ring and the outer 30-mile limit, aircraft are allowed to arrive or depart local airfields, so long as they file flight plans and stay in radio contact.
But a laundry list of other flight operations are banned in the entire zone — including aerial drones, model aircraft operations, model rocketry, flight training, practice instrument approaches, aerobatic flight, glider operations, parachute operations, ultralight, hang gliding, balloon operations, tethered balloons, agricultural crop dusting, banner-towing operations, sightseeing operations, maintenance test flights and utility and pipeline survey operations.
Private drone operations are generally prohibited within five miles of an airport or above 400 feet, but such flights aren't allowed in the Super Bowl restricted area — period — an FAA official said.
"The message is: Leave the drone at home," said Frank Hatfield, FAA director of system operations security, noting that his agency has responded to calls from the NFL about drone overflights of some regular-season games.
Though security on the ground and in the air is partly aimed at preventing terrorist attacks, the more likely scenario is that private pilots will accidentally stumble into the restricted airspace and have to be escorted away, he said.
"I can say that there is no credible threat against the Super Bowl that we are aware of," Hatfield said.
O'Neill noted that the local alert unit encountered no major incursions when it pulled similar duty when the 2008 Super Bowl was played in Glendale.
Even so, the Air Guard F-16 pilots are prepared for anything — including aircraft that are identified as real threats.
"I can tell you we are prepared to use lethal force, but every single incident since 2001 has ended safely," O'Neill said.
In addition to 24-hour alert duty, the 162nd detachment protects the nation's leaders when they travel and patrols airspace over political conventions, major sporting events or other large public gatherings in Arizona, California, Nevada, Utah, Colorado and New Mexico.
The Civil Air Patrol, which sometimes assists military and local government agencies in search-and-rescue, disaster relief, drug interdiction and homeland-security missions, was involved in training for the Super Bowl security duty.
On Thursday, two CAP planes flew as intercept target aircraft for an F-16 fighter from the 162nd.
The CAP crews are trained to simulate either threat or "duress" flights that stray into restricted airspace.
"Some pilots don't pay attention, don't fly with their heads in the right place," said Lt. Col. Tony McFarland, commander of the south sector of the Arizona wing of the Civil Air Patrol.
Before and on game day, the Arizona CAP will be helping spread the word about the flight restrictions and helping with logistics at local airfields, said Lt. Col. Lori Raska, assistant director of emergency services for the state CAP wing.