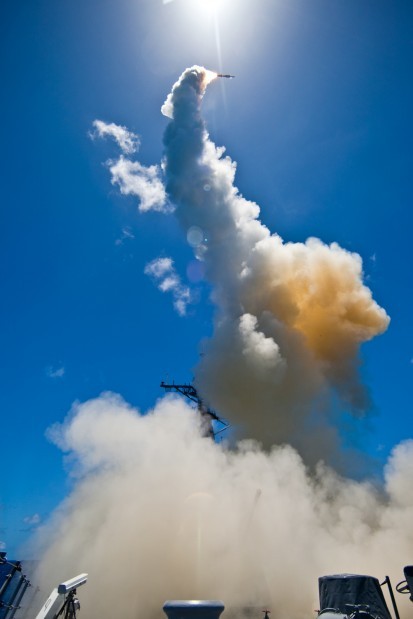 Tucson-based Raytheon Missile Systems has delivered the first production copy of its next ship-defense missile to the U.S. Navy for final testing.
The first Standard Missile-6, a longer-range version of the Standard Missile-2 series of ship-defense weapons, was delivered on time and on budget in March after five years of development, the company said Monday.
The first SM-6 was delivered after final assembly at the company's plant in Camden, Ark. The weapon will undergo operational testing this summer, one of the last steps before a decision to deploy the SM-6 on Navy ships, said Frank Wyatt, vice president of Raytheon's air and missile defense systems product line.
The first missile is part of an initial batch of 89 missiles Raytheon is producing under a three-year, $368 million contract for low-rate initial production awarded last year.
The latest in the Standard Missile series of ship-defense missiles first developed in the 1960s, the SM-6 adds a rocket booster for extended range as well as onboard "active" radar-targeting adapted from Raytheon's Advanced Medium-Range Air-to-Air Missile (AMRAAM).
Like prior SM-2 versions, the SM-6 also can be guided by semi-active radar, which uses the firing ship's sensors for targeting.
The active radar enables the SM-6 to detect and track targets itself "over the horizon," out of reach of the firing ship's sensors.
"It gives them this anti-air warfare capability beyond the horizon of the ship, so you're not limited by what the radar on the (firing) ships see," Wyatt said. "It literally advances the defended footprint around the ship, and in the future you can get into areas called integrated fire control, where you have other sensors cueing the ship to extend its footprint as well."
The use of the AMRAAM active-radar sensor was a cost-effective, timely way to get the SM-6 to the Navy on time and on cost, Wyatt added.
Unit cost figures on the SM-6 were not immediately available.
The range of the supersonic SM-6 is classified but is substantially longer than SM-2's official range of about 90 nautical miles, Wyatt said.