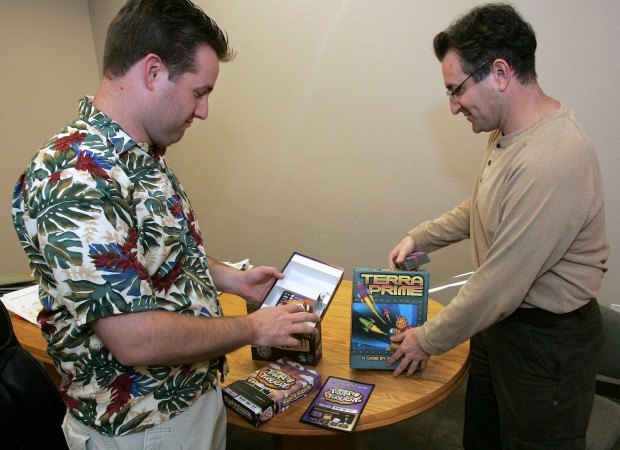 A local startup sells fantasies to gamers.
Buy a product from Tasty Minstrel Games and you can explore outer space, tame the Old West or exchange uppercuts in a boxing match.
The best news is that the products work on gaming consoles everyone has: kitchen tables and living-room floors. They're board games.
Tasty Minstrel specializes in unorthodox, skill-based games rather than luck-based diversions such as "Candyland" or checkers. Its games can involve any number of accessories, including cards, dice maps and figurines.
Financial adviser Michael Mindes, 29, invested his $100,000 life savings into the venture since starting it in March 2009. He and his wife, Erin, both cashed out their retirement accounts to come up with the cash. Mindes runs the company with help from Erin, and head of development Seth Jaffee, 35, who has known Mike since he was 5.
"I've always loved games my whole life," Mindes said.
Tasty Minstrel Games (the name is an obscure Monty Python reference), which Mindes runs out of his house, has had its broadest success so far by selling 1,500 copies of its Old West-themed board game "Homesteaders."
Mindes said the company is pulling in steady revenue, but not a profit yet. A promising slate of games is set to be released.
Mindes said people tend to drift toward board games during slow economies.
"When people's income goes down, there are less distractions and people start to realize more of what's important," Mindes said.
"Instead of watching TVs, movies or playing video games, board games give them an activity they can do with their family and interact with them at the same time."
Mindes believes connecting with the relatively small, tight-knit community of board-game enthusiasts is key to the company's survival, so he travels to conventions and holds weekly giveaways at the website, tastyminstrelgames.com, giving away games to those who subscribe to his e-mail list.
A recent manufacturing glitch turned out to be good PR for Mindes. After customers received games with missing or damaged pieces, Mindes worked diligently to replace the parts for customers.
"We've been given a lot of support from the hobby game market," Mindes said. "There are not a lot of board-game companies who are responsive to problems."
Board games have regained their hold on America's collective imagination. More and more of us find ourselves reveling in the simplicity of friends gathered around a table to play a game that doesn't involve a click of a computer mouse or handheld controller. Caliente takes a look at Tucson's board- game culture in the Nov. 25 edition.
Upcoming Tasty Minstrel Games
• "Train of Thought" - A word-association game that asks players to combine efforts to compile word trains. Release date: Sometime in the next couple months.
• "Belfort" - A city-building game in a fantasy realm populated by dwarfs and gnomes. Release date: 2011.
• "Eminent Domain" - A "Risk"-like empire-building game, set in outer space. Release date: March or April 2011.
• "JAB: Realtime Boxing" - Players combat one another with punches and counters by taking turns pulling cards from their decks. Release date: 2011.