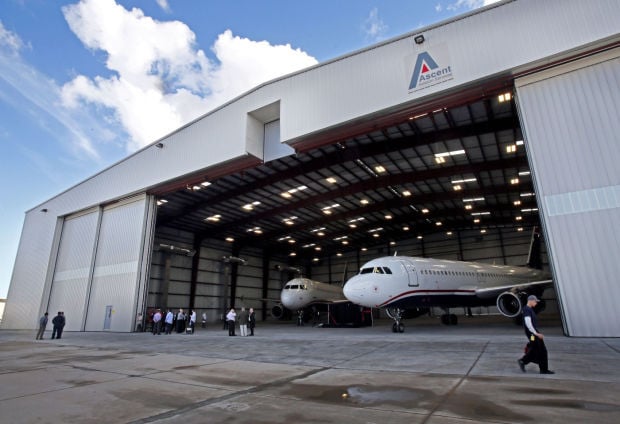 Ascent Aviation Services Corp. has doubled its airliner heavy-maintenance capacity with the opening of a new, 42,000-square-foot hangar at Tucson International Airport.
The company celebrated the opening of the new hangar with an event on Monday attended by company officials, customer representatives and local civic officials.
Ascent CEO Joseph Ng, who joined Ascent in November, said the company has completed 570 heavy maintenance checks on airliners with an existing 30,000-square-foot hangar.
"This new hangar will certainly improve our flexibility and efficiency to enable us to do even more," Ng said.
As a Federal Aviation Administration-approved maintenance and repair station, Ascent specializes in maintenance of narrow-body jetliners such as the Boeing 737, the MD80 and the Airbus 320. The company won an FAA Diamond Award of Excellence for training in 2011.
Ascent was founded in 2009 by a group of investors who bought the assets of bankrupt Global Aircraft Solutions. Ascent has since upgraded its hangar, office and storage facilities at its airport site at 7001 S. Park Ave. The company recently was certified for work on the Airbus A320 aircraft, and two A320s were parked in the new hangar on Monday.
The company originally requested and won a waiver from the Tucson Airport Authority board to build a fabric-covered hangar for about $3 million.
But the company decided to build an all-solid structure for longer service, Ng said.
Ascent currently employs about 130 people, but that will increase coming out of the seasonal holiday slowdown, and the new hangar will allow the company to expand its workforce to more than 250, Ng said.
Ascent now has about 30 acres of concrete ramp area, nearly 100,000 square feet of hangar space, and 88,000 square feet of shop and secured consignment parts space.
Ascent is owned by LongueVue Capital, a New Orleans-based private equity firm that acquired the company from Victory Park Capital in 2013.