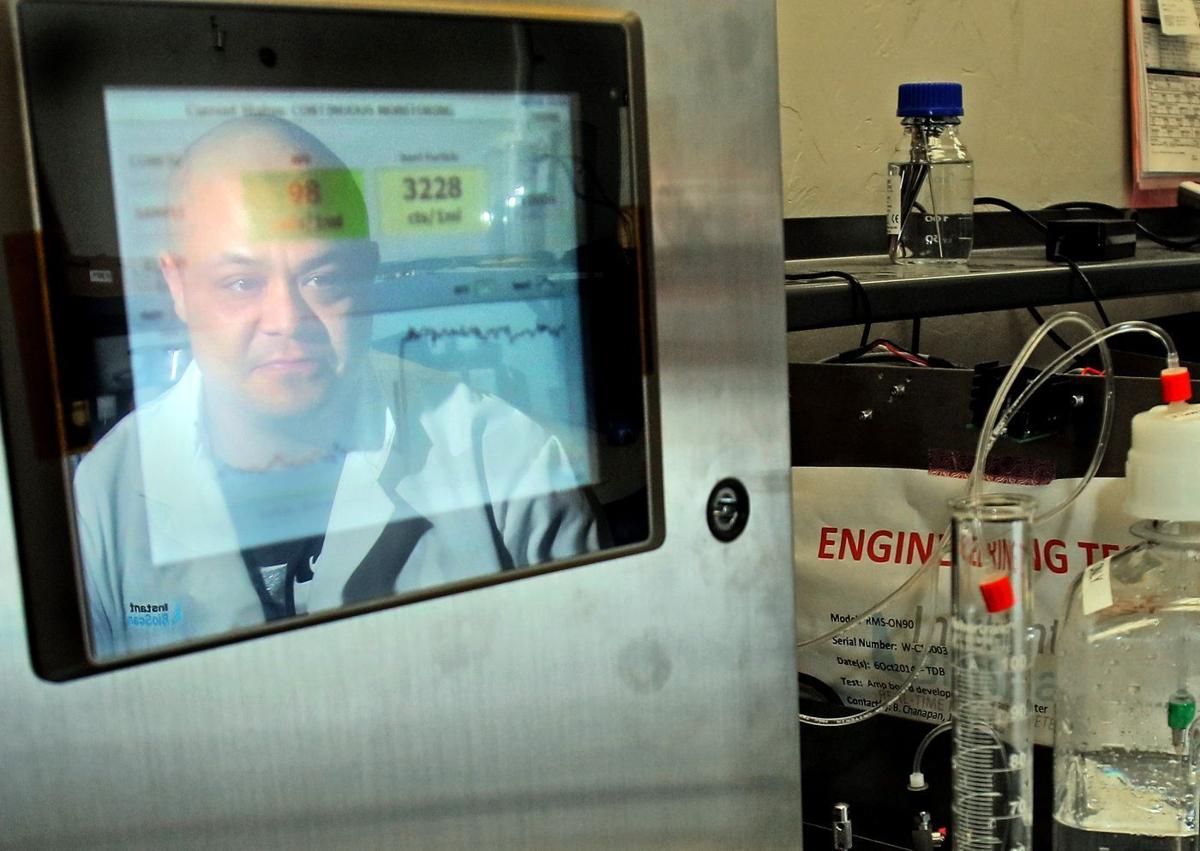 The multimillion-dollar sale of a Tucson-based tech startup that makes microbial detection systems for water has brought a major multinational tech company to the Old Pueblo.
Mettler-Toledo International, a Swiss-based maker of scales and analytical equipment with more than $2 billion in annual revenues, recently acquired Instant BioScan in a deal worth up to $30 million, depending on future development and sales, the company said.
Founded in 2011, Instant BioScan developed a proprietary system to analyze water for microbial contamination in real time, using special optics and software.
Mettler-Toledo will for now keep the Instant BioScan operation and 15 employees in Tucson as part of its Thornton division, which provides water-quality instruments for the pharmaceutical, electronics and energy industries, said Dewey Manzer, a co-founder and CEO of Instant BioScan who is now Tucson site manager for Mettler-Toledo.
The deal will accelerate the rollout of the local technology by tapping into major manufacturing resources and a global sales network, Manzer said.
"We are continuing to do what we were doing before the acquisition, only now we are part of a much bigger company, and instead of having limited sales resources we have a worldwide organization that specializes in the pharmaceutical market selling our products," Manzer said. "The worldwide rollout has just occurred, so there's anticipation in the air to see how the sales go."
Mettler-Toledo will initially focus on selling the water-monitoring systems to the highly regulated drug-manufacturing industry, he said.
While Instant BioScan made its first instruments in Tucson and will continue product development here, Mettler-Toledo will likely move major production to the Boston area, where it already has manufacturing operations, Manzer said.
A local economic-development official said the arrival of a major multinational company through a local tech acquisition can pay dividends to the larger community through positive exposure.
"Companies that come into a market like this, it's a big vote of confidence," said Laura Shaw, senior vice president of marketing for Sun Corridor Inc.
"It certainly brings more capital and resources for companies to expand."
The transaction is valued at up to $30 million, part in cash and part in "earn-out," or added compensation based on the business meeting projected technical and financial goals, Manzer said.
"You always hope for something like a home run," said Manzer, who has started and sold several high-tech companies. "I would say this is more like a good single in terms of venture deals, and that's mainly because much of the payoff is going to come in earn-out."
While four years is a relatively short time to take a manufacturing tech startup from concept to a payout for investors, Instant BioScan had a head start.
The technology — which essentially analyzes laser light reflected from samples to detect and characterize organic particles — is based on methods patented by Instant BioScan co-founder Jianping "J.P" Jiang, a physicist and former University of Arizona postdoctoral student in optics.
Jiang and Manzer co-founded an earlier company in Tucson, BioVigilant, that harnessed the detection technology for an air-quality monitoring system. The company's technology attracted attention and millions of venture-capital dollars before a Japanese company bought a majority share in 2009. The company, now known as Azbil BioVigilant, still has an office in Tucson.
Manzer said as he and his team pitched BioVigilant's technology, prospective customers kept asking if the company made a similar device to detect microbes in water, leading to the development effort that spawned Instant BioScan.
A partnership with Aztera, a technology development company that is based in Tucson, helped drive Instant BioScan through proof-of-concept and prototyping stages, Manzer said.
Aztera became Instant BioScan's landlord in 2011 and shortly thereafter the companies began working together.
With a staff of engineers, Aztera provides an array of services to tech startups, including technology development, testing, prototyping, embedded software, manufacturing support and commercialization assistance.
Manny Teran, president of Aztera, said his company helped Instant BioScan build its first prototype and took a small equity stake in the startup.
But it's Mettler-Toledo's muscle that will bring the product to the wider market, Teran said.
"The real magic of Mettler-Toledo is tapping into its distribution line," Teran said. "You can have a great idea, but if you can't distribute to the world, you're basically hosed."
For Mettler-Toledo, Instant BioScan filled a gap in its water-purity product offerings for the pharma industry, Manzer said, noting that drug giant Amgen and Proctor & Gamble have been customers of the water-monitoring system.
On a conference call with analysts in November, Mettler-Toledo CEO Olivier Filliol said the company acquired Instant BioScan mainly for its technology and will improve on it for wider market rollout.
"So, in the long-term, we see it's a very nice product category," Filliol said, according to a call transcript. "It's very synergistic and we feel we have a really great customer asset. We have the right team."
The company offered instruments to fulfill two regulatory monitoring requirements — electrical conductivity and total organic carbon — but lacked an instrument for microbe detection.
"We will now have a laser-based technology that can detect bacteria in real-time, which makes us the one company to offer all three regulated ultra-pure water measurements," Filliol told analysts.
Aztera's Teran said Instant BioScan is the latest reflection of the technology prowess at the UA and Tucson that once earned the area the moniker "Optics Valley."
"At its core it is an optics-based technoogy, and it's a good example of a company that has its roots in what was Optics Valley," he said.
While Manzer will have to wait and see how sales go, he feels there's a lot of pent-up demand for the instrument in the pharmaceutical industry, as well as in other, untapped markets.
"This is a technology that is going to have a long life," he said.