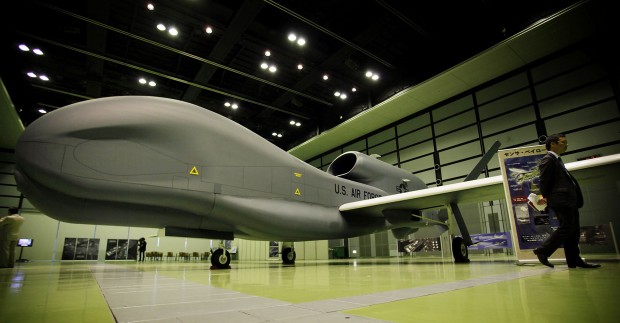 Unmanned aircraft are flying every day on missions that call for them to collect data and images for hours on end.
Soon, they may never have to come down.
Tucson-based Raytheon Missile Systems is part of a larger effort to develop technology to keep these drones in the air indefinitely. A U.S. patent was issued to Raytheon recently for a system that would allow one unmanned aerial vehicle to communicate in order to safely refuel another drone in flight.
The patent says a typical flight for unmanned aircraft includes being launched from its base, flying to the area of operation, "loitering" in that area to perform its mission and then flying back to the base and landing, all while carrying spare fuel in case of weather delays.
Flying to the intended area of operation, and also flying back to the base, uses just as much fuel as the most important part of the aircraft's mission - the loitering. If an unmanned aircraft could be refueled in the air, it could remain in the air for much longer periods, Raytheon said in its patent application.
The technology explained in the patent would allow the two unmanned aircraft to fly within close proximity of each other and then connect a cord between the two drones to refuel.
Raytheon declined to comment on its technology for proprietary reasons, but said in a statement that it "understands the necessities of Unmanned Aircraft Systems' long flight endurance, and have been working on innovative ideas that provide remotely piloted aircraft the ability to loiter for extended periods of time."
This refueling technology could essentially keep an unmanned aircraft in the air indefinitely and would allow it to have more continuous coverage over the job it's doing, said Dana Purifoy, a research pilot and project manager at NASA Dryden Flight Research Center in Edwards, Calif.
"It will provide a capability that doesn't exist today," said Purifoy, who has piloted unmanned aircraft remotely for NASA.
Raytheon is not the only company working on such technology. The Defense Advanced Research Projects Agency has contracted with defense company Northrop Grumman to retrofit its Global Hawk unmanned surveillance drone for use as an in-flight refueler.
The Global Hawk is a high-altitude, long-endurance aircraft used by the Air Force to collect images, said Jim McCormick, a program manager for the Defense Advanced Research Projects Agency.
With minimal modification, Northrop's plan is to give the Global Hawk the capability to autonomously refuel other drones and also to receive fuel itself.
McCormick said current efforts are focused on producing a demonstration version of the technology.
"The value of the demonstration is going to speak for itself," he said. "It's going to prove that autonomous in-flight refueling for high-altitude aircraft is possible."
McCormick said their goal is to demonstrate the technology within two years. He said he expects the technologies could be ready for use within 10 to 20 years.
The Air Force has been able to demonstrate that an unmanned aerial vehicle can be refueled in flight with the use of a piloted aircraft.
Dan Schreiter, deputy program manager for automated aerial refueling at the Air Force Research Laboratory, said the agency is still developing the technology.
The Air Force, which uses the KC-135 tanker as a refueling aircraft for large piloted jets, has been testing the tanker to see if it can refuel an unmanned aircraft.
Schreiter said being able to refuel an unmanned vehicle in the air would provide several benefits.
"You can base them where you want, put them where you want," he said. "You can have them loiter in the battlefield. It adjusts the flight performance of the aircraft."
However, there are some concerns about the safety of flying manned aircraft with unmanned aircraft at close range.
Raytheon's patent says refueling unmanned aircraft with manned tankers is not feasible because of the differences in the two aircraft. Most unmanned aerial vehicles are smaller, fly slower and fly at different altitudes from the manned tankers, the company noted.
There also is concern for the safety of the pilot in the tanker. Raytheon's patent application states that crews of manned tankers are "unwilling" to fly within close range of the unmanned aircraft because of the possibility that the unmanned vehicle wouldn't be able to respond to unforeseen problems.
For those reasons, the patent says the need remains for a method of refueling unmanned aircraft in flight without the use of a manned aircraft.
"Ultimately, the holy grail of current desires is that they want to be able to have the unmanned aircraft in an autonomous piloted mode to keep from mixing airplanes," said Purifoy.
Purifoy said unmanned aerial refueling also faces scrutiny from the Federal Aviation Administration, which would have to determine such technology could be used without endangering other aircraft.
"They'll have to set up specific air refueling areas," he said. "The FAA is concerned that it's done in a safe fashion. We don't want there to be any kind of conflict between a UAV and an airliner."
He said he thinks the technology could be ready for common usage within five years - perhaps earlier in combat areas.
"We're very close," he said. "And in some areas, we're there already."
"The value of the demonstration is going to speak for itself. It's going to prove that autonomous in-flight refueling for high altitude aircraft is possible." Jim McCormick
Defense Advanced Research Projects Agency
Rikki Mitchell is a University of Arizona journalism student and a NASA Space Grant intern. Contact her at rmitchell@azstarnet.com