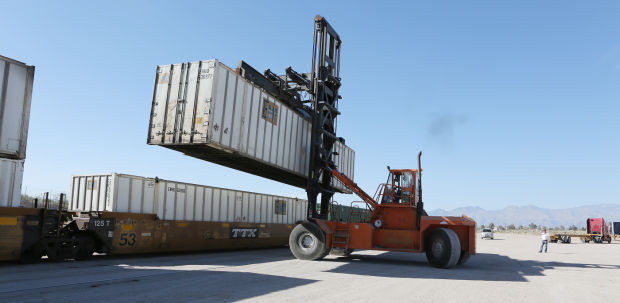 The check has finally arrived.
A $5 million grant to improve rail capabilities in Tucson has been awarded, a year after it was announced.
The Transportation Investment Generating Economic Recovery (TIGER) grant was awarded to the Port of Tucson and Pima County by the U.S. Department of Transportation.
The money will go toward a $13 million project to build an off-ramp for Union Pacific to enter the port without delaying other trains or motorists sitting at the Kolb Road railroad crossing, near Interstate 10.
Pima County officials estimate the port could add up to 100 logistics jobs once the project is operational.
Construction is expected to take about six months.
Since its designation as a dry seaport last year, the Port of Tucson has been able to service ocean containers rolling in on rail directly from Long Beach and Los Angeles ports.
Prior to that, imports had to be unloaded in California and trucked to Tucson. The ability to receive an 80-car, double-stacked train removes 160 trucks from the interstates, officials note.
The port is an economic draw for the region, said Nanette Slusser, assistant county administrator.
"We're perfectly located to take advantage of the plants expanding in Mexico," she said of the continued growth in manufacturing in Sonora. The expansion project underway at the commercial seaport in Guaymas could eventually lead to a new wave of U.S.-bound containers coming through Tucson.
"In the last two years, all major employers who have expressed interest in the region want to be near the port — with the exception of the biotech firms," Slusser said.
Because the Port of Tucson is a private company, it could not apply for the federal grant directly, which is why the money was awarded through Pima County.
The rest of the project will be financed with private dollars from the port and Union Pacific.
As motorists watch trains roll through town, they'll start to notice more light blue containers from Hanjin Shipping.
That's because this week, the first 20 containers loaded with recycled paper were shipped to China.
Earlier this year, America Chung Nam Inc. signed on to buy Tucson's recycled paper from the blue bins.
The company has committed to exporting up to 100 containers a week filled with newspaper, cardboard and junk mail.
As Arizona's winter visitors return, the amount of exported recycled paper will increase, said Stefan Baumann, director of business development for the port.