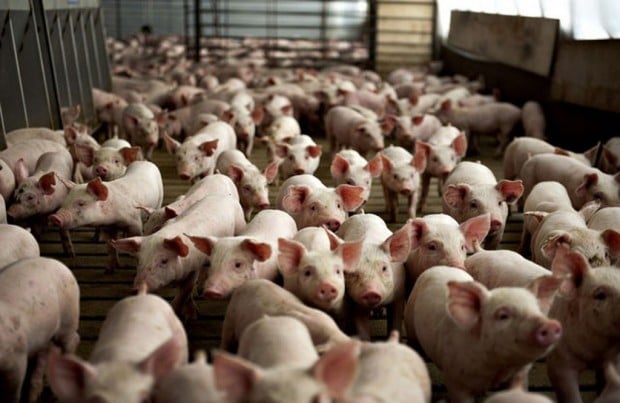 Hog farmers are slaughtering animals at the fastest pace since 2009 as a surge in feed costs spurs the biggest losses in 14 years, signaling smaller herds next year and a rebound in pork prices.
The 73.3 million hogs processed in eight months through August were the most in three years, U.S. Department of Agriculture data show. Pork supply will drop to the lowest per- capita since 1975 next year, the USDA estimates.
Hog futures that fell more than any other commodity since June 30 may surge 39 percent in 12 months to as high as $1.055 a pound, based on the median of 12 analyst forecasts compiled by Bloomberg.
Crop damage from the worst U.S. drought since 1956 sent corn-feed prices surging to a record last month and may mean losses of about $44 a head for hog farmers in the fourth quarter, the most since 1998, Purdue University estimates.
While the acceleration in slaughtering is boosting supply now, buyers including CKE Inc., the owner of Hardee's and Carl's Jr. fast- food chains, expect higher prices in 2013 as herds shrink and U.S. exports rise.
"We're going to see more consolidation in the industry," said Mark Greenwood, who oversees $1.4 billion of loans and leases to the hog business as a vice president at AgStar Financial Services Inc. in Mankato, Minn. "It's only going to get worse on the higher feed prices."
Hog farmers will see "huge amounts of red ink" in the fourth quarter, said Jim Robb, the director of the Livestock Marketing Information Center, which is funded by the industry, universities and government.
Fewer sows will be kept for breeding, cutting output and tightening pork supply, he said. That will raise both wholesale and retail prices to records by the second half of 2013, Robb said.
Prices for now are retreating, with wholesale pork costs tracked by the USDA tumbling as much as 25 percent since June 25 to the lowest in almost two years on Sept. 19. Hog slaughtering climbed 2.8 percent in first eight months of the year.