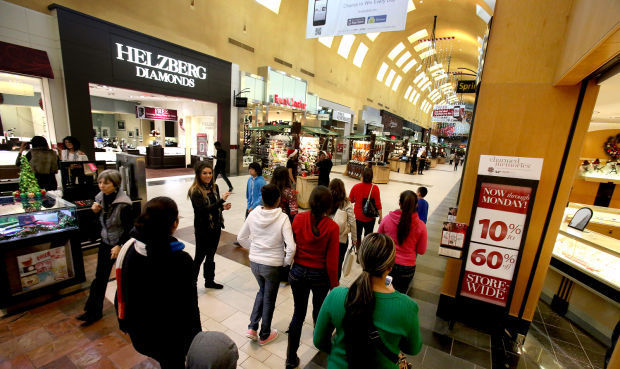 In the midst of a sluggish economy and a slowly improving cross-border relationship with Sonora and the rest of Mexico, the state's Latino purchasing power continues to climb, according to the annual report issued Thursday by the Tucson and Arizona Hispanic chambers of commerce.
The report, now in its fifth year, states that Hispanic consumers will spend an estimated $4.5 billion this year in Pima County. Statewide that figure mushrooms to $46 billion in 2014, reaching $50 billion by 2015. Nationally, Hispanic purchasing power will reach $1.5 trillion in 2015 — greater than Mexico's gross domestic product — and could top $2 trillion by 2020, according to the report.
In addition to Hispanics buying power, the state's economy is bolstered by Mexican commerce and consumers. Arizona-Mexico trade topped $14 billion in 2013 and Mexican visitors to Arizona spend $7.3 million per day on average, said the report.
"The fact is Arizona's future economic strength depends on the health of the Hispanic community," said Gonzalo A. de la Melena Jr., president and CEO of the Arizona Hispanic Chamber of Commerce.
The economic health of Latinos in the state and nationally is slowly tricking upward as population growth surges.
Latinos make up more than 33 percent of the state's population and in the next 10 years, another 1 million Latinos will make Arizona their home. And sometime beginning in 2030, Latinos will be the majority, the report said. Nationally, an estimated 55 million Hispanics make up about 17 percent of the population.
Despite the national growth of Latino purchasing power reaching $1.5 trillion, deep impediments remain, tamping Latinos' economic health.
"It doesn't recognize the severity of weakness in job development and training, education and health care for Latinos," Alex Rodriguez, vice president for the Southern Arizona region of the Arizona Technology Council, said in an interview.
He said that policymakers must focus deeper, and create programs and incentives in response to the challenges in the Latino communities.
Notwithstanding the challenges, Latinos are an integral part of the national economy.
Highlights from the report:
1 of 10 dollars spent on consumer goods is spent by Hispanic shoppers.
1 of 10 dollars in charitable contributions is made by Hispanics, and 25 percent of those donations are made through their religious institutions.
Average Hispanic household income in the United States is expected to more than double from about $55,000 per year to $117,000 per year by 2032.
One-third of Arizona Hispanic households earn $50,000-$100,000 annually.
92.7 percent of Hispanic children in the United States are U.S. citizens.
There were an estimated 67,300 Hispanic-owned businesses in Arizona generating more than about $10.2 billion in gross receipts in 2013.
Toyota is currently the No. 1 automotive brand in the Hispanic market, leading the industry with 16.3 percent market share.
In all but seven states in the U.S., Spanish is the second most commonly spoken language after English.
Hispanics are now 1 of 4 public school students in the nation, and a majority of K-8 students in Arizona.
Nine of 10 U.S. Hispanics 18 to 34 years old say it's important to have some college to get ahead in life, but only 7 percent of bachelor's degrees across the country are earned by Hispanics.
An estimated 50,000 Hispanics nationwide turn 18 every month, making them eligible to vote.
In Arizona, 8 percent of all registered Republican voters are Hispanic, 27 percent of all registered Democrats are Hispanic, and 22 percent of all independents are Hispanic.