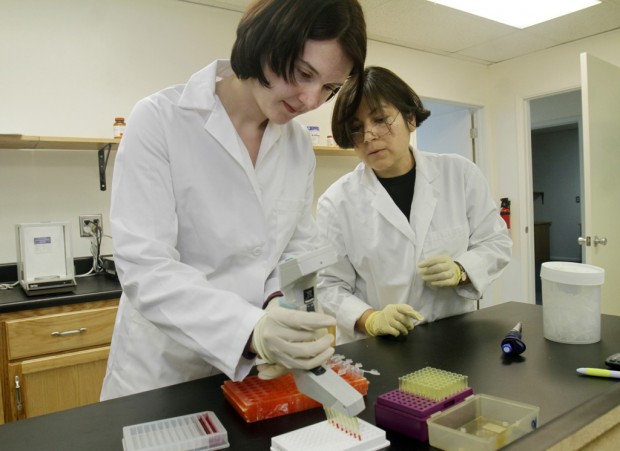 Luceome Biotechnologies, a University of Arizona spinoff company, received a $1.6 million grant from the National Institutes of Health to commercialize its drug research technology.
The grant award will help Luceome develop a product called KinaseSeeker that helps speed the process of finding effective cancer drugs.
Indraneel Ghosh, a UA chemistry professor, and his wife, Reena Zutshi, started the company in 2009.
The latest NIH award, a Phase II Small Business Innovation Research grant in August, follows a $287,000 Phase I SBIR grant the company won earlier this year.
"We more than met the goals and more than met the expectations for the first grant," said Zutshi, the company's president and CEO.
In humans there are more than 500 kinases, which are enzymes that act on specific proteins to transmit signals and control complex processes in cells.
These can be tested to see how they react to certain molecules in drugs. If molecules can be found that are more selective in which kinase they attack, "then you can actually find a compound that is not just potent but is also going to have fewer side effects because it will not bind or inhibit the kinases that are necessary for normal function of the body," Zutshi said.
Personalized medicine, like Luceome's, is the future of health care, said Joan Koerber-Walker, president and CEO of the Arizona BioIndustry Association (AzBIO).
"These new tests, like Luceome's, allow us to identify the various interactions that are going on inside the molecule," Koerber-Walker said. "As that happens, we get much needed information that's much more sensitive to the patient's needs, and much more effective."
The $1.6 million grant will help the company get its product to market, Zutshi said.
"In the Phase II grants you have to show how you're going to commercialize the product, and what you're going to do technically to get to that goal," she said.
So far the company has identified 100 kinases, and with the new grant hopes to identify 200 more in the next two years.
"Our goal is to get as high as possible to the 500 mark, but that's easier said than done," Zutshi said.
The more kinases that are documented, the more personalized health-care professionals can make treatments.
"Different solutions like Luceome's KinaseSeeker allow us to get the right treatment to the right patient at the right time," Koerber-Walker said.
The Phase I grant was to fund research on the feasibility of a test to detect poly(ADP-ribose), a family of proteins that can signal DNA damage. The grant allows for subsequent Phase II submission for development of test kits to be used in the discovery of new drugs.
Michelle A. Monroe is a University of Arizona journalism student and a NASA Space Grant intern. Contact her at mmonroe@azstarnet.com
The business news you need
With a weekly newsletter looking back at local history.