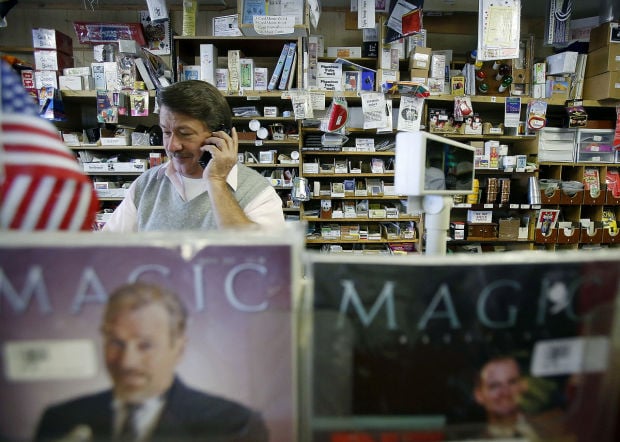 It's not unusual to see the owners of Williams Magic & Novelties entertaining customers with tricks involving sponge balls, cards, coins or levitation behind a piece of red felt - an illusion so convincing that one woman watching it one day screamed "el diablo!" and ran out of the shop.
But one trick proved too difficult even for these expert magicians: outsmarting the struggling economy.
The family-owned business doesn't have enough walk-in customers to sustain it any longer, so Williams Magic, at 6528 E. 22nd St., will be closing in the next couple of months.
The Williamses are a family of magicians going back at least three generations. "I've been doing magic since I was knee high to a jackrabbit," said Emory Williams Sr., store founder.
Williams Magic opened its doors in 1989 after Emory and Nathailia Williams moved to Tucson from Missouri, with the intention of selling off inventory from their Missouri shop.
But that's when the magic happened: Tucsonans enthralled by illusions embraced the Williams family as well as their store. "It consistently grew for 18 years," said Emory Williams, Jr.
The store's walls are lined with magic tricks, educational videos and books.
There's a special "magicians only" lounge in the back where magicians can hang out, practice and learn from each other. There's also a secret room where customers are shown how to use something they just bought.
"We're an old-fashioned magic shop," said Williams, Jr. "The magicians are going to miss us."
Since magic is such a niche market, though, the business also relied heavily on the casual passerby who would come in after walking through the shopping center.
"We need the casual customers, as well. "That's dried up now," said Williams Jr.
The shop has seen a steady decline since 2008. The holidays brought some relief, but not enough to keep the enterprise going.
Williams Jr. said there used to be 20 to 30 people in the store at a time, and now "it's dead."
There is no set date for closing, but it will be "in the next couple months."
The Williamses will not be liquidating, though.
Instead, they will continue to operate their online store and a mobile shop out of an RV that will travel to magic clubs in cities around the country that don't have physical shops.
"Magic sells face to face," said Williams, Jr. "Magicians who know what they want, want to touch the product and talk about it."
The mobile business will be used to initiate contact with magicians, and hopefully drive business to the website.
The Williams family also has a portable shop it hopes to set up somewhere in Vail.
They will miss entertaining customers at their brick-and-mortar store, though. "We don't want to go. We hate to go," said Williams Jr.
"We love magic and support magicians. But in order to do that, we need the casual customers as well. That's dried up now."
Emory Williams Jr., co-owner of Williams Magic & Novelties