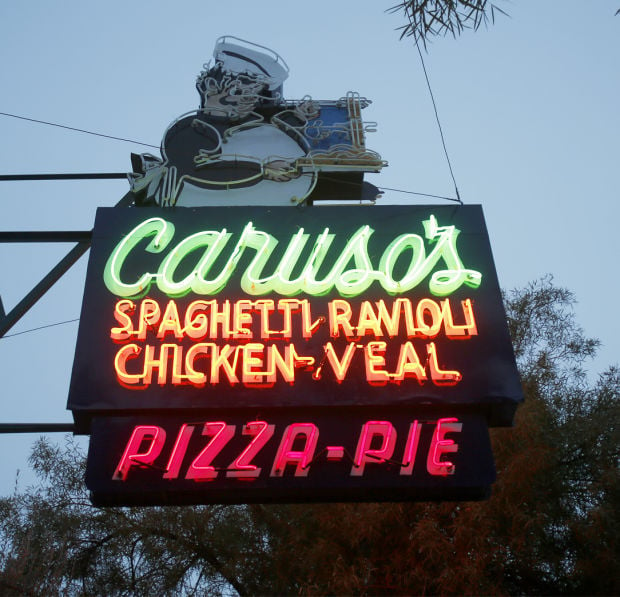 The diners are abuzz these days about the iconic neon sign at Caruso's Italian Restaurant.
"Oh, I haven't seen it lit up in years."
"I remember it when I was a kid."
"My husband and I used to kiss under its glow, back when we were dating as U of A students."
These are some of the comments Caruso's' general manager, Ande Motzkin, has been hearing as work progresses to restore the sign in front of the restaurant at 434 N. Fourth Ave.
It's exciting to see the emotional connection longtime Tucsonans have with the sign, she says.
Caruso's was started in the 1930s by Nicasio "Caruso" Zagona and remains a family enterprise.
The sign was installed in the early 1950s. Owner and general manager Sal Zagona, Nicasio's grandson, recalls being enchanted as a kid by the overhead sign featuring a tubby animated chef who raises a fork of spaghetti. The sign was designed to flash on and off, creating fork and pasta movement.
But aging, weather and even vandalism took their tolls, and the sign hasn't been in peak form for decades.
Until the city sign code was changed a couple of years ago, restoration wasn't allowed. Now, though, the Caruso's sign qualifies as historic under the new guidelines, and the restaurant received a grant from the Fourth Avenue Merchants Association to help pay for the restoration. Still, under city ordinances, all the work had to be done on-site; the sign couldn't be taken down, Motzkin says.
Workers from Always Neon & Signs have gotten all the lettering done and relighted. Only "the Caruso man" - the pudgy chef - isn't finished, but the company hopes to turn its lighting on this week.
The Caruso's sign is featured in a driving guide with details on 30 vintage neon signs throughout Tucson. The guide, funded by the Arizona Humanities Council, is distributed free to local hotels and businesses.
The business news you need
With a weekly newsletter looking back at local history.