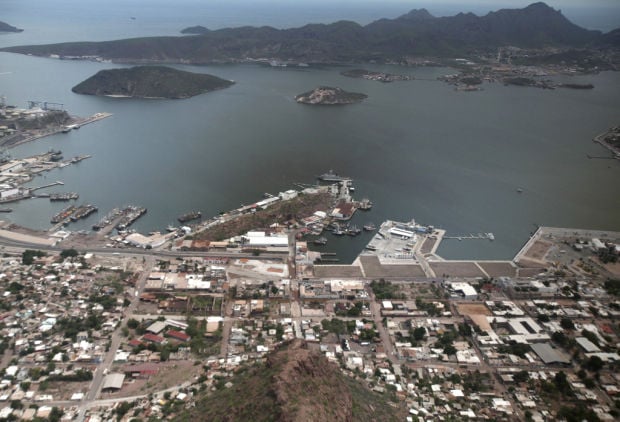 Its beaches dotted with cactus, Guaymas, Sonora, is nostalgically known as a place where the desert meets the sea.
Officials are hoping the city's reputation as a manufacturing hub will be its legacy.
A multimillion-dollar investment to more than double the capacity of its deep-water seaport is underway, and within two years an additional nine docks are to be built to support ocean vessels hauling everything from coal and grain to durable goods and automobiles.
Hosted by the city of Tucson and the Pima Association of Governments, officials from Guaymas made a presentation in Tucson Friday to business and political leaders and encouraged continued cooperation between the two regions.
The dredging of the seafloor, which began two months ago, will enable the port of accept vessels of up to 130,000 tons, said Guillermo Von Borstel, business development manager for the Port of Guaymas.
In neighboring Empalme, a complementary trade zone will have both conveyor access to the seaport and rail access to the northbound tracks that lead to Arizona.
Dozens of letters of interest have already been sent to the port by companies looking to build additional, private docks once the expansion is done, Von Borstel said.
This year, the port expects to move 8 million tons of cargo.
The expansion will make the Port of Guaymas the second largest seaport in Mexico, by volume, with capacity for more than 30 million tons of cargo.
Walter De Cima, economic development director for Guaymas, said the project will create between 20,000 and 30,000 jobs. Large retailers have taken note and are already moving into the city to serve the growing middle class.
In the past two years, Walmart, Home Depot and Sam's Club have opened stores in the city.
The fishing industry is a benefactor of the port because refrigerated shipping containers can now move shrimp, sardines, squid and jellyfish to markets in the Far East, De Cima said.
He quipped that even Starbucks is inquiring about opening a shop.
"Now you know something's happening," he said.
Tucson Mayor Jonathan Rothschild said the potential benefit to Arizona from the Port of Guaymas' growth is great.
"In two short years we've gone from ending the hate talk to real regional cooperation," he said, referring to heated rhetoric about illegal immigration. "We can now start harvesting the fruits of seeds we planted."
Making the Guaymas port an alternative to the crowded ports in California could be a boon for Arizona, whose border is just 260 miles north. Arizona could serve as an entry point for imports, and local suppliers could benefit by being part of the manufacturing supply chain.
Rothschild warned that competition is fierce and that Arizona business and political leaders remain vigilant.
"Just because things land in Guaymas doesn't automatically benefit us," Rothschild said, noting that Texas and California are also closely monitoring the progress at the Mexico port.
He urged attendees to continue working with a regional mindset and encouraged groups and businesses to register for the inaugural Arizona-Sonora Business Resource Guide, which will be available in the spring in print and electronic formats.
Manufacturers, suppliers, logistics companies, trade groups, economic development organizations and others with the ability and desire to do business in Arizona and Sonora are eligible to be included in the guide, which is being created by the Arizona Daily Star and the Tucson Hispanic Chamber of Commerce.
Arizona businesses are encouraged to participate to ensure that the guide is comprehensive and benefits industry in both states, Rothschild said. Listings are free thanks to sponsors: the city of Tucson; Nogales, Ariz.; Nogales, Sonora: Global Advantage; The Offshore Group; University of Arizona Tech Park, Cushman & Wakefield / Picor; and Ernest & Young.