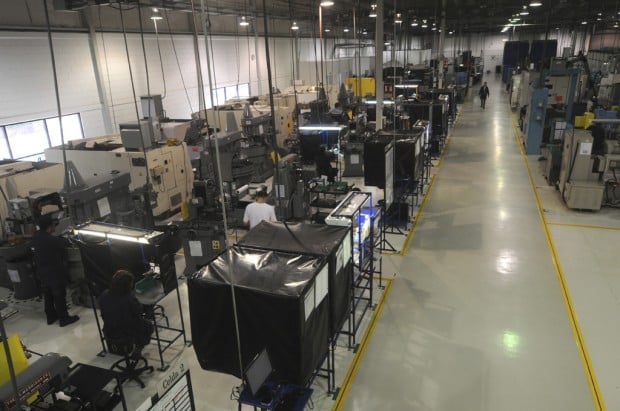 GUAYMAS, Sonora - Make no mistake - the shrimp is still a tasty lure.
But today this northern Mexico city has set its sights much higher than the crustacea for which it is famous.
The burgeoning aerospace industry in Guaymas had its efforts validated recently when the venerable Rolls-Royce chose it as the site for its newest global purchasing office.
Surrounded by several of its aerospace manufacturing suppliers, London-based Rolls-Royce will move into a Guaymas industrial park owned by Tucson-based The Offshore Group to develop a supply hub for commercial jets and military aircraft around the globe.
"Rolls-Royce has very robust booking orders for the next 10 years," said Joel Reuter, director of communications for Rolls-Royce in North America. "We need to double our production."
Because a number of Rolls-Royce suppliers already operate in Guaymas, the city was a logical choice, Reuter said.
Six corporate employees will move into the industrial park next month.
"This lends a lot of prestige to Guaymas," said Gilberto Hernandez, Guaymas plant manager for Tucson-based Sargent Aerospace & Defense, one of Rolls-Royce's suppliers.
"Having the client at our side gives us the opportunity to grow," he said. "Few manufacturing cities have corporate clients."
Rolls-Royce's decision to move into Sonora is "a significant tribute" to Mexico, Sonora's governor said in a statement.
"It confirms," Guillermo Padres said, "that Mexico is an increasingly important player in the aerospace manufacturing industry."
At its Guaymas plant, Sargent's 95 employees keep the operation humming 24 hours a day making piston rings, alignment joints and assorted parts to be used in jet engines.
The production units in the 35,000-square-foot plant are named after U.S. baseball teams. The plant itself is called Green Monster Stadium by the workers.
The teams earn "runs" for on-time production, lack of defects and volume, Hernandez said.
"It motivates employees and improves efficiency," he said.
The Guaymas plant, located in the industrial park owned by The Offshore Group, opened in April 2004. More than 300,000 parts are shipped each year.
Headquartered in Tucson since 1990, Sargent's local operation has grown to 275 employees from about 190 in 2004, said Lisa Short, director of export and import compliance.
"We've identified growth potential because of the success we've had at the Guaymas facility," Short said, acknowledging that until the company entered Guaymas, she was unaware of the city's sophisticated manufacturing industry.
"Ten years ago I went scuba diving in San Carlos," she said, "and I didn't know there was anything else down there."
Tucson Regional Economic Opportunities Inc. has identified aerospace and defense as one of Southern Arizona's four leading industries, along with bioscience, solar and logistics.
The region generates between $5 billion and $6 billion annually from more than 200 aerospace companies, TREO reports.
J. Felipe Garcia, vice president of strategic partnerships and Mexico marketing for the Metropolitan Tucson Convention and Visitors Bureau, works closely with TREO and said the definition of "region" must include Sonora.
"Our aerospace industries must be aligned," he said. "We need to think as a region and not just Marana, Oro Valley and Sahuarita. We also need to include Sonora."
Short agreed that Southern Arizona needs to capitalize on its neighboring state.
"Guaymas needs to be viewed as an asset to Southern Arizona," she said, "not a competitor."
A successful industry in Sonora means better employment for neighbors south of the border, and that translates into tax revenue at Tucson's malls and hotels, Garcia said.
"When we hear news that Rolls-Royce is moving into Guaymas," he said, "in Tucson we need to raise our glass and cheer."
Had someone told The Offshore Group's CEO when he started the company in 1986 that one day he would count Rolls-Royce among his clients, he would have shaken his head.
"No. No. No," Luis Felipe Seldner said with a smile during a recent interview.
He recalled struggling to get U.S. and international companies to consider manufacturing in Mexico - in unknown conditions and with a workforce that didn't have a long track record.
Over time, Seldner, 65, was able to recruit companies into Sonora and today has shelter operations in Guaymas, Empalme, Hermosillo, Ciudad Obregon, Saltillo and Guadalajara.
Based in Tucson, Offshore allows customers to manufacture their products, and the company's 98 employees handle payroll, staffing, human resources, taxes, Mexican employment law and customs paperwork to move products back and forth across the border.
"We are not the manufacturing experts. Our clients are," Seldner said. "We are like an industrial hotel. Guests range from baseball teams to Kiwanis clubs."
After 26 years, Seldner is transitioning his son, Luis Felipe Seldner III, into the presidency of the company.
The junior Seldner's awe is palpable.
"This was my father's vision," he said, looking out over the Guaymas industrial park from his hilltop office.
"It's a great responsibility," Seldner said. "The expectations are high."
While the family eyes will be watching closely as the 38-year-old steers the company, Seldner said it's the workers at the Sonora industrial parks that he keeps ever present.
"It's a social responsibility," he said. "There are 14,000 families depending on me."
The announcement that Rolls-Royce will begin operations in Guaymas, about 300 miles south of Tucson, is the latest coup for the port city in Sonora. In October of 2008, the Port of Guaymas welcomed the first cruise ship to the city, and in February of this year it began receiving imports and shipping exports in container cargos overseas.
The motor vehicle division of Rolls-Royce was sold to Volkswagen in 1998, although BMW holds the rights to the name and the marque for use on Rolls-Royce cars. BMW took over responsibility for Rolls-Royce cars in 2003.
Rolls-Royce customers in 80 countries include:
• 4,000 corporate and utility aircraft and helicopter operators
"Our aerospace industries must be aligned. We need to think as a region and not just Marana, Oro Valley and Sahuarita. We also need to include Sonora."
J. Felipe Garcia, vice president of strategic partnerships and Mexico marketing for the Metropolitan Tucson Convention and Visitors Bureau