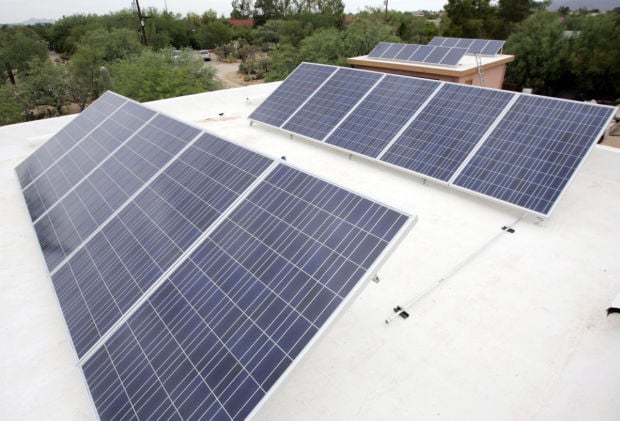 State hearings have begun on a proposal by the Sulphur Springs Valley Electric Cooperative to raise its overall rates by about 3 percent and shift more cost recovery to fixed charges, including higher charges for customers with rooftop solar systems.
The co-op's rate case, filed last year, is the latest taken up by the Arizona Corporation Commission that seeks more cost recovery from fixed charges rather than usage-based rates. Hearings started Wednesday in Tucson before an ACC administrative law judge who will make a recommendation to the full commission later this year.
Sulphur Springs, which serves more than 51,000 customers in Southern Arizona, says the average residential co-op member would pay 3.8 percent more, or $3.22 more per month.
Under the co-op's request, residential members would see their monthly minimum charge increase over four years from $10.25 to $25, while the energy charge would decrease from 12.6 cents to 10.2 cents per kilowatt-hour.
Residential customers who installed or reserved grid-connected solar or wind energy systems after April 15 of last year would see their monthly minimums increase over four years from $10.25 to $50 and their energy charges decrease from 12.5 cents to 7.12 cents per kWh.
They would also be credited with an "avoided cost," currently 2.58 cents per kWh, for any power generated and not immediately consumed.
"Grandfathered" residential solar or wind customers — those with systems that existed or were reserved as of April 15, 2015 — would also see their minimum charges rise to $50 a month over four years, but would keep their current energy charges and the same net-metering formula for 20 years from when their systems were activated.
Members in other rate classes would also see an increase in the monthly minimum, phased in over four years, along with a corresponding decrease in kWh energy charges.
Several state-regulated utilities, including Tucson Electric Power Co. in its pending rate case, say rooftop solar customers aren't paying their fair share for use of the power grid and want to charge rooftop solar customers more to cover fixed costs they avoid by using less grid energy.
Sulphur Springs said customers with grid-tied solar and wind installations now avoid more than $1 million in fixed costs that must be passed along to other ratepayers.
One utility, UNS Electric, backed an unprecedented proposal by the Corporation Commission's utilities staff to impose so-called demand charges — which would base bills partly on periods of peak usage — on all of UNS's residential and small business ratepayers.
UNS has since dropped its support for demand charges, except for customers with rooftop solar installations.
Sulphur Springs Valley Electric Co-op serves parts of Cochise, Graham, Pima and Santa Cruz Counties and includes the communities of Sierra Vista, Huachuca City, Patagonia, Elfrida, Benson, St. David, Bowie, San Simon, Willcox, Sonoita and Pearce-Sunsites.