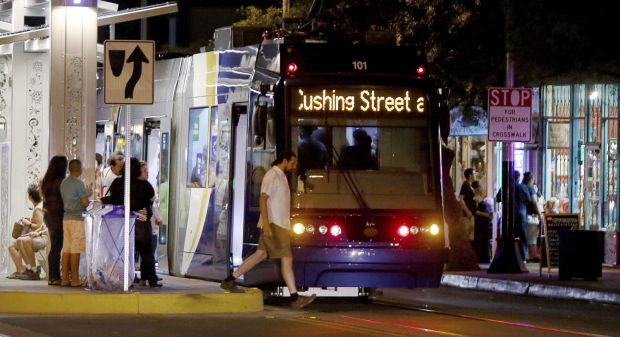 Tucsonans flocked to downtown last weekend to hop on the streetcar.
More than 60,000 people took advantage of the free rides the city offered from Friday through Sunday to launch service.
"This weekend's ridership numbers are a clear indication of the interest and support the Tucson community shares for the Tucson Sun Link streetcar system," Shellie Ginn, streetcar project manager, said in a press release. "We had a great first weekend and look forward to many more."
To meet demand, the city ran all eight cars for much of the weekend.
Monday marked the first day riders would have to fork over money to board the streetcar.
Paid ridership numbers weren't available until this morning, city officials said. Rides cost $1.50 apiece, but the city offers an all-day pass for $4.
Businesses along the streetcar line enjoyed a steady stream of customers over the weekend as people took advantage of special discounts and deals.
"We were pleasantly surprised that the traffic was steady all day long, and there was a mixed crowd of people," said Jane McCollum, general manager of the Marshall Foundation, which manages most of the real estate at Main Gate Square.
"We had one merchant who commented that it felt like school had just opened," she said, adding that most Main Gate tenants have enjoyed strong sales all summer.
Merchants were initially cautioned that there might be long lines at the streetcar stops, possibly limiting access, but overflow shuttle buses helped avert any problems, McCollum said.
Fourth Avenue merchants enjoyed strong traffic all weekend long, said Kurt Tallis, marketing director of the Fourth Avenue Merchants Association.
"The public got to see that their back yard just got a lot bigger," Tallis said, since the streetcar provides a quick and easy link between the University of Arizona campus, Fourth Avenue, downtown and Mercado San Agustín to the west. "No longer are you stuck in your one district."
The streetcar's opening weekend is over, but many merchants along the line will continue to celebrate with special deals until the end of August through the "Connect in the City" discount cards.
The card costs $5 and offers a range of savings at more than 100 local businesses in the downtown, North Fourth Avenue, Main Gate Square and Mercado San Agustín shopping districts. Cards are valid through August, and there is no limit on the number of times the card can be used.
Connect in the City cards are sold at participating businesses and online at tucsonsummer.com, where you also can view lists of participating merchants by district.