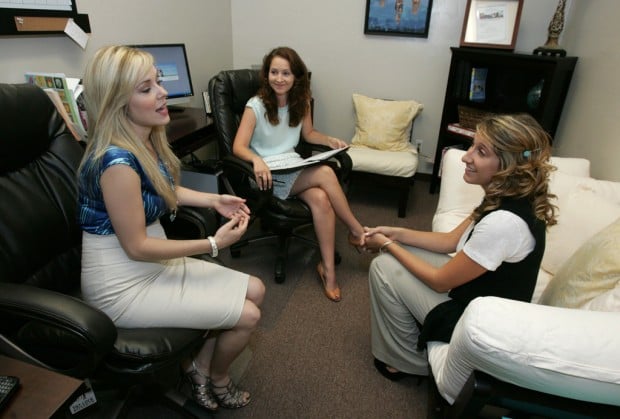 Two University of Arizona grads are bringing modern-day Mary Poppinses into Tucson homes.
Trusting Connections owners Rosalind Prather and Caroline Malkin, who have been friends since the sixth grade, both worked as nannies while attending the UA, and each went on to start local businesses of their own after graduating. Prather founded Higher Ground Tutoring while Malkin started a postpartum doula service, Nouveau Bébé. Both women are 25.
The two brought their knowledge and experiences together to start Trusting Connections, and began by conducting a local survey of Tucson parents about their child care service needs.
"The No. 1 thing they were looking for is someone that they could really trust," Prather said.
In the midst of a recent influx of online nanny services, Malkin and Prather designed their business with the goal of providing families with credible, educated and experienced professional caregivers.
Prather said their nanny service has a "boutique-like feel."
"It's a very personalized touch," Prather said. "It's nothing like what you're going to get online."
Sasha Clements and her husband turned to Trusting Connections to find a part-time nanny for their 9-month-old baby.
Clements said that in order to find the right fit, Malkin and Prather will come over to her house to get to know her family and their needs and also to learn the dynamics of their household and their parenting philosophy.
"The point of difference with Trusting Connections is that they really are going for very qualified child care specialists who have some professional experience in child care and they have a thorough background check," Clements said.
Clements said she is confident that Trusting Connections will provide them with "fewer but better candidates."
Prather and Malkin said they found that there is very little regulation in the nanny industry. "Anyone can call themselves a nanny," Prather said.
Applicants to Trusting Connections must meet a long list of qualifications to be hired. Requirements include at least two years of professional family or child care experience, passing the International Nanny Association's Basic Skills Nanny Exam, passing drug tests and extensive background checks, having CPR and first-aid certifications and successfully completing the interview process. Trusting Connections has liability insurance, Prather said.
"These are nannies that are really top of the line," Prather said. "Probably less than one out of every five people that apply is qualified to be in our pool of nannies."
Malkin and Prather also offer continuing education classes. Both parents and nannies can attend the classes, which focus on anything from child nutrition and homework help to disciplining techniques, nanny skills and money-saving methods.
Once hired, nannies are placed in either the placement division or the flex division. Placement division nannies are for families who need consistent care either part time or full time. Nannies in this division will sign a six-month or one-year contract and work only with that family for the duration. The flex division is for families who need on-call care or temporary back-up sitters.
"We really recommend the placement because it's best for kids to have a consistent person who's really an extension of your own parenting beliefs and values," Prather said.
Abigail Gibson was recently hired as a nanny by Trusting Connections. Gibson most recently worked for two years as a nanny in Austin, Texas, for a family with two young boys. She said she found it refreshing that Prather and Malkin have the same ideas about caregiving as she does.
"I think a community like Tucson needs something like this because it's so casual and laid-back here. And to have something that's a little bit more professional and a little more organized to me, as a nanny, makes me feel better and I think it makes families feel better, too," Gibson said.
"These are nannies that are really top of the line. Probably less than one out of every five people that apply is qualified to be in our pool of nannies."
Trusting Connections co-founder
• Trusting Connections is at 784-1689 or