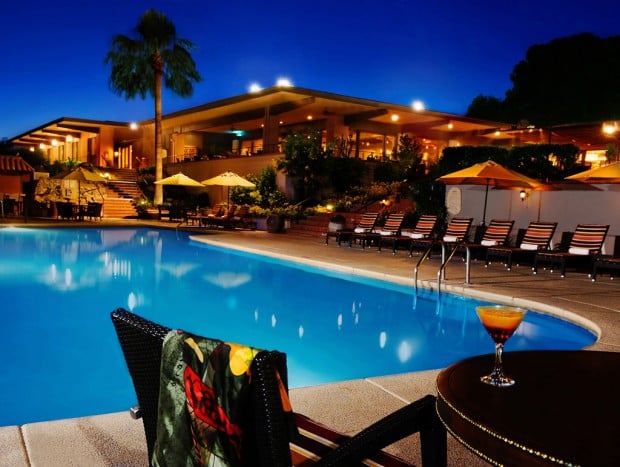 Wyndham Hotels and Resorts LLC has added to its brand the 241-room Westward Look Resort, which sits on 80 acres just north of Tucson in the foothills of the Catalina Mountains.
The property has been renamed the Westward Look Wyndham Grand Resort and Spa.
The resort's new owner, Westward Look Resort LLC, purchased the hotel at 245 E. Ina Road from APHM Westward Look LLC for $31.6 million on Feb. 2, documents filed in the Pima County Recorder's Office show.
Wyndham Hotel Management Inc. is managing the hotel.
The new owner and management have no immediate plans for significant changes at the property.
"The goal is to continue to carry on the traditions that exist and really find ways to increase the experience overall," said David Yamada, the resort's general manager.
The property features two eateries: the upscale restaurant Gold and the more casual Lookout Bar & Grille. Guest rooms and suites are located throughout the resort in 35 two-story buildings.
Westward Look is the first hotel in Arizona to join the Wyndham Grand Collection, which features properties in "one-of-a-kind" destinations, the company said.
Two other hotels in Arizona, Wyndham Green Valley Canoa Ranch Resort and Wyndham Garden Hotel Prescott, operate under the Wyndham banner.
Wyndham Hotels and Resorts, a subsidiary of Wyndham Worldwide Corp., has properties throughout the United States and in Europe, Canada, Mexico, China and the Caribbean.
The former owner, APHM Westward Look, an American Property Hospitality Management company, purchased the resort in December 2006 from Boutique Hotel Co. Westward Look LLC in December 2006 for $31 million.
In October 2009, a $14 million renovation was completed at the resort. Because of those upgrades, the resort rejoined the American Automobile Association's list of Four Diamond resorts and hotels for 2010, the Star reported. The AAA had down-rated the Westward Look to a Three-Diamond establishment several years prior.
The resort remains on the AAA's list of Four Diamond lodgings.
Wyndham is taking over management of the Westward Look as Tucson hotels have struggled in a weak economy.
In December 2011, occupancy at Tucson hotels was down 1.5 percent compared with the same period in 2010, according to data from STR, also known as Smith Travel Research. Occupancy at Tucson resorts was up from the previous year during most months of 2011, but those gains began to diminish by the end of the year, STR's numbers show.
Still, Yamada said, the resort is poised to perform well in coming years.
"The property really held its own and fared pretty well through the downturn in the economy," Yamada said.
The Westward Look resort was established in 1912.