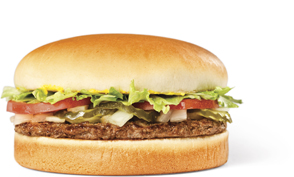 Have dinner on Whataburger today as the national burger chain celebrates its founder's 100th birthday.
From 5 to 8 p.m. today — dine in only — today, you can get an original Whataburger for a buck. But first you have to visit Whataburger's Facebook page to get the voucher. Print it out or show it on your mobile device and you're all set.
Whataburger founder Harmon Dobson opened the first Whataburger in 1950 in Texas, selling burgers for 25 cents apiece. The company now has 735 restaurants mostly across the South.
Harmon Dobson died in 1967. His widow Grace Dobson continued running the company with the couple's three children until her death in 2005.
Tucson is home to several Whataburger restaurants including 6504 E. 22nd St., 1430 W. River Road and 435 W. Valencia Road.