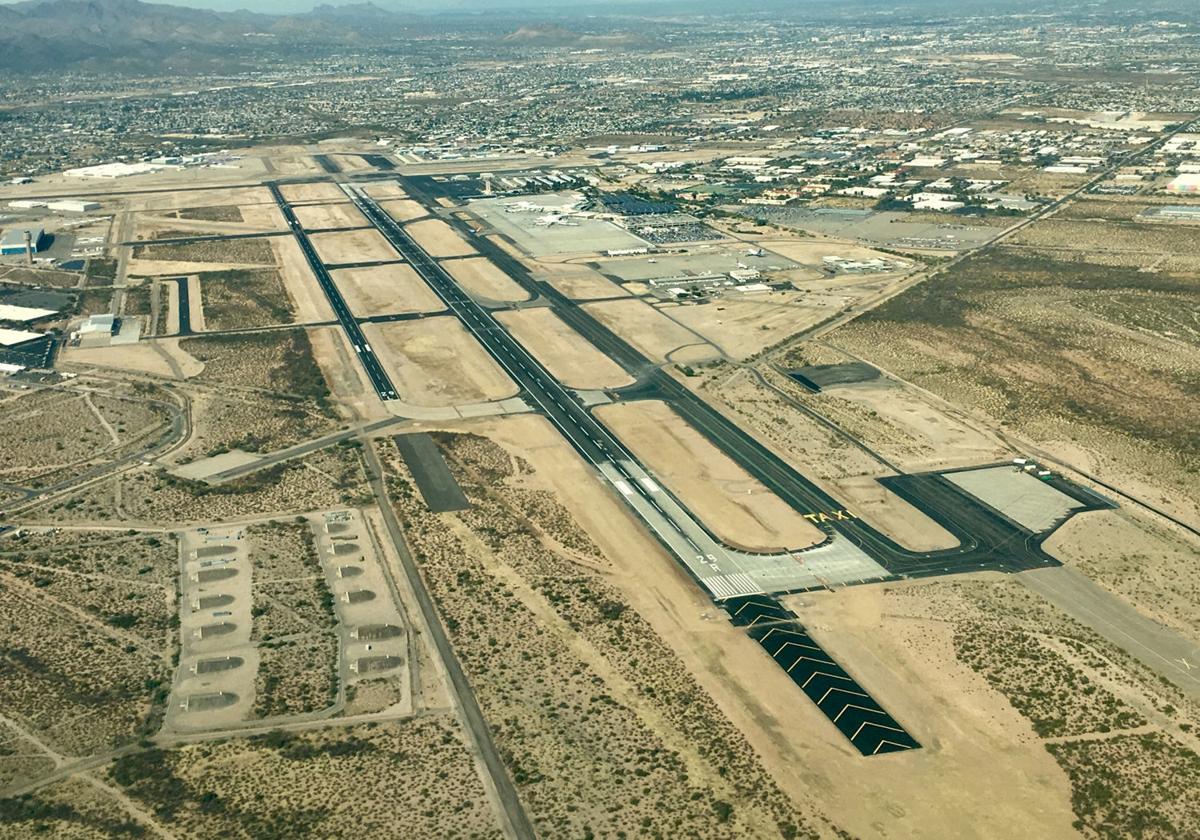 A $218 million project is slated to improve runway safety at Tucson International Airport, bringing the decades-old airfield up to federal standards.
The Tucson Airport Authority has received final federal approval for the biggest construction project in its 70-year history.
Plans include demolition of a narrow and short general-aviation runway to be replaced by a full-length parallel runway, construction of new taxiways and connector taxiways, installation of aircraft-guidance systems and modernizing the geometry of the airfield to the latest Federal Aviation Administration safety standards.
"The safety enhancements will make Tucson International Airport one of the very safest airports in the country," said Bonnie Allin, president and CEO of the Tucson Airport Authority.
The basic construction of TIA was done more than 60 years ago, and its airfield geometry, which includes the design of runways and taxiways, must be updated, said Mike Smejkal, TAA's vice president of planning and engineering.
The airport is included on an FAA list of about 150 airports with a relatively high number of "runway incursions" — incidents of improper movement of planes, vehicles or pedestrians on the ground that range from collisions to simply being in an unauthorized area.
From 2008 to 2017, the FAA logged 53 runway incursions at two locations on TIA's airfield, 11 on one of the main runways and 42 at a taxiway on the north end of the field, with a peak of 10 incursions in one year on the taxiway.
The FAA report lists all airports with three or more annual incursions in any of the studied years.
TIA spokesman David Hatfield said none of the incursion events resulted in any collisions or injuries, and no airliners were involved in the incidents.
A major cause of incursions is general-aviation pilots confusing a main taxiway for one of the main runways because of the outdated design, Hatfield said.
"Some parts of the airfield were designed during World War II," he said.
A key part of the project is several land transactions that include transferring about 58 acres of U.S. Air Force land to the airport authority for the parallel-runway safety area; moving 160 acres from the airport authority to the Air Force to provide a safety buffer for Air Force Plant 44, the Raytheon Missile Systems plant complex south of the airport; and repositioning and replacing munitions storage bunkers.
Also, local governments are interested in purchasing approximately 290 acres of airport land to make it available to Raytheon for potential expansion, the airport said.
But don't look for construction to start any time soon.
The project is expected to begin design work early next year, and construction isn't scheduled to start until late 2020.
The new full-length parallel main runway is expected to be in use by late 2022 or early 2023. All of the projects are expected to be completed by 2024 or 2025.
The runway-safety project will be paid for with FAA funding and TIA revenue bonds, which are supported by airport fees.