Not into golf? Topgolf might be the next best thing.
With the exception of those mini clubs at Golf 'N' Stuff, I've never swung a golf club.
Never had a burning desire, really.
Until Topgolf, the three-story 53,000-square-foot monolith sprang up late last year from a dirt lot off Interstate 10 and West Orange Grove Road — 10 minutes from my home in Marana.
No excuses, said Bella, the youngest and more athletically inclined of my two daughters.
It'll be fun, chimed in hubs Mark, a veteran of the links even if he hasn't played a full 18 holes in more than a few years.
So on a fairly uneventful Thursday night in May, my family sans oldest daughter Angie, who was busy with pre-Marana High School graduation events, went to experience what has become all the rage in Marana and Tucson.
After 75 minutes of whacking defenseless microchipped golf balls across a field of targets stretching as far as two football fields, I discovered that I am really lousy at golf.
Actually, not really lousy.
Somewhere in between "competent beginner" and "total embarrassment to my daughter."
The look on her face when I took a monster swing and ...
Or when I chipped the ball and it was going, going, going ...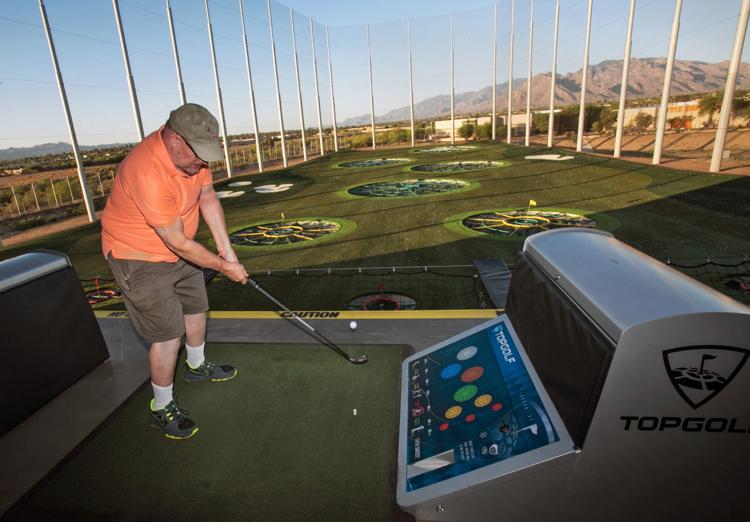 Or the big sin: When I whacked the ball and it soared high in the air, then took an abrupt right turn and barely — we're talking mere inches! — missed the guy driving the golf cart around the field scooping up the errant balls.
"Mom! Didn't you hear what he told us? Don't aim for the guys in the golf carts."
Yeah, like I'm coordinated enough to actually aim for them.
That was one of the ground rules laid out by our very nice Topgolf tour guide, Zakry Kelly.
And this pearl of wisdom for the sake of public safety: "Under no circumstance are you to step over this red line," he told us.
Kelly was pointing to a red line painted on the concrete inches from the square of artificial turf where you take your shot. If you cross that line into the swing zone, well, that may not end well, especially if the person swinging is a 6-foot-3 15-year-old girl accustomed to slamming home runs during four or five years playing Little League softball.
Another word of caution: Don't step on the yellow line in front of the turf, especially if you're on the second or third floors. The yellow line is inches away from the edge, and sure there's strong netting that will catch you should you fall, but trust us: No good will come of falling, even if you're on the first floor and falling amounts to merely tripping and landing a few feet onto the turf.
The ground rules are preambles to instructions on how to program and use the control panel, a dashboard for the handful of games you can play. There's the easy one: See who can hit the ball the farthest into a field of targets, each assigned a different point value. No-brainer: The farther the target, the more points.
It gets progressively more challenging, including games where you have to hit a designated target before you can advance to the next shot. My hubs said this is probably the best simulation for playing on a real golf course, where you have to sink the ball in the hole before you advance to the next hole.
Frankly the idea of dragging a golf bag across acres of rolling hills and sand traps chasing a little white ball in 100-degree weather holds absolutely no appeal for me.
But sitting under the canopy of Topgolf's third floor, fans blowing cool air all around, a server topping off your ice tea and laying down a culinary work of art on the table — a jumbo soft pretzel board with Cheddar cheese crumbles paired with rich Genoa salami and sausage, salty thin sliced prosciutto and sweet red grapes and gala apple slices, topped with crunchy candied pecans — I think I found my kind of golf.
Mind you, it comes at a price, and it's not cheap. You have to join Topgolf — $5 and it's good for a lifetime. Then you pay by the hour for a bay — they have 72 at the Marana facility, a smaller version of the company's Phoenix area Topgolfs, said the Marana marketing manager Quinn Hackett. You can have as many as six golfers per bay — or, as one employee called it, the "coffin." Split the cost ends up being a few dollars a person. The hourly rates vary by times, $25 until noon, $35 from noon to 5 p.m. and $45 from 5 to close.
We found that with three of us, the hour went by pretty fast. We pumped in $11.25 extra to extend it 15 minutes and we still didn't finish.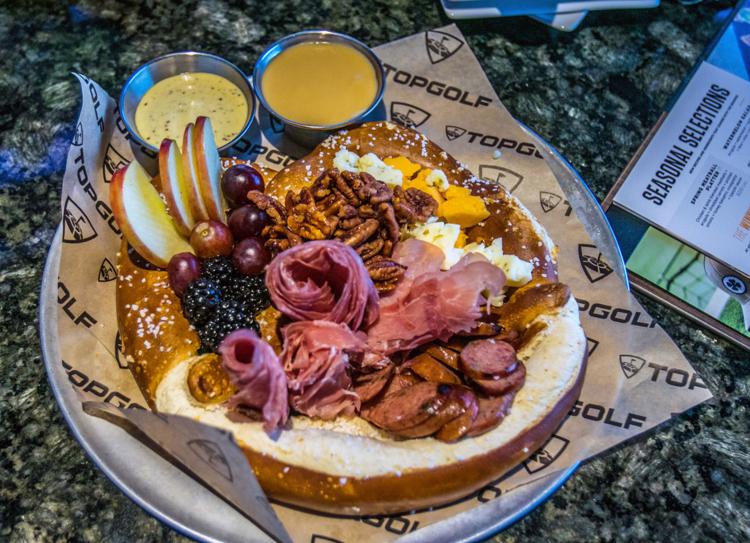 I can't say that I fell in love with golf and want to become the next Haley Moore, the University of Arizona golfer who last week helped the women's golf team clinch the national title with a 4-foot putt on the 19th hole. But I did love the solid clinking sound when I hit that ball dead center, slamming it high and straight for more than 100 yards. Yeah, that was fun.
Contact reporter Cathalena E. Burch at cburch@tucson.com or 573-4642. On Twitter @Starburch