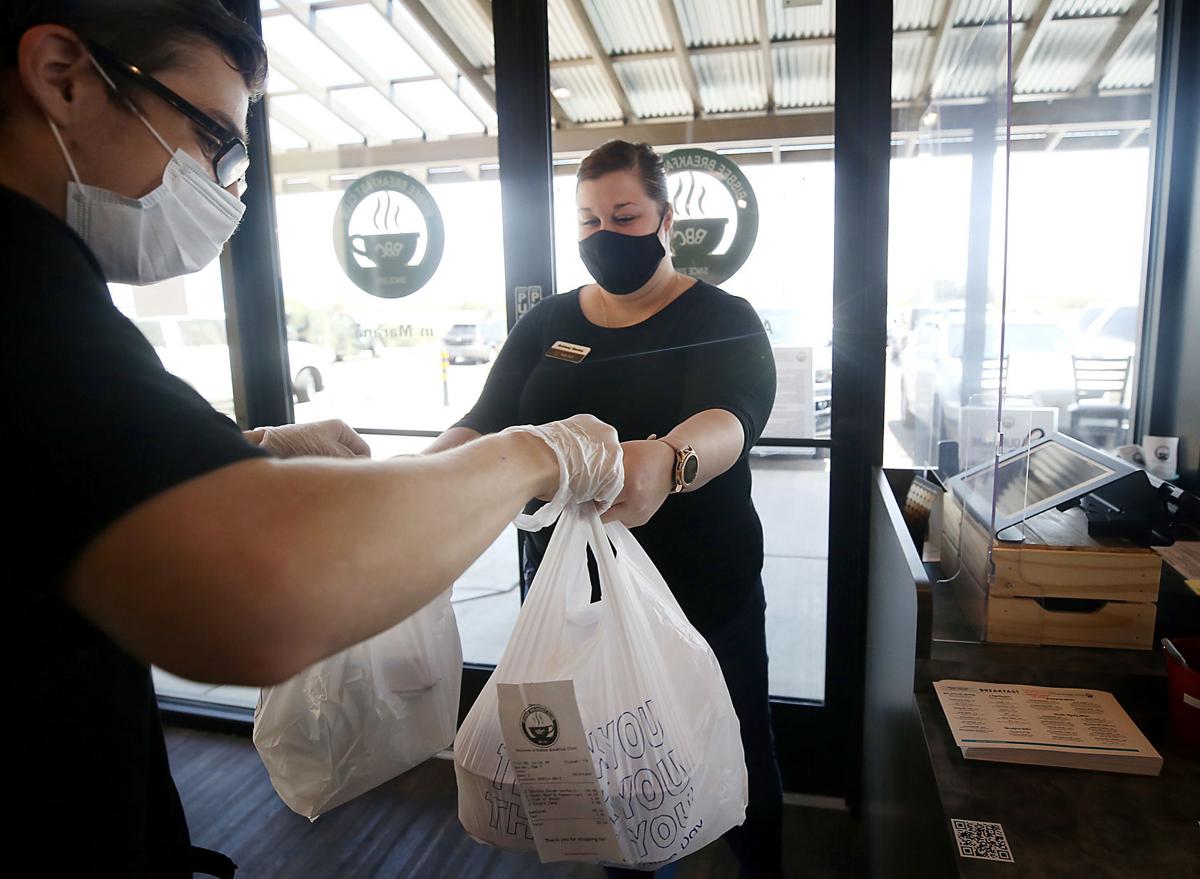 The Arizona and Tucson economies partially recovered from the early ravages of the COVID-19 pandemic somewhat faster than the nation as a whole through October.
But the outlook for a full recovery remains highly uncertain amid a recent virus resurgence and a political stalemate over additional federal stimulus most experts agree is needed to avoid a prolonged recession, the University of Arizona's top economic researcher said Friday.
Assuming a significant new federal economic stimulus package is approved this month and the COVID-19 pandemic begins to recede, Arizona is expected to return to pre-pandemic employment levels by mid-2021, said George Hammond, director and research professor at the Economic and Business Research Center at the UA Eller College of Management.
Without any new federal stimulus funding, it could be early 2022 before the economies of Arizona and the nation recover to pre-pandemic levels, Hammond said during a virtual fourth-quarter economic update.
"I'm afraid we're heading for a bit of a fiscal cliff if no further action is taken," he said. "If the outbreak gets a lot worse than we expected, if there are delays in vaccine delivery and wide distribution of the vaccine, if we don't get a federal fiscal stimulus of pretty significant magnitude, then we're looking at a slower recovery — something like the end of 2021 or early 2022."
Anthony Chan, retired chief economist for JPMorgan Chase, said in his remarks during the UA outlook that he's optimistic for a swift economic recovery once COVID-19 is brought under control.
Chan cited projections that 150 million Americans will have been vaccinated by June and some 30 million will have survived COVID-19 and have some immunity, giving about half the U.S. population immunity to the virus.
He sees the nation recovering much more quickly from the pandemic than from the Great Recession brought on by the financial crisis of 2008, whose aftereffects lingered for years.
But Chan agreed that tough times lie ahead, and much depends on the success of the COVID-19 vaccines and new federal economic stimulus.
"The next three to four months will be very challenging for the U.S. economy," Chan said. "We've gone through a lot, but the light is at the end of the tunnel."
State rebounds faster than U.S. as a whole
From February to April alone, Arizona lost nearly 295,000 or 10% of its non-farm jobs.
Overall through October, Arizona replaced nearly 66% of those jobs, while the nation has replaced 54.5% of the jobs lost during the period.
By October, Arizona had 3.4% fewer non-farm jobs than it had in February, while Tucson was down 4% and the national job count was down 6.6%.
But the jobs recovery has been uneven across the state, Hammond said, noting that employment in tourism-heavy Flagstaff was down 18% in October from February levels, while Sierra Vista and Prescott were nearly back to pre-pandemic job counts.
Local economist and University of Arizona professor George Hammond joins our Opinion Page team to talk the effects of COVID-19 on the local ec…
Hammond said Arizona's unemployment rate remains a bit of a puzzle, jumping around from about 10% in June and July, dropping to 5.9% in August and most recently at 8% for October.
The UA economist said he expects the unemployment numbers to become more clear as they are seasonally adjusted in March.
Chan noted that the national unemployment rate of 6.7% in November may be misleading and that, counting some 3 million Americans who have temporarily dropped out of the labor market, the national jobless rate is closer to 9%.
There is still a critical need for further federal stimulus funding, Chan said, brushing aside concerns about deficit spending.
"If the fire truck's coming to save your house, you don't worry about the water they're using ruining your rugs," he said, noting that the U.S. debt load remains manageable as a percentage of the nation's gross domestic product.
Hammond said the $2.2 trillion Coronavirus Aid, Relief, and Economic Security Act, also known as the CARES Act, helped prop up the state's economy in the third quarter, contributing to a 11.6% increase in second-quarter personal income.
According to estimates from the U.S. Bureau of Economic Analysis, the CARES Act pumped $40.2 billion into the Arizona economy, with $23.4 billion alone from economic impact payments to individuals.
Losers and gainers
Not surprisingly, Arizona's leisure and hospitality sector — including the travel, tourism and arts and entertainment industries — was the hardest-hit sector, with about 55,000 jobs lost since February, though there has been some gradual improvement from its bottom in April, Hammond said.
Professional and business services lost some 18,000 jobs from February through October, as many temporary staffing positions are often the first to go, he said.
Arizona's education and health-care sector lost nearly 15,000 jobs, mostly in health care and social assistance positions as people shied away from seeking routine health care amid the pandemic, Hammond said.
"We just see people continue to be reluctant to do those normal health checkups," including going to the dentist, he said.
One surprise, Hammond said, is that the trade, transportation and utilities sector — which includes retail — added nearly 9,000 jobs since February, as online sales boomed and smaller retailers may be replacing traditional sales staff with people like web programmers and delivery drivers.
Meanwhile, while construction employment has weakened during the pandemic, housing permit activity has surged.
Preliminary seasonally adjusted housing permit data suggest that statewide, total permits were up 25.2% year to date through October compared to last year, while house prices continue to rise at a rapid pace, Hammond said.
The data suggest that Arizona may gain in-migration from places like California as people seek to take advantage of remote work opportunities in areas with lower costs and more space, he said.
"Arizona has a relatively low cost of living, it's below the national average, driven by relatively affordable housing, so it stands to reason many people may be looking for homes in a cheaper market," Hammond said.