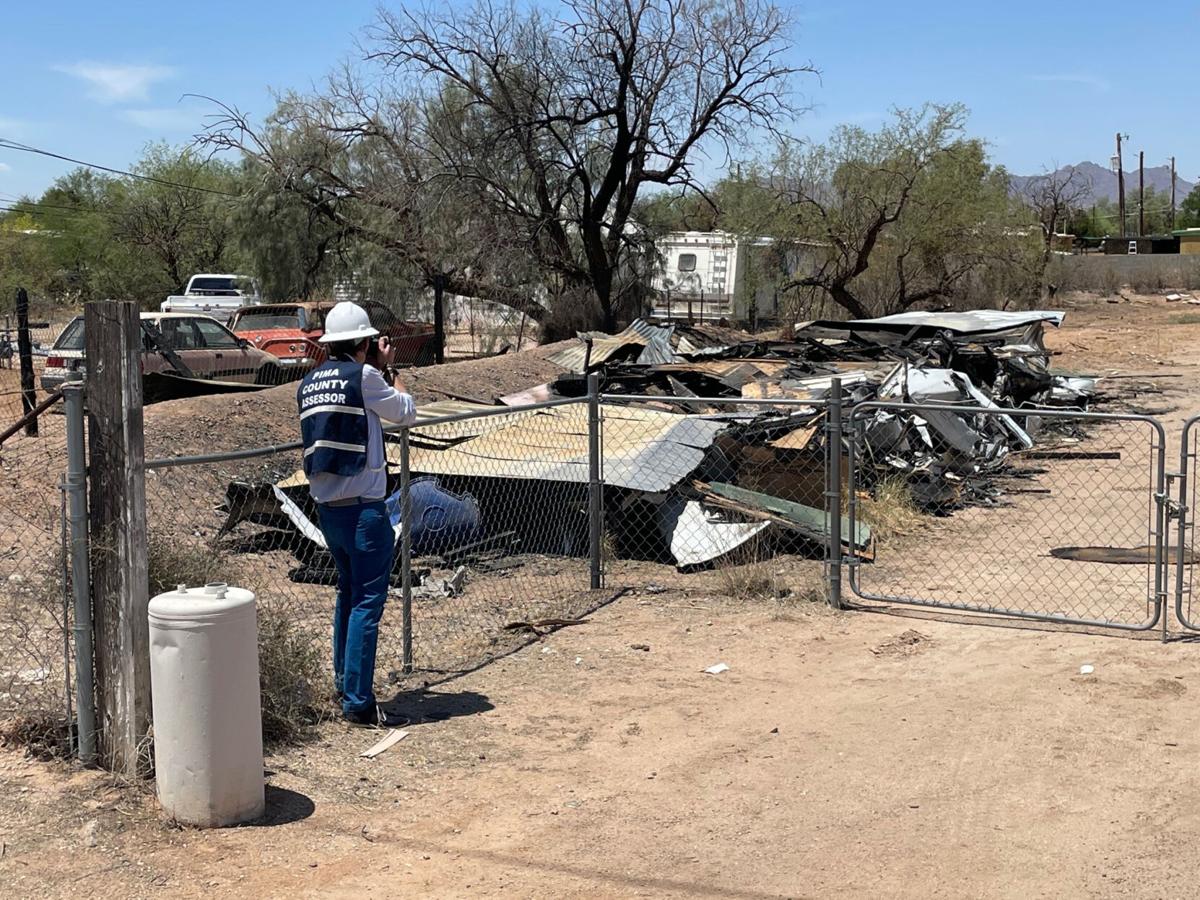 Owners of home and businesses who suffer major damage from fire or other disasters are getting help with timely breaks on their property taxes, thanks to a new program adopted by the Pima County Assessor's Office.
In January, the assessor launched a "rapid-response" program designed to help both businesses and homeowners in the event of a catastrophic fire, flood or other unforeseen accident that has caused significant damage.
Property taxpayers who suffer such losses can file notices of claim to reduce their property taxes until the damaged structures can be rebuilt and reassessed.
Under the new program, the Assessor's Office is working with local fire departments and governments to reach out to taxpayers immediately after a fire or other catastrophic loss and help them file claims.
So far, county staffers have contacted about three dozen fire-damaged properties since the program started, averaging about five properties a week.
Pima County Assessor Suzanne Droubie said the program is designed to afford taxpayers relief on their bills as soon as possible after they suffer major losses.
"We're trying to make a terrible situation just a little bit easier," she said.
Droubie, a Democrat elected to her first term last November, said she learned about the impact of disasters on property values firsthand when she joined the Assessor's Office as a senior appraiser in 2008 and was assigned to reevaluate values of properties destroyed and later rebuilt after the Aspen Fire swept through Mount Lemmon and Summerhaven in 2003.
She was reminded of those impacts last summer as she viewed the destruction wrought by the Bighorn Fire from her home in the Catalina area, not far from the fire's start.
"Ultimately, it falls on the taxpayer (to file a notice of claim), but I thought, 'why doesn't the Assessor's Office take a more proactive approach?'" she said. "When your house burns down, I can pretty much guarantee you, the last thing you're thinking about is, 'I better call the Assessor's Office and get my (property) improvements off the rolls.'"
Notices of claim don't take an entire property off the county tax rolls, but the reduction in property taxes until a home is rebuilt can amount to thousands of dollars for a typical Tucson-area home.
Droubie cited the hypothetical example of a home with a value of $200,000, for which the owner in a certain area would pay about $3,000 in annual property taxes.
If a fire totally destroyed the home, the property value could be adjusted to be based on the remaining land value, which say at $40,000 would result in an annual tax bill of just $600 — saving the homeowner $2,400 over a year.
Taxpayers who don't promptly file notices of claim can file later and get credit retroactively, Droubie noted.
Rebuilding a home from the ground up can now easily take a year, especially with supply-chain disruptions and high building costs in the wake of the COVID-19 pandemic, Droubie noted.
Business taxpayers can also benefit from a prompt tax break, she added.
"Property taxes can be one of the largest expenses if you own a business, and when something like this happens, it's devastating," Droubie said. "We're making sure we do our part, because if our businesses aren't thriving, neither is our community."
As part of the program, staffers from the Assessor's Office visit the disaster sites and contact the owners to help them file claims for value relief.
The property's valuation is adjusted to reflect a major loss until it is rebuilt and can be reappraised, Droubie said, noting that the department later inspects each property and keeps in contact with the owners as reconstruction progresses.
Droubie said the disaster rapid-response program is just one of several measures her office is taking to provide more services, including plans to increase outreach on programs such as a property-tax freeze offered to seniors and special exemptions for lower-income widows and widowers.
"My philosophy is that government is here to help, and I know that's not always what it seems like, but that's what we're trying do," she said. "We don't just want to be that entity that values your house, we want to get out there and provide services also."
For more information, call the Assessor's Office at 724-8630.