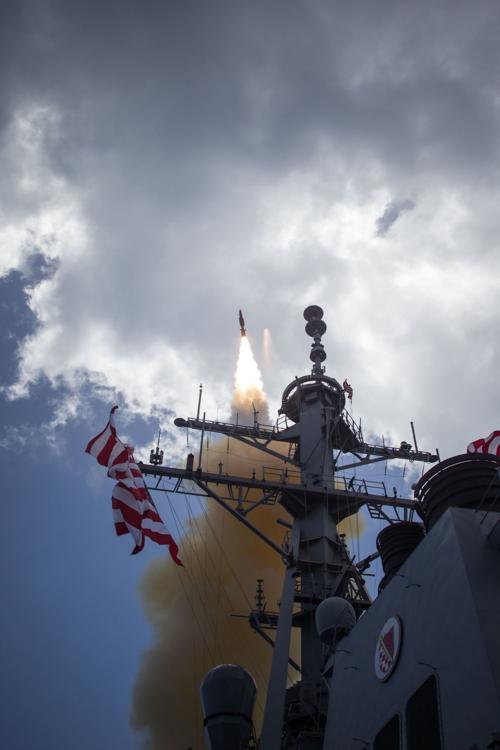 Buried in the fiscal 2019 U.S. defense budget are a few lines expected to assure billions of dollars of future business for Tucson-based Raytheon Missile Systems, while potentially saving taxpayers hundreds of millions.
The language authorizes multiyear procurements — obligating uninterrupted program funding for up to five years — for two of Raytheon's biggest programs, the Standard Missile-6 naval air-defense and surface attack missile and the SM-3 Block IB, the latest operational version of the ballistic missile interceptor.
The Pentagon says that the two planned multiyear contracts together will save taxpayers an estimated $637 million, or about 13.5 percent on contracts that combined would cost more than $4.7 billion under annual contracting.
Mitch Stevison, vice president of air and missile defense systems for Raytheon Missile Systems, said both contracts are still in proposal phase but they offer a "win-win-win" proposition.
Warfighters get more of a defined capability, the taxpayer gets a more affordable product and Raytheon can better plan its capital investment, he said.
"When you do this over five years, certainly now you're looking at a much longer period of time to work your investment strategies to drive the product cost further down, and secondly to increase and improve your infrastructure," Stevison said.
Under the traditional annual defense procurement process, contracts may cover several years but rely on annual appropriations to legally obligate funding.
To qualify for multiyear contracting, programs must meet several requirements, including the certification of at least 10 percent in cost savings and having a stable design, and win approval from Congress.
Multiyear contracts have mainly been used for large military platforms like aircraft that typically don't change significantly from their initial design, though systems may be incrementally upgraded.
According to a 2017 report by the non-partisan Congressional Research Service, since 1990 multiyear procurements have been limited to a few per year, mostly aircraft and ship programs though Raytheon did get a multiyear deal for Tomahawk cruise missiles in 2004.
"You really have to have higher level of approval in our government to get these multiyears through, as they should, there is a higher threshold of approval needed, because we as taxpayers are going to commit this country to five years of this production," Stevison said.
MAJOR PROGRAMS
Raytheon's SM-3 and SM-6 programs already are major sources of revenue for the company.
The SM-6, which is designed to destroy enemy aircraft and missiles as well as attack surface targets at sea, is already in full-rate production for the Navy. Raytheon has delivered more than 400 copies of the SM-6, which also has been acquired and deployed by the navies of Australia, Japan and South Korea.
In late September, the Navy awarded Raytheon a contract worth up to $579 million with options to produce SM-6s with fiscal 2017 and fiscal 2018 funding, following a $235 million production contract last year.
The SM-3 Block IB is the latest production version of the interceptor used with the ship-based Aegis Ballistic Missile Defense system as part of a missile shield for Europe, which now includes a land-based Aegis site in Romania.
Raytheon has delivered nearly 200 SM-3 Block IBs, and in July, the Missile Defense Agency awarded the company a $467 million contract for 44 interceptors, the end of a contract buy totaling $2.5 billion since 2015.
"These are two of the highest-demand products we build here at Raytheon Missile Systems," Stevison said. "Clearly the warfighter sees the value of what these systems bring to the fight and they want more of it."
While much of the Standard Missile development is done in Tucson, final assembly takes place at Missile Systems' plant in Huntsville, Alabama.
The Navy's proposed multiyear procurement plan for the SM-6 calls for Raytheon to produce 625 of the missiles from fiscal 2019, which started Oct. 1, through fiscal 2023 at a cost of $2.08 billion.
The Missile Defense Agency's multiyear plan for the SM-3 IB proposes that Raytheon build 204 of the interceptors from fiscal 2019 through 2023.
Most of the expected savings will come from Raytheon's ability to order more lead materials and components ahead of time, the Pentagon and Raytheon say.
"Whether you're doing defense work or you're doing commercial work, economies of scale in production is what you're after," Stevison said.
Multiyear contracts can also help guide decisions to invest in new infrastructure.
"Because we're now guaranteed five years of production, it gives our vision for what we want to do as a company more depth," he said. "We can look at facilities making production more efficient, and put capital in and know we'll get a return on investment."
Raytheon already is building several new buildings in a planned $500 million expansion, as it adds some 2,000 employees in Tucson.
STABILITY CONCERNS
Stevison said Raytheon is in the process of proposing and negotiating the SM-3 and SM-6 multiyear pacts, and the company expects them to be finalized in mid-2019.
A government watchdog said multiyear contracts can save taxpayers money, but carry some significant risk as well.
Dan Grazier, a fellow at the Center for Defense Information's Project on Government Oversight, said programs approved for multiyear procurement must be technologically stable, or taxpayers could be at risk if significant technological changes are made mid-contract.
Grazier has recently has opposed similar multiyear "block buy" contracting for the F-35 Joint Strike Fighter, arguing that the technically troubled program is not a stable design.
"The trouble is when programs don't meet that criteria, that can cause all kinds of issues, and any savings can be eaten up very quickly," Grazier said.
He questioned whether the SM-6 should qualify for a multiyear procurement contract, citing a 2017 report by the Pentagon's Director of Operational Test and Evaluation that cited "classified concerns" involving the missiles target-detection device and active target seeker.
But the Navy's multiyear procurement plan for the SM-6 says the missile is in a "stable configuration," and a Raytheon spokesman said the specific concerns "have been addressed and any issues retired."
Loren Thompson, CEO of the Virginia-based Lexington Institute, said he believes Raytheon's SM-6 is technically mature enough for multiyear procurement.
"The SM-6 seeker is an evolution of technology Raytheon has been using for many years," Thompson said, noting that Raytheon and other defense contractors contribute to his think tank.
RISK VS. REWARD
Stevison said that under annual contracting, the Pentagon and contractors share the risk of any cost overruns under individual contract provisions.
With a multiyear deal with a fixed price, the contractor bears the cost risk, or reward.
"There is certainly opportunity on these programs, and there is certainly risk," he said. " If we get a firm, fixed-price contract and if we can do better, we get to keep the profit. On the risk side, if we do worse, we have to eat that."
Thompson said multiyear procurement deals can not only save taxpayer money but they also help contractors plan ahead, particularly for hiring.
"It allows companies to plan ahead for greater efficiency, and it reduces the turnover in the workforce, because jobs don't go away depending on what happens on Capitol Hill each year," he said.
The business news you need
With a weekly newsletter looking back at local history.