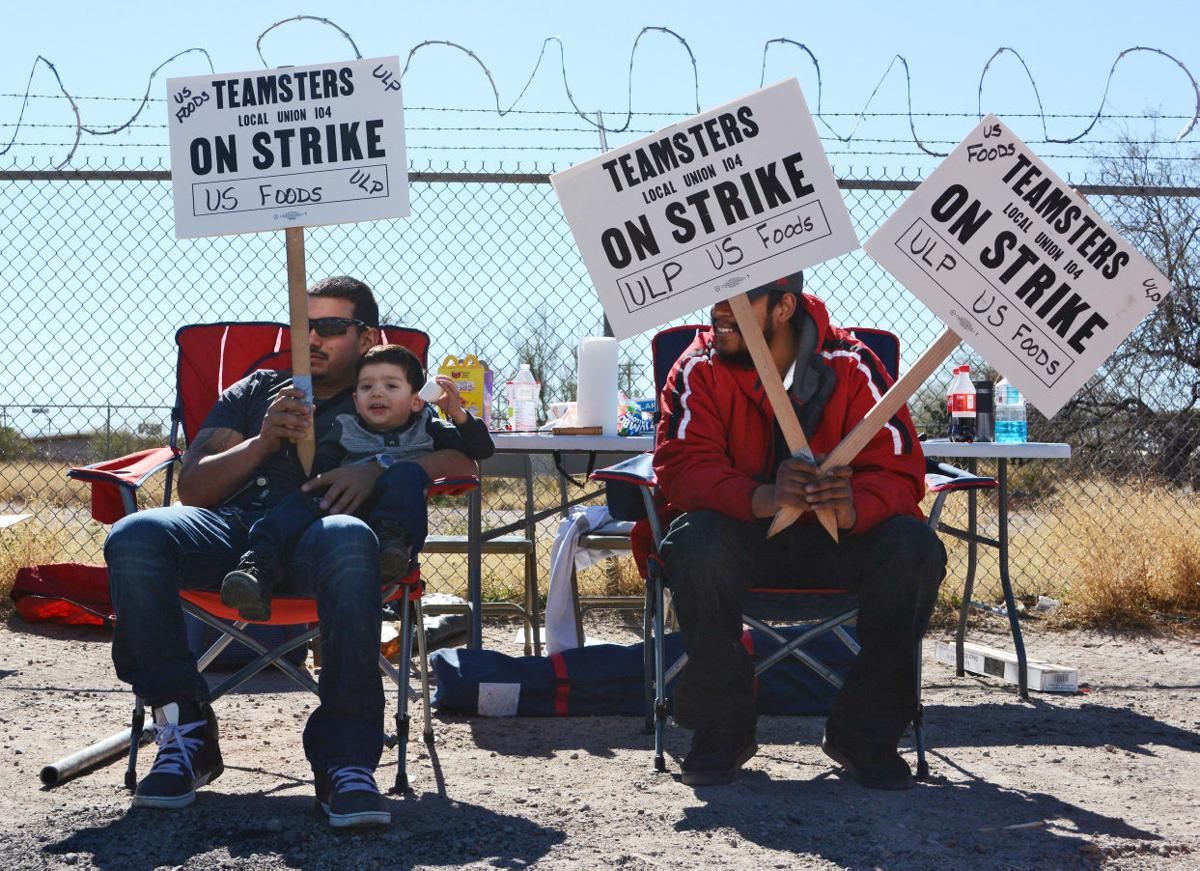 Food deliveries for Tucson hospitals, nursing homes and schools could be disrupted if union delivery and warehouse workers for distribution giant US Foods in Arizona go on strike to protest the company's COVID-19 safety practices.
Phoenix-based Teamsters Local 104 voted overwhelmingly on Wednesday, July 29, to authorize a strike amid prolonged negotiations on a new contract with US Foods. The union says contract talks set for Aug. 10 may be the last chance for a settlement.
The union, which represents about 220 US Foods workers in Arizona, says the company has failed to comply with the Centers for Disease Control and Prevention's COVID-19 safety guidelines, including contact tracing of probable COVID-19 patients, disinfecting and cleaning work spaces and pre-screening employees' temperatures before individuals enter the facility.
In one recent incident, the union says, the Illinois-based company allowed a supervisor to enter a US Foods facility warehouse, even though the supervisor showed signs of fever and had recently been in close contact with a probable COVID-19 patient.
"We are concerned that the company's refusal to follow CDC COVID-19 guidelines could turn the company's Arizona operations into a hub for spreading the virus to struggling schools, hospitals and restaurants," said Frank Solis, a member and union steward for Local 104 who works at US Foods.
US Foods said in a prepared statement that the company follows all COVID-19 safety guidance from the CDC and other public-health agencies.
"Nothing is more important than the safety of our associates and customers," the company said in a prepared statement. "We have been vigilant in our COVID-19 safety efforts and follow guidance from the CDC and federal, state and local public health agencies."
According to the Teamsters, US Foods customers in Arizona include Banner Health's network of hospitals and specialized healthcare facilities; 28 Brookdale Senior Living facilities; public schools that participate in the federal school lunch program; and Sunrise, Le Petite Academy, Childtime and Kindercare child care centers.
US Foods' Arizona operation also services thousands of restaurants including Dairy Queen, Native Wings and P.F. Chang's, the union said.
US Foods is the second-largest commercial food distributor in the nation, with about $26 billion in sales in 2019.
US Foods said the ongoing contract negotiations are not related to its COVID-19 safety efforts "and we are disappointed the union is making these claims."
The company said that in case of a strike, it has contingency plans in place to lessen any disruptions to customers.
In 2016, US Foods workers in Arizona went on strike for four days and engaged in at least seven separate walkouts to protest what it called numerous unfair labor practices during contract negotiations.
Concerned about COVID-19?
Sign up now to get the most recent coronavirus headlines and other important local and national news sent to your email inbox daily.