Our never-ending pursuit for ease and expediency is now impacting the local housing market.
Selling a home for cash, sans strangers rummaging through your closets, all with a few online clicks can be an appealing prospect for a homeowner.
But, like most conveniences, it comes at a cost — both to the seller and to the overall housing market. Buyers can expect an offer lower than they might get with a traditional home listing, plus fees that can be double what Realtors charge.
Investors in the Tucson-area housing market are not new, but the recent entry of mega, well-financed platforms such as Opendoor and Offerpad is raising eyebrows as the number of sales transactions recorded on the Multiple Listing Service drops.
Homes are typically listed for sale in the multiple listing service by a real estate agent, allowing potential buyers to put offers in. However, the absence of the listings tighten the resale market inventory.
Last month, about 25% of existing-home sales recorded were not reflected in the MLS, which at one time captured about 95% of home sales.
"This increase in well-capitalized, all-cash buyers naturally puts upward pressure on pricing on both the buying and selling side," said local housing analyst Ginger Kneup. "They compete to buy the same few properties — easily edging out the traditional loan-seeking buyer — and push pricing up."
The investors will make cosmetic improvements to the properties then resell at a higher price, which puts upward pressure on the whole market.
Last month's median new-home price set a new record at $312,125 and the existing-home median selling price was $220,000.
These so-called iBuyers are having an impact.
"I think buyers and sellers have more access to information than ever before, thanks to the internet, and therefore have more confidence in handling transactions on their own without a Realtor," said Kneup, owner of Bright Future Real Estate Research. "Offerpad and Opendoor only recently started to be active in Tucson but will certainly increase these off-market transactions.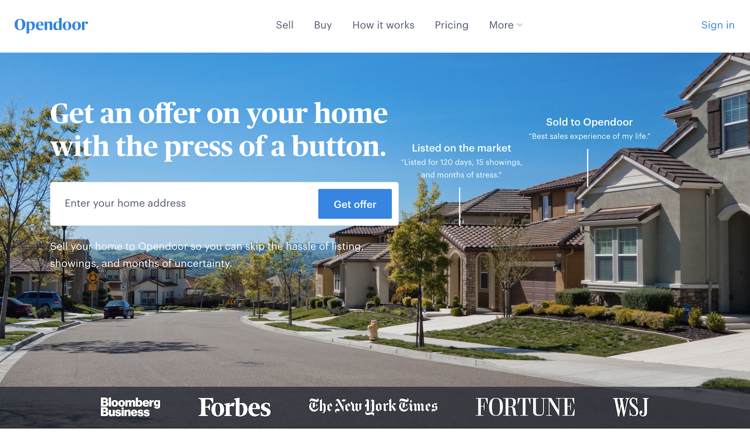 "It reflects national trends and is an ongoing conversation about how existing homes are transacted and the ever-changing role of the Realtor community."
WARM RECEPTION
The process of selling a home to an iBuyer is simple, by design.
After answering questions about the home on the site or app, a cash offer is made. If accepted, an in-home assessment is scheduled and the money is paid.
Opendoor entered Tucson in February and is seeing much interest from homeowners, said Amit Arora, general manager of the company's west division.
The San Francisco-based company operates in 20 markets in 11 states and buys and sells over 3,000 homes a month.
In Tucson, Opendoor has 23 homes on the market and another 42 under contract.
"To get that kind of volume means customers want this service and we're having a great experience," Arora said. "It's really fun when we talk to customers and their initial reaction is, 'I can't believe this is true.'"
Some consumer groups caution that selling with iBuyers can cost more than double. Some companies charge up to 12% in fees, where a traditional broker averages about 6%. For a family selling their home at Tucson's median price, that's the difference between paying $13,200 and $26,400.
Arora said the fees are offset by the convenience of a cash offer and the seller being able to pick a closing date between 14 and 60 days after accepting an offer.
"That way they're not facing double mortgages or having to stay at an extended hotel," Arora said. "That's a really appealing component."
He said all fees are explained in detail both by an Opendoor representative and in writing.
In a statement announcing its entry into the Tucson market, Chandler-based Offerpad said local demographics were the draw.
"Now is the opportune time as year-over-year existing home sales, home value and appreciation, and employment are all up," CEO Brian Bair said in the statement. "Apart from statistics, Tucson is our neighboring metro area — Arizona is our home and we're proud to broaden our footprint across the most heavily populated part of the state."
A spokesman for Offerpad said the company does not disclose specific data but said thousands of Tucson-area residents have submitted requests since the company began local operations in December.
THE FINE PRINT
Like most things, the potential catch to using these platforms is in the fine print that many consumers are notorious for glossing over, said Gayln Ziegler, director of operations for Keller Offers, the iBuyer division of Keller Williams.
"The iBuyer concept came about because there was a need for some sellers who have an urgency to relocate, maybe there's something happening in the family," she said. "There are many sellers who will pay — meaning giving up some equity in their home — for expediency."
The simplicity and certainty of selling for cash is worth accepting a lower price for some, Ziegler said.
"Look, we'll pay $20 to jump into an Uber or Lyft instead of looking for a parking space," she said. "We're all moving at a fast pace, but for most people, their home is the biggest investment they have."
For that reason, Ziegler said, sellers considering iBuying would be smart to consult with a Realtor, who can share advice based on knowledge of the Tucson market, before deciding which route to take.
Sellers who do their homework will probably stick with a traditional listing through a Realtor, said Barbara Wilson, president of the Tucson Association of Realtors board of directors.
"I don't feel it's a big threat to our industry as long as we maintain our professional values," she said. "When you deal with an agent, you have human contact and experienced counsel."
Unlike the "We Buy Ugly Houses" model that fixes up distressed home for flipping, these latest iBuyer companies are interested in specific types of homes, certain neighborhoods and inventory that needs only cosmetic touchups so they can be turned quickly, Wilson said.
"They're not traditional flippers; they won't buy any home out there," she said. "They're trying to stay within their sweet spot."
For sellers with homes iBuyers want, it all comes down to which matters more: money or convenience.
"They just want to be done," Wilson said. "That's the mindset nowadays — fast."