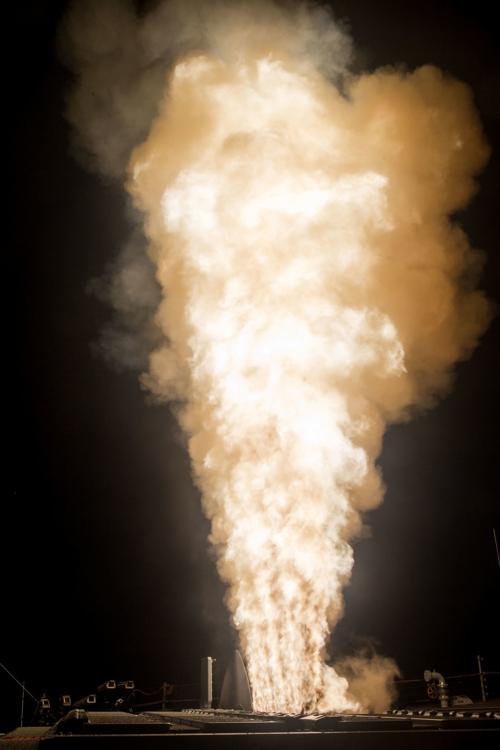 The latest version of a ship-launched missile interceptor made by Tucson-based Raytheon Missile Systems passed a critical flight test on Friday when it destroyed a medium-range ballistic missile target over the Pacific Ocean.
The successful intercept by the SM-3 Block IIA missile, which is being co-developed with Japan, moves the system closer to an initial production decision, Raytheon officials said.
During the test in the early hours of Friday morning, a target missile was launched from the Pacific Missile Range Facility at Kauai, Hawaii, the Missile Defense Agency said.
The guided missile destroyer USS John Finn detected and tracked the target missile and launched an SM-3 Block IIA that intercepted the target, the agency said.
"It's definitely an important milestone on the path toward transition to production," said Roy Donelson, senior director of SM-3 programs for Raytheon.
Based on observations and initial data review, the test met its objectives, the MDA said, adding that officials will continue to analyze its performance.
"This was a superb accomplishment and key milestone for the SM-3 Block IIA return to flight," said MDA's director, Lt. Gen. Sam Greaves.
Raytheon said the interceptor "obliterated" the target missile.
The SM-3 Block IIA is a larger, faster and longer-range version of the SM-3 Block IB, the current variant that is used with the mainly sea-based Aegis Ballistic Missile Defense system.
"It has bigger rocket motors, a bigger kinetic warhead and it has greater capability in terms of defended area," Donelson said.
But an SM-3 Block IIA missed its mark in a test launch in January, the first launch from a land-based system in Hawaii.
Earlier this month, the MDA said a failure review board found the cause of the miss was a faulty device designed to ignite an upper-stage motor.
Based on the review board's findings, the MDA and the Japanese Ministry of Defense planned to take corrective actions, including removing and replacing the firing devices, Greaves said at the time.
A ship-launched SM-3 Block IIA intercepted a medium-range ballistic-missile target during a test in February 2017. A similar missile missed an intercept in June 2017, but it was later determined that a sailor erroneously caused the missile to self-destruct.
Donelson said Friday's successful intercept test keeps the SM-3 Block IIA on its development path, but he declined to comment on when the MDA will make a decision ordering the system into production.
"We're hoping that decision will be made soon, but that's really up to the Missile Defense Agency and Department of Defense, to finalize at what point they feel we're ready. But I would argue that this is an important milestone toward that step," Donelson said during a media conference call.
The MDA is planning to test the SM-3 Block IIA against an intercontinental ballistic missile target by the end of 2020, Greaves told a Senate committee in April.
In late September, the Missile Defense Agency posted a pre-solicitation notice that it plans to award Raytheon a sole-source, five-year contract for production and delivery of an unspecified number of SM-3 Block IIA missiles beginning in fiscal 2019, contingent on the agency issuing an initial production decision for the program.
Donelson said that the SM-3 program is a true cooperative project with Japan, noting that development partner Mitsubishi Heavy Industries has contributed significantly to its development.
"Japan has really been involved in all aspects of this design, development and manufacturing, so it's unique in that it's truly international co-development," he said.
Donelson said there is international interest in the SM-3, but he declined to name other nations that are considering the system.
According to recent reports, South Korea is planning to buy SM-3 missiles to defend against the missile threat posed by North Korea.
"There is a lot of interest in SM-3 across the globe; we'll work with the Department of Defense in supporting those interests," Donelson said.