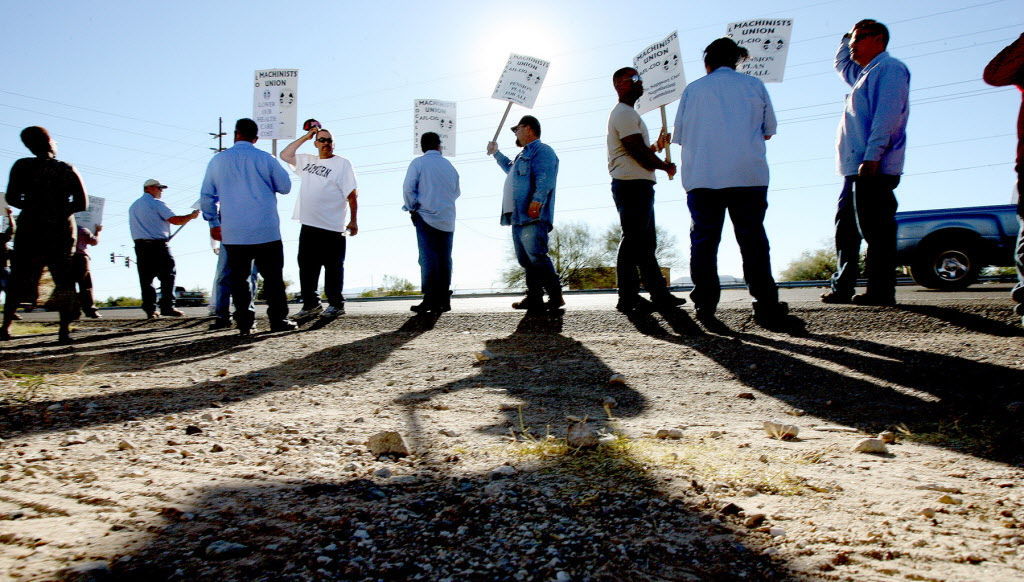 Tucson-based Raytheon Missile Systems, the region's biggest private employer, and its major union have launched negotiations on a new collective-bargaining agreement as the current three-year contract is set to expire.
A negotiating team for the International Association of Machinists and Aerospace Workers Local 933 and union leaders including IAMAW international president Robert Martinez Jr. toured Raytheon plant facilities on Monday, according to the local's website.
Negotiations began Tuesday, with Martinez and other union officials discussing the union's positions on health care, wages, pensions and job security, according to the union.
The company initially outlined changes it is proposing to the union's collective-bargaining agreement in areas including training, shift hours, overtime and seniority, the union said.
Officials of the IAMAW Local 933, which as of 2015 represented about 1,300 workers at Raytheon, could not be reached for comment.
A Raytheon spokesman declined to comment.
The union local approved its current contract with Raytheon in October 2015, after negotiations stalled over wage increases and health benefits and union leaders won authorization to hold a vote to strike.
A strike was averted when the union ratified a Raytheon final offer that included wage increases for most union workers rising from 2.5 percent in the first year to 3 percent in the third year.
The expiration date of the current contract was not immediately available. Under federal labor law, parties to a collective bargaining agreement must continue to honor its terms after the agreement expires, until a new agreement is reached or a formal impasses is declared.
The machinists' union last went on strike in 2006. It lasted 10 weeks before the company agreed to increased health benefits and a wage increase of 3 percent each year.
Raytheon Missile Systems is Southern Arizona's largest private employer with more than 10,000 local workers.
Contact senior reporter David Wichner at dwichner@tucson.com or 573-4181. On Twitter: @dwichner.
The business news you need
With a weekly newsletter looking back at local history.