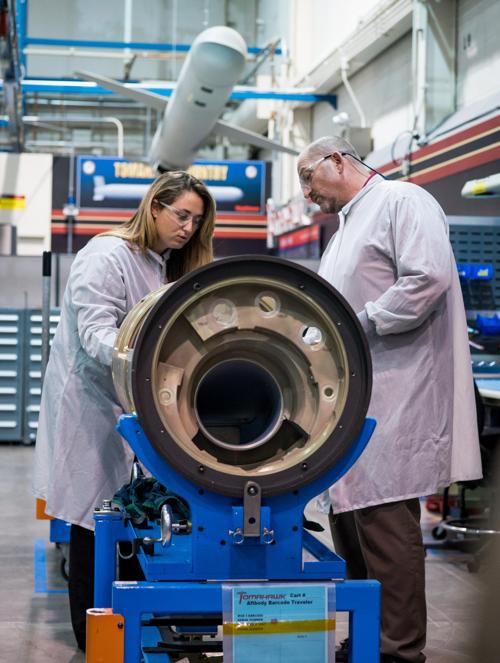 Defense giant Raytheon Co. reported an 8 percent increase in fourth-quarter revenue, but posted lower quarterly earnings after taking a provisional charge for the effects of the recently enacted federal tax overhaul.
For all of 2017, Raytheon posted record revenue of $25.3 billion, up 5.1 percent from 2016, as demand increased for its radars, weapons and cybersecurity products.
Tucson-based Missile Systems led sales growth among Raytheon's reporting business units in the fourth quarter with net sales of $2.2 billion, up 15 percent from fourth-quarter 2016.
The parent company posted quarterly revenue of $6.78 billion and net income of $393 million, or $1.35 per share, compared with earnings of $1.87 per share in fourth-quarter 2016.
The fourth-quarter results included a previously unannounced provisional charge of $171 million, or 59 cents per share, for expected tax-reform effects and a discretionary pension-fund contribution with an impact of 9 cents per share.
Without the nonrecurring charges, Raytheon's earnings of $2.03 slightly beat analysts' estimates, but its revenues fell short of analysts' consensus estimate of $6.8 billion.
The Waltham, Massachusetts-based company's shares have risen 5.5 percent this year and were up nearly 2 percent in midafternoon trading Thursday on the New York Stock Exchange.
The company estimated full-year 2018 earnings to be $9.55 to $9.75 per share, with revenue in the range of $26.4 billion to $26.9 billion.
"Raytheon delivered record sales and strong cash flow in 2017 reflecting the continued hard work and dedication of the Raytheon team," Raytheon chairman and CEO Tom Kennedy said in a news release. "Bookings strength across our broad portfolio of proven technology solutions positions the company well for the future."
And despite the provisional tax charge, Raytheon expects some long-term benefits from the tax overhaul.
On a conference call, Raytheon Chief Financial Officer Toby O'Brien said the tax-reform bill, which cut corporate taxes, will add some $400 million to the company's cash flow next year, though as much as half of that could be offset by tax benefits in 2017 lost under the new law.
Raytheon Missile Systems posted fourth-quarter operating income of $278 million, up 7 percent from the same period in 2016.
For all of 2017, the missile unit had net sales of $7.8 billion, up 10 percent from 2016.
Raytheon said the quarterly sales increase was driven mainly by sales of the Advanced Medium-Range Air-to-Air Missile, Standard Missile-3 ballistic missile interceptors and Paveway guided-bomb kits, while attributing the increase in annual sales to the Paveway, SM-3 and Standard Missile-2 programs.
Among other reporting Raytheon business units, third-quarter sales rose 6 percent at its Integrated Defense Systems unit, sales were up 4 percent for both the Space and Airborne Systems and Intelligence, Information Services segments and increased 9 percent at Forcepointe, Raytheon's cybersecurity business.