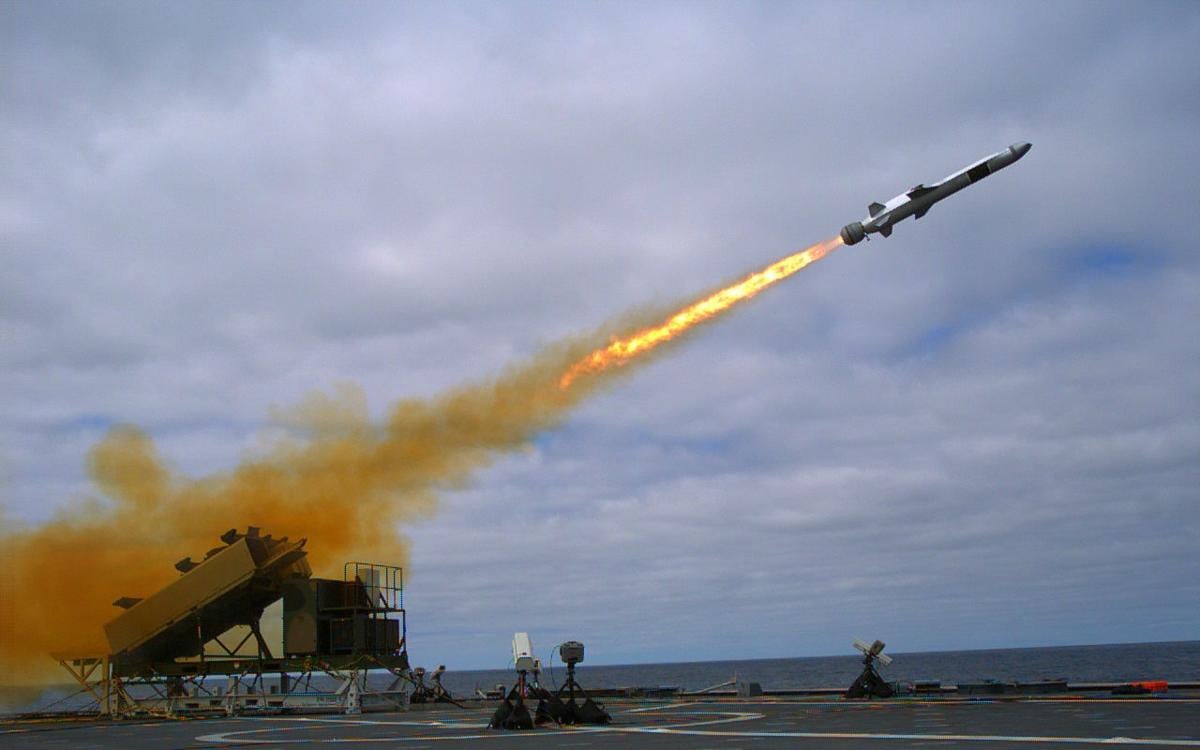 Tucson-based Raytheon Missile Systems and its Norway-based partner will arm the U.S. Navy's new littoral combat ships with a long-range surface attack missile, in a program that could be worth nearly $850 million.
The Naval Sea Systems Command awarded Raytheon a $14.9 million contract to start joint production of the Naval Strike Missile for use aboard small combatant ships, including current and future littoral combat ships and planned guided-missile frigates.
Raytheon and Kongsberg announced in 2016 they would co-produce the Naval Strike Missile, developed by Kongsberg and in service since 2012 with the navies of Norway, Poland and Malaysia.
With a range of more than 100 miles at high subsonic speeds, the Naval Strike Missile is capable of striking targets on land as well as sea with a combination of advanced guidance and homing technologies. It features a radar-evading stealth design and can skim the sea surface or other terrain to avoid detection and perform evasive maneuvers.
Raytheon said it will manufacture the missiles, launchers, and components in the U.S. The company said it has begun launcher production at its factory in Louisville, Kentucky, and will perform missile final assembly and testing in Tucson.
The contract also will generate business for more than two dozen U.S. suppliers, Raytheon said.
The initial contract, to be completed by May 2020, calls for production of an undisclosed number of encanistered Naval Strike Missiles, including combat-ready, test and inert training missiles, loaded into launching mechanisms.
Also included are one fire-control system, related support and training equipment and engineering services, according to a Defense Department contract notice.
Future contract options could bring the total value of the program to $847.6 million over time, the Pentagon said.
The Raytheon-Kongsberg team was the only remaining bidder for the missile contract, after Boeing and Lockheed bowed out of the competition last year.
Raytheon Missile Systems, the region's largest private employer, is undergoing a major expansion at its site adjacent to the Tucson International Airport. It is adding some 2,000 workers.
Raytheon and Kongsberg are working on an air-launched version of the missile, the Joint Strike Missile, for the next-generation F-35 Joint Strike Fighter.
This isn't the first time Raytheon and Kongsberg have teamed up.
In the 1990s, Raytheon and Kongsberg co-developed the Norwegian Advanced Surface-to-Air Missile System, a ground-based, medium-range air defense system that uses Raytheon's Advanced Medium-Range Air-to-Air Missile.
The system is used for air defense by Norway and a half-dozen other nations, including the U.S., which uses the system to defend government areas of Washington, D.C.