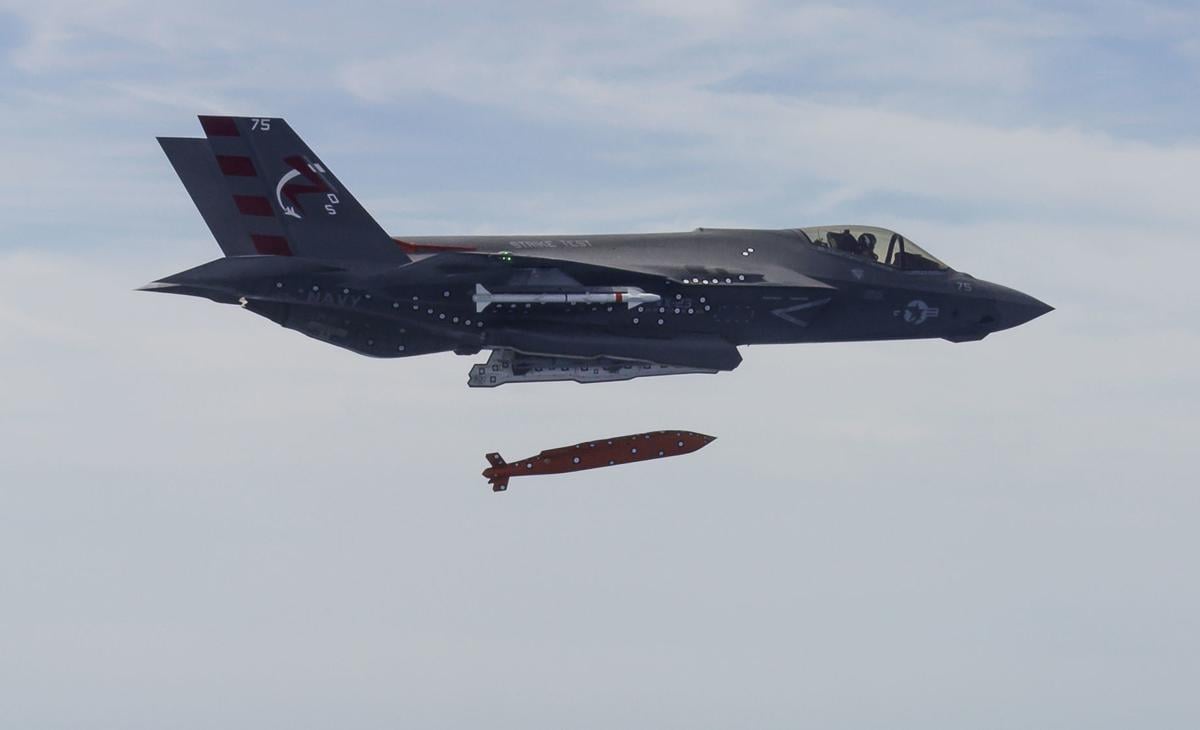 The U.S. Navy plans to award a contract to Tucson-based Raytheon Missile Systems for development of a longer-range version of a precision-guided glide bomb for its F/A-18 Hornet and F-35C combat jets.
The Joint Standoff Weapon-Extended Range (JSOW-ER) adds a turbojet engine to more than quadruple the range of the unpowered JSOW C-1 to about 345 miles, essentially creating a short-range, air-launched cruise missile with the ability to hit moving ships.
The Navy plans to award Raytheon a sole-source contract to carry out so-called risk-reduction and engineering and manufacturing development of the JSOW-ER — typically the final stages before operational testing and production — for deployment of the weapon no later than fiscal 2023, according to a notice posted on the Federal Business Opportunities website.
The proposed contract requires Raytheon to extend the range of the existing JSOW C-1 while keeping the same targeting and performance capabilities, and to fit the JSOW-ER on the F/A-18 and for internal carriage on the F-35.
Last April, Raytheon announced that it had completed testing to fit the JSOW C-1 in the internal weapons bay of the F-35, an important capability to maintain the fighter's radar-evading profile.
In July, the defense contractor was awarded a $10.3 million contract for JSOW-ER flight tests and necessary modifications to add range to the JSOW C-1.
Originally a joint Navy-Air Force program, the JSOW has undergone a series of upgrades since it was first used in Iraq in 1998.
The C-1 version, declared operational in 2017, added a weapon data link and an infrared target seeker to track moving targets in the final moments of flight.
The 1,000-pound JSOW has been fired hundreds of times in combat in Bosnia, Iraq and Afghanistan, and the current versions are in the arsenals of about a dozen allied nations.
The Navy and Raytheon have been working on an extended-range version of the JSOW on and off for a decade, with its first successful free-flight demo in 2009.
In 2017, the Navy awarded the company a $9 million contract to resume testing of the JSOW-ER.
The business news you need
With a weekly newsletter looking back at local history.