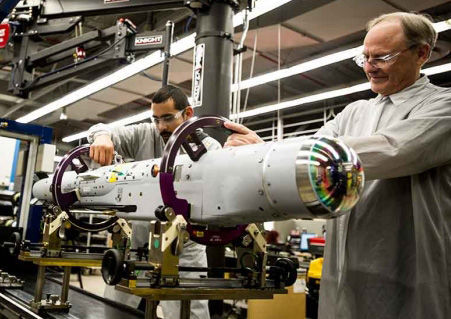 Raytheon's chief executive on Thursday said he expects the company will be able to weather any disruption in arms sales to Saudi Arabia, as the defense contractor reported higher third-quarter sales and profits.
Arms sales to the Saudis have been under scrutiny in the wake of the recent killing of journalist Jamal Khashoggi at the Saudi consulate in Istanbul.
"Obviously, this is something that we've been watching very carefully," Raytheon CEO Thomas Kennedy said in response to a question during a conference call with financial analysts.
"We are a global company providing technology and security solutions for over 80 countries and we have numerous global franchises," Kennedy said. "So I'm pretty confident that we will weather this complexity, this kind of a geopolitical environment we have right now."
Saudi Arabia has accounted for nearly 5 percent of Raytheon's revenue this year to date, Raytheon Chief Financial Officer Toby O'Brien said.
Waltham, Massachusetts-based Raytheon reported an 8 percent increase in third-quarter sales and higher profits due to operational improvements and tax-reform savings.
Though the results beat analysts' forecasts and the company raised its 2018 revenue and earnings outlook, Raytheon shares fell $5.59, or more than 3 percent, to $176.52 in trading on the New York Stock Exchange.
Raytheon posted third-quarter revenue of $6.81 billion, up 8.3 percent from third-quarter 2017, and reported net income of $2.25 per share, up from $1.97 a year ago.
Analysts surveyed by Zacks Investment Research had forecast revenue of $6.67 billion and net income of $1.94 per share.
Raytheon said its operational improvements and the benefits of a federal corporate tax cut were partly offset by a previously disclosed expense related to a pension-plan annuity transaction that lowered earnings 80 cents per share.
Tucson-based Raytheon Missile Systems, the biggest of Raytheon's five reporting business units in terms of sales, saw net sales increase 7 percent, to $2.08 billion, mainly on higher sales on classified programs.
Operating income at the missile unit fell 8 percent, mainly due to lower net program efficiencies, partially offset by higher volume, the company said.
Contracts Missile Systems booked in the third quarter included $499 million for its Phalanx Close-In Defense System; $424 million for the Standard Missile-6, a multi-role naval weapon; $155 million on a number of classified contracts, $115 million for Javelin anti-tank missiles; $89 million for Paveway guided-bomb kits; and $84 million for the Rolling Airframe Missile, a ship-defense system.
The parent company boosted its forecast for 2018 sales to a range of $27 billion to $27.3 billion, up from $26.7 billion to $27.2 billion, and raised its annual earnings guidance to $10.01 to $10.11 per share, from $9.77 to $9.97.
The business news you need
With a weekly newsletter looking back at local history.