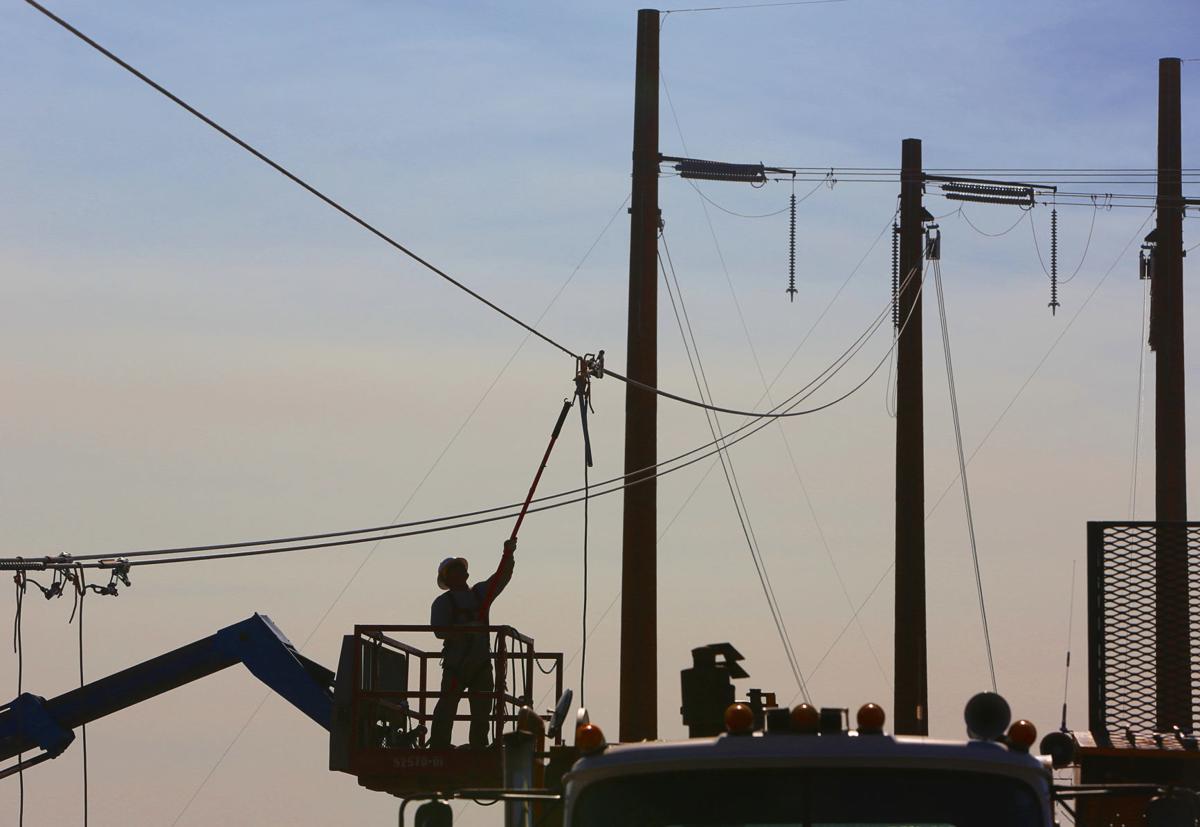 Tucson residents will see new high-voltage power lines go up on the east side starting next year as Tucson Electric Power Co. builds a new transmission line to boost system reliability, especially for Davis-Monthan Air Force Base.
The Arizona Corporation Commission last week gave unanimous approval to the Irvington to East Loop transmission line project, a 12.8-mile, high-voltage power line stretching from the H. Wilson Sundt Generating Station on East Irvington Road to TEP's East Loop substation near East Broadway and Kolb Road.
The new line, which TEP is planning to place into service in 2022, also would connect to two new substations, one at South Kolb and East Escalante roads and the other near Kolb and East Littletown roads.
TEP says the new transmission line and substations are needed to serve growing energy needs, help D-M meet its energy resiliency requirements and improve electric reliability for customers across Tucson.
Construction on the 138-kilovolt power lines, with poles ranging in height from 75 to 110 feet, is expected to begin in the third quarter of 2021 and substation construction will start in the fourth quarter of next year, TEP spokesman Joe Barrios said.
The power line route, approved with public input, runs from the Sundt plant southeast along the railroad line, heads east along East Littletown Road and turns north along South Kolb Road.
After jogging east along East Escalante Road, it runs north along South Pantano Road to East Fifth Street, where it turns west to the East Loop substation on Kolb.
TEP held public-comment meetings on the project last year and mailed a newsletter with information on the project to about 22,000 residents in the project study area.
Kino-DeMoss Petrie line
Meanwhile, in response to the COVID-19 pandemic TEP has postponed planned public comment hearings set for mid-March on a major new transmission line proposed to run through the University of Arizona area.
The proposed Kino to DeMoss Petrie line, planned for service by 2023, would potentially cut through historic university-area neighborhoods, which has raised concerns among some neighbors and city officials.
TEP has not yet published its preferred routes for the line but has posted some potential line segments at the project page online at tep.com/kino-to-demoss-petrie.
TEP is encouraging neighbors and other stakeholders to view the online project update and share their comments about multiple potential line route links by May 22, via email or an online comment form on the project web page.
Written comments also may be mailed to P.O. Box 711, ATTN: Kino-DMP, Mail Stop RC131, Tucson, AZ 85701-0711.