Tucson is ranked second in the U.S. out of 100 metro areas in house price appreciation, a new federal report shows.
The Federal Housing Finance Agency said the value of existing homes in Tucson have appreciated 10.3% in the past year, compared to 4.9% in the overall U.S. market in that same time frame. For example, a $100,000 house in Tucson might have appreciated to $110,000 and a $400,000 house to $440,000.
The 10.3% increase year over year shows Tucson continues to be on the mend since the housing crisis.
"Tucson is doing very well, with healthy foreclosure rates that are below the national average," said Will Doerner, supervisory economist with FHFA.
A good supply of new homes will help keep resale homes within reach of first-time homebuyers.
"There aren't enough homes coming up for sale to satisfy potential buyer demand and that is driving up the prices of existing homes," hence the rising appreciation rates, Doerner said.
FHFA aggregates repeat sales data from Fannie Mae and Freddie Mac, who own or guarantee more than half of all mortgages in the U.S. The ranking is not based on a particular sales price.
Doerner said that gives the agency a better sense of how a community's housing market is doing.
"We're looking at how much homes have appreciated over time," he said. "We don't pinpoint a particular dollar value."
The House Price Index "is a broad measure of the movement of single-family house prices," the report explains. "The FHFA HPI is a weighted, repeat-sales index, meaning that it measures average price changes in repeat sales or refinancing on the same properties."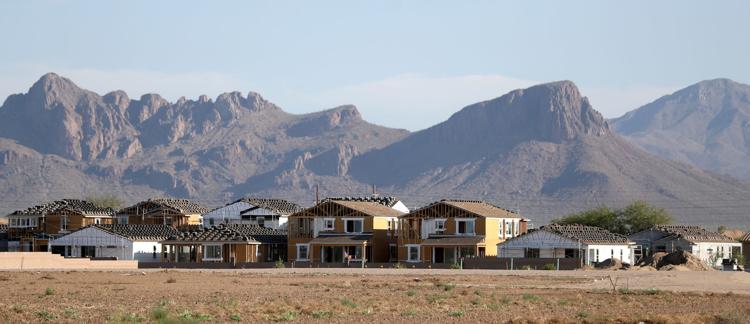 BALANCING ACT
Local housing analyst Jim Daniel said rising home values in the Tucson market is a positive sign.
"Recovery has taken longer for Tucson than in some areas but now we're there," said Daniel, president of R.L. Brown Reports.
"Jobs and migration is what's going to support that market."
He said concerns that homes may soon be unaffordable are not unique to Tucson and homebuilders are already responding with more density on smaller lots to keep prices down.
The average new house price is above $300,000 and a resale home goes for around $220,000.
"Affordability is going to get addressed in the new-home market as builders target those first-time homebuyers," Daniel said. "Every community struggles with how to get that entry-level home price down or how to create more housing. Is it a governmental responsibility? Is that the answer?"
Newly elected Mayor Regina Romero said she plans to focus on Tucson's housing and how federal grants are spent locally.
"I have had conversations with the community this past year door to door," she said of her time on the campaign trail. "Our Housing and Community Development Department can do a better job, and I will make it a priority to make it one of the more important departments — because it is."
Federal funds the city receives can be used for land purchases in parts of the city where values are rising quickly, Romero said.
"We can invest those funds in areas where there is a possibility of seeing future displacement, such as Park Avenue, Oracle Road, Stone Avenue, First Avenue and 12th Avenue," she said.
Romero wants to partner more closely with Pima County for a regional approach to housing costs.
"It's a good thing that our housing market is healthy and that housing values are rising, especially for property owners," she said. "The juxtaposition of that is the affordability for families and individuals … let's not lose sight of preserving affordability for our seniors who want to remain in place or our young families that want to raise a family in Tucson."