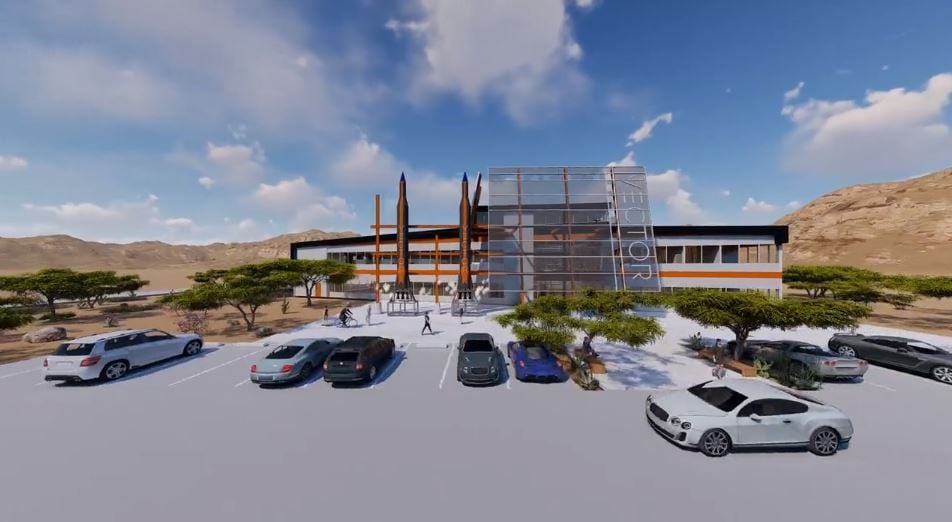 Tucson-based microsatellite launch startup Vector says it has chosen a construction team to build a rocket manufacturing facility south of Tucson International Airport, and the company also announced initial production of its first orbital vehicle.
The company said it selected Indiana-based Holladay Properties as the lead developer on the project, with locally based Barker Contracting as the construction contractor, and architects from Tucson-based Swaim Associates.
Vector says its planned 92,500-square-foot factory will feature two production lines, a 30,750-square-foot, two-story office space for its headquarters, and a dedicated area for special projects including research and development.
The facility, slated for completion by early 2019, is designed to produce 100 launch vehicles per year to start, with room to double that capacity, the company said.
Vector, which has a backlog of prebooked orbital flights, has begun production of its first orbital launch vehicle in its existing facilities near downtown and is looking toward its inaugural orbital launch in the second quarter of 2018.
The company has about 80 employees and expects to employ some 200 workers in the next few years as the new facility is occupied.
"We've made huge strides in technical progress and vehicle production this year, ramping up to producing our goal of one hundred rockets per year," said Vector co-founder and CEO Jim Cantrell.
"By building this new facility, we're not only going to be adding jobs, but we will be providing many with the ability to launch careers in aerospace."
Vector plans to invest about $19 million during the first three years, and possibly as much as $50 million over the next 15 years, according to Pima County.
The total direct and indirect economic impact of the facility was estimated at up to $290 million over five years, in an analysis Phoenix-based Applied Economics completed for Sun Corridor Inc., the local economic-development agency.
Vector is leasing the land for its new facility from Pima County at market rates, according to the county.
As it ramps up hiring, the company could qualify for conditional training and workforce development incentives, and the company also could be eligible for state income-tax credits for qualified facilities and for workforce development grants.