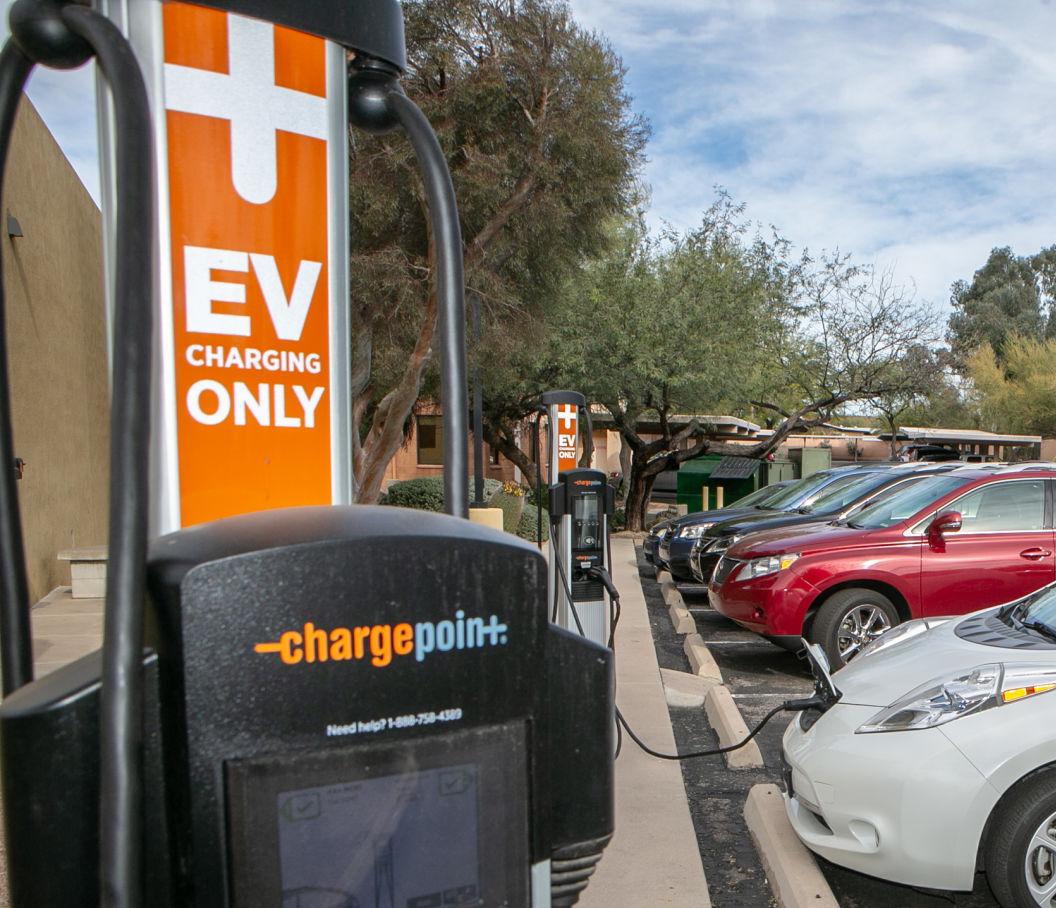 Tucson Electric Power customers who own electric vehicles could soon get new incentives for charging them at home, under a pilot program approved by state regulators.
The Arizona Corporation Commission also approved a pilot residential load-management program, which will allow TEP to control participating customers' thermostats to help the utility manage peak demand loads.
But TEP will end up spending a little less money on existing state-mandated programs designed to help customers save energy and lessen the need to build new power plants.
The commission on Tuesday unanimously approved TEP's long-delayed 2018 energy-efficiency plan, which is funded by ratepayers to help the utility meet a statewide goal of achieving energy savings totaling 22 percent by 2020.
The latest plan keeps spending for TEP energy-efficiency programs at the 2017 level of $22.9 million, while shifting $2.2 million to electric-vehicle incentives from programs aimed at existing homes and apartments.
Though the overall annual program cost is unchanged, the "demand side management" surcharge that appears on customer bills will rise in the next billing cycle to make up for about $1.1 million that was undercollected in 2017.
For the average TEP home customer, the usage-based surcharge will rise to $3.32 from $2.20 per month in the summer, and to $2.27 from $1.50 per month in the winter season.
The percentage-based surcharge business customers pay will rise to 2.83 percent, from 1.97 percent.
Regulators also approved TEP's proposal to cut the level of individual rebates for many of its programs to 50 percent from 75 percent of the customer's cost — subject to caps like a $575 limit to replace an old heating and air-conditioning unit with a new high-efficiency model — to spread the benefits of the rebates among more customers.
A major proponent of energy-efficiency programs said he's glad to see the commission approve the plan since existing TEP efficiency programs were essentially running out of money as the case was delayed.
"This will help restore the programs and get them back to serving customers," said Jeff Schlegel, Arizona representative for the nonprofit Southwest Energy Efficiency Project.
"TEP customers will benefit from increased opportunities to cut down on energy waste, which will lower electric bills and improve public health," said Aaron Kane, field associate for the Arizona PIRG Education Fund.
Though some individual incentive levels were cut, TEP will continue most of its current energy-efficiency programs, including discounts on LED light bulbs.
The pilot electric-vehicle program allows TEP to spend $650,000 to back an incentive of up to $500 for EV owners to install home charging systems, and a $100 incentive for homebuilders for each new home they pre-wire for EV charging.
The utility also plans to issue a new incentive rate plan for ratepayers to charge their EVs at home during off-peak periods.
The commission — which in December approved a general policy encouraging utilities to support the rollout of EV charging networks — went along with its utilities staff recommendation on the EV plan.
Besides offering home EV incentives, the plan allows TEP to spend up to $450,000 on public charging stations, $95,000 to support efforts to build out interstate charging networks and $300,000 to develop systems to manage charging infrastructure.
But the commission rejected a plan to spend up to $630,000 to help schools buy electric school buses, after its staff said the high cost of currently available buses would make the program "non-cost-effective."
The proposed school-bus funding was shifted to support energy-efficiency measures at schools, along with supporting the installation of EV charging stations at schools and grants to help teach students about energy efficiency.
The plan also allows TEP to invest $8 million of its own money on public charging station infrastructure and track and recover its prudent costs as part of its next general rate case.
TEP customers shouldn't look for the EV incentive and load-management programs anytime soon, though.
TEP spokesman Joe Barrios said it will likely take months to develop the EV offering, and the company will be participating in planned commission workshops on EV policy as it prepares its incentive plan.
"There is still some discussion and work to do, so that when we move forward we have some direction from the commission," Barrios said.
The load-management pilot programs will likely take even longer to develop as they will require new technologies like two-way communicating thermostats, he noted.
The electric-vehicle plan was strongly supported by EV advocates and environmental groups, but met opposition from AARP, which said it was concerned about the added costs to low-income ratepayers, and an oil-industry group that said the benefits of EVs are not proven.
Though TEP's energy efficiency plan was eventually approved unanimously, some of the commissioners expressed misgivings over the EV plan.
""I don't feel the (energy efficiency) plan is a good fit for EVs because we're actually enacting the use of more electricity," Commissioner Justin Olson said.
Commissioner Boyd Dunn said that although the commission adopted a general policy encouraging utilities to support the rollout of EV charging systems, he preferred to wait until more workshops are held with stakeholders and formal rules are adopted before approving utilities' individual plans.
But Commissioner Andy Tobin said TEP's plan follows the commission's general EV policy, and moving into a pilot program would help Arizona stay ahead of the curve as automakers are expected to roll out more than 30 new EV models in the next few years.
"I think at the end of the day if we want to get serious about some of these issues, I think it's imperative the commission play a role," Tobin said. "This will send a message to the rest of the country that Arizona is serious about electric vehicles."
But Tobin failed to gain support for an amendment that would allocate $2.2 million in new funding for the EV programs, rather than shifting funds in the existing budget, amid concerns about the impact of a higher surcharge on low-income customers.
"I'd hope if you own an EV, you'd want to pay for the highways and byways of the new technology," said Commissioner Sandra Kennedy, the sole Democrat on the five-member commission. "Those who don't shouldn't be forced to pay for something they're not utilizing."
A proposal by Olson to drop TEP's popular shade-tree program also failed.
Olson questioned the cost-effectiveness of the program, which allows home customers to buy trees for $5, but TEP and other backers said the program is worthwhile for a relatively small cost because more than 80 percent of the energy savings come during peak demand periods.
The plan allows TEP to suspend the program from June through August due to the low survival of summer-planted trees, and raise the price of trees to business customers.
TEP's latest energy-efficiency plan also drops some programs, like rebates for appliance recycling since an initial contractor for that program closed down and a replacement couldn't be found.