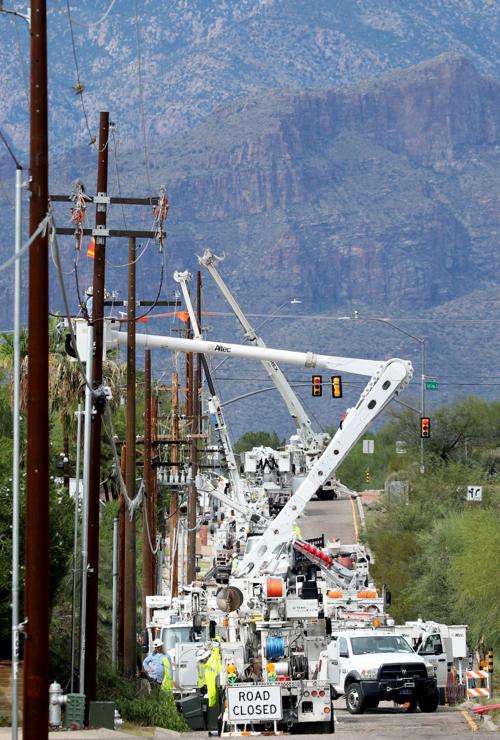 With monsoon storms finally revving up, Tucson Electric Power says more than a billion dollars worth of improvements in recent years have made its system more resilient.
Those investments helped reduce average TEP outage times by more than 15 minutes over the past two years on a systemwide basis, which includes customers who had no outages, the utility says.
But for customers who suffered an outage, the average time it took to restore power increased by more than 10 minutes last year, after dropping in 2018.
Over the last five years, TEP says it's spent about $1.2 billion to improve its service while shifting to a cleaner, more flexible and resilient energy portfolio, as it moves away from coal-fired generation to more gas-fired plants and renewable energy from solar and wind farms.
"We want our customers to know that we're building a cleaner energy grid, but from a reliability perspective, they should see no difference," Barrios said. "Even as we add more wind and solar, they'll still have service whenever they need it."
chasing outages
Data on outages tracked by regulators can fluctuate year to year depending largely on major weather events, but they show TEP is on the right track
The duration of outages attributed to maintenance, equipment failure, weather and other factors are tracked with a metric called the System Average Interruption Duration Index, or SAIDI.
After posting a SAIDI of 72 minutes in 2017, TEP lowered its systemwide outage duration to just over 51 minutes in 2018 and to 54 minutes in 2019.
That means that, systemwide, customers experienced power outages averaging 54 minutes.
But customers that experienced outages had to wait longer for their power to be turned back on, judging from a separate measure called the Customer Average Interruption Duration Index, or CAIDI.
That index, which includes only those customers who experienced outages, rose to nearly 78 minutes in 2019, up from just over 66 minutes in 2018 and about 75 minutes in 2017.
Weather is a major factor that can make the outage figures vary widely from year to year, so much so that outages are tracked both with and without so-called "major event days" — when major storms cause prolonged outages.
There were no major-event days affecting TEP service last year, nor in 2018, Barrios said.
But there were a number of smaller storms last year that caused outages spread out over the TEP system, and those often take more time to fix than damage from a single storm, he said.
"When you have damage spread out like that, it's hard to get crews out there, and that takes a toll of how many outages we have and how long they last," Barrios said. "We've had years when we haven't had a single large event, but when you look at those numbers, they may be a little bit higher than the year before when we had one big blowdown."
As a more recent example, Barrios cited a storm two weeks ago that left more than 20,000 TEP customers without power.
"That one was spread out — the damage from that was everywhere," he said.
Barrios said the increase in outage duration per customer also may stem from a reduction in shorter outages, leaving longer outages resulting from serious storm damage that typically takes longer to repair.
The frequency of outages on TEP's system — called the System Average Interruption Frequency Index or SAIFI, fell to 0.70 events per year in 2019, from 0.78 in 2018 and 0.97 in 2017.
How TEP stacks up
Despite the longer outage time last year, in 2018 — the most recent figures for which statewide data are available — only TEP's sister rural utility, UniSource Energy Services, had a better record for outage frequency and duration among major state-regulated utilities.
By comparison, the state's biggest investor-owned utility, Arizona Public Service Co., reported a SAIDI of 133 minutes for 2018, according to data filed with the U.S. Energy Information Administration.
APS reported a systemwide outage frequency of 0.9 for 2018.
In 2019, APS reported an improved SAIDI of about 87 minutes and an outage frequency of 0.84, the utility said.
The figures include major-event days, but they exclude instances where the utility lost power supply from an outside source.
Systemwide, UES electric customers saw an average outage duration of about 48 minutes and a frequency of 0.62 outage events for the year.
TEP and other Arizona utilities typically see fewer and shorter outages than the national average, which includes states that annually cope with catastrophic weather including hurricanes, tornadoes and snowstorms.
In 2019, TEP ranked in the top quartile for the shortest outage durations and in the second quartile for the fewest outages among utilities tracked by the Edison Electric Institute, the main trade group for U.S. investor-owned utilities.
Nationwide in 2017, electric customers nationwide saw an average of 1.4 outages annually, including major events like storms, with an average outage duration of 7.8 hours, according to the Energy Information Administration.
Line-building boom
Major system improvement projects that have helped TEP maintain service and meet demand growth include the recent installation of a new 138-kilovolt transformer and switchgear at Los Reales Substation in southeast Tucson, and 28 new 46-kV power poles installed to upgrade circuits interconnected through the North Loop Substation on Tucson's north side.
More improvements are expected to go online soon:
• TEP is nearing completion of the $25 million Irvington to Kino 138-kilovolt transmission line project, which includes a new, 4.5-mile transmission line and substation at South Kino Parkway and East 36th Street.
• In midtown Tucson, TEP has nearly finished a $7.5 million upgrade of the Country Club Substation, and several related distribution line upgrades were completed over the last 18 months.
Looking ahead, TEP is in the planning stages for a major transmission line to run from the new Kino substation to the DeMoss Petrie Generating Station, just east of Interstate 10 north of West Grant Road.
TEP has not yet announced its preferred route for the line, which will also connect with a new substation on the University of Arizona campus.
In March, TEP postponed two public-comment meetings on the new line because of the COVID-19 pandemic.
Barrios said TEP will soon announce the next public-comment meetings, which may take place online for COVID-19 safety.
Reliability costs money, and TEP rates have increased faster over the past decade to cover the costs of system improvements.
Since 2010, TEP's average residential rate has jumped nearly 27% — from about 9.6 cents per kilowatt hour to 12.2 cents in 2018, or an average annual increase of about 2.7%.
And TEP is awaiting final action on a rate request it filed with the Arizona Corporation Commission in April 2019 that would boost revenues by $99.5 million and — partly offset by a $38.9 million reduction in charges for fuel costs — would increase the average monthly residential bill by about $7, or about 7%.
Proceedings on the rate case were postponed because of the pandemic, and the case isn't expected to go to the Arizona Corporation Commission for a final decision until October.
In its request, TEP is seeking to begin recovering costs for its $165 million purchase last year of a 550-megawatt natural-gas plant near Gila Bend, and for a bank of gas-fired reciprocating internal combustion engines at the H. Wilson Sundt power plant in Tucson expected to cost more than $200 million.
TEP says both projects will help boost system reliability and provide flexibility to use increased amounts of renewable solar and wind energy.
TEP recently announced an accelerated plan to stop using coal to generate electricity by 2032 and to increase renewable energy's share of its energy load to more than 70% by 2035.