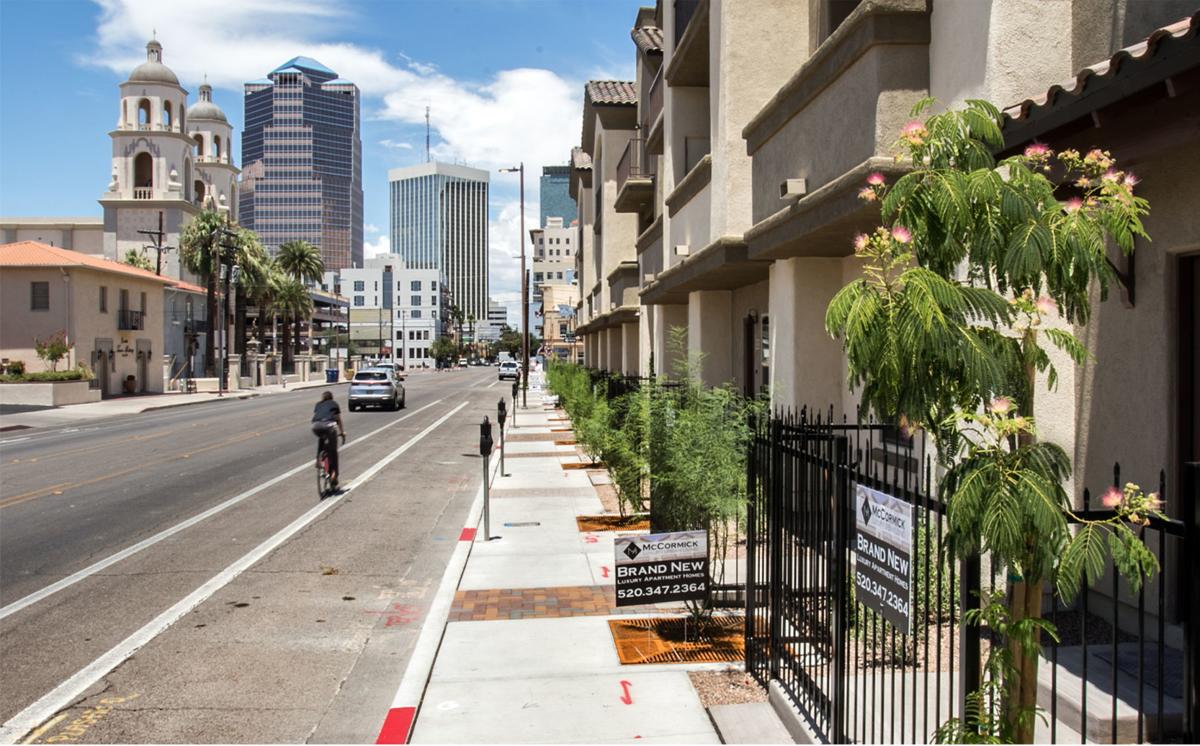 The buzz of activity has attracted some residents living on the outskirts of Tucson to relocate or get a weekend home downtown.
And, developers have taken note with hundreds of living units planned over the next two years.
"I love that there are so many interesting things to do within easy walking distance," said Christine Baines, who rents a two-bedroom apartment. "In addition to all the restaurants, galleries, theaters, museums and shops, it seems like there are several special events each weekend and often during the week."
She moved from Oracle, first to the Blenman Elm Neighborhood before moving downtown.
Although views are disappearing by new construction around her, Baines said that is a tradeoff of living in a downtown setting, where she is in about half of the space of her previous home.
"If you live in a vital urban area, empty lots will be built on," she said. "If it is an exciting place to be then more people will want to be there. It isn't for everyone but it suits me perfectly."
There are currently more than 30 development projects underway downtown including hotels, apartments and commercial space. More than 1,400 new homes are proposed or under construction in the downtown area by 2019, data from the Downtown Tucson Partnership shows.
The majority of new apartments will be market-rate with some low-income senior and veterans units. The occupancy rate for downtown rentals is 95.6 percent and landlords command rents over $1,100 a month on average, making the 85701 zip code the priciest in Tucson. The median home prices for buyers is over $350,000.
Relocated from Oro Valley, Darrell and Donna Sabers gave up their home for an apartment about half the size.
"We were going downtown for events or weren't getting home until 1 a.m. from UA games," Donna Sabers said. "This is a way of life we had never experienced."
Her favorite part of downtown living?
"The people watching," Sabers said. "It's just fantastic. What's amazing to me is the number of drivers that go the wrong way."
She said their vehicle only gets used about three times a week.
"For a couple who don't want to be encumbered by owning a home or spending time in the car, it's perfect."
Daryl and Edy Alderson still own their home in Sahuarita and rent a weekend apartment downtown.
"We took a six-month lease as a way to experiment to see if we would enjoy living downtown," said Daryl Alderson, who relocated to Sahuarita from the Chicago area.
The streetcar was a big draw.
"It makes it convenient to reach educational presentations, the library, dining and entertainment venues," he said. "We walk more and drive less and were able to downsize from two cars to one."
Although accustomed to the noise of urban living, the Aldersons were surprised by the noise downtown and turned to ear plugs, sound machines and noise-canceling headphones to adjust.
Daryl Alderson hopes the city will be able to get pass-through traffic out of downtown and encourage more pedestrians and open spaces.
"When that happens," he said, "we'll sell our suburban home and live downtown permanently."
The desire for urban living is growing across the country as people look for walkability and downsizing, saving on car expenses and upkeep of large homes.
Developers are building everything from luxury apartments to affordable housing and even dorm-style living units.
In 2014, average urban home values overtook suburban home values nationwide and have been appreciating quickly year-over-year, according to a report by Zillow Research.
"The suburban home — long a symbol of success, stability and the American Dream — appears to be losing some of its luster as the appeal of city living gains steam and urban homes grow in value more quickly," Zillow says. "For decades, homes in suburban areas were worth more overall than their urban counterparts, a reflection of the value Americans have traditionally placed on the space, serenity and safety of the suburbs."