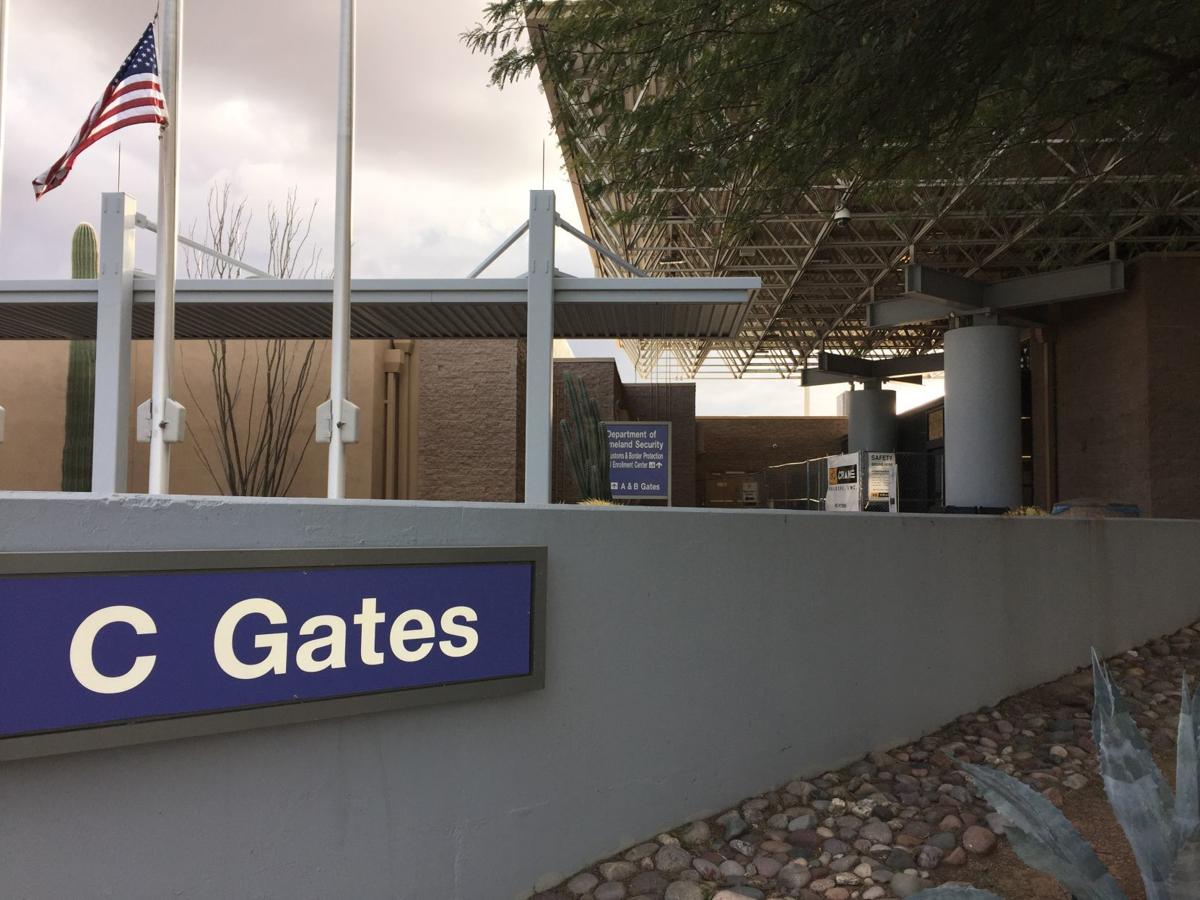 Low-cost airline Allegiant Air will soon move its gate operation at Tucson International Airport to a new gate that is being readied as a new departure point for charter flights.
The Tucson Airport Authority is spending $1 million to upgrade the long-unused C Gate building, west of the main terminal, as a new home for charter operations.
When the airport recently offered the C Gate facility — last used for international flights a decade ago — to airline users, Allegiant signed up to use the gate, said David Hatfield, senior director of air service development and marketing for the Tucson Airport Authority.
The Las Vegas-based, "ultra low cost" carrier launched twice-weekly nonstop flights between Tucson and Bellingham, Washington, and Provo, Utah, in mid-November.
The C Gate, about 300 feet west of the main terminal building, will have its own security checkpoint to open as needed and has its own restrooms, but it will lack many of the amenities of the airport's main concourses, such as food services, Wi-Fi and an enclosed jet bridge.
Though it's early on, Allegiant spokeswoman Sonya Padgett said the airline's Bellingham and Provo nonstops are "doing well."
Ultra-low-cost airlines are always looking to shave costs to keep fares low, Hatfield said.
"These low-cost carriers aren't looking for all the bells and whistles," he said, noting things like jet bridges — the enclosed ramps used to board planes — must be leased from the airport and add to airlines' costs.
Like other ultra-low cost carriers, Allegiant charges low base fares and levies additional fees for most extras, including choosing specific seats, printing a boarding pass at the airport and fees for carry-on as well as checked baggage.
Allegiant typically operates from smaller airports, including Phoenix-Mesa Gateway, where passengers ascend a portable ramp to embark, instead of walking through a jet bridge.
Allegiant plans to move its gate operations to the C Gate building in mid-January, said Hatfield.
The airport plans to publicize the move starting in late December, and Allegiant will post signage as well as reminders printed on passenger tickets.
The C Gate facility was formerly used for international flights but hasn't been used since Aeromexico subsidiary Aerolitoral flew its last flight to Mexico in 2008, said Hatfield.
The building also houses Customs and Border Protection, including an enrollment center for the agency's Global Entry preferred-traveler program.
CBP currently processes private planes coming from Mexico at the single C Gate.
The revamped area will be open to charter operations, which are conducted from available A or B concourse gates when flown by major carriers operating at TIA, or from the north end of the airfield when the charters are serviced by several fixed-base operators.
The C Gate area could be expanded to accommodate more gates as needed in the future if Customs and Border Patrol were to move its operations to the executive terminal building on the north end of the airfield, Hatfield said.
TIA's executive terminal — now mostly unused except for a small office for fuel sales — was used in the past as a pickup site for executive travelers and to support welcome-home events for sports teams arriving on charter flights, like when the University of Arizona men's basketball team returned from winning the national championship in 1997.
It will be used for the last time for that purpose for teams playing in the Arizona Bowl on Dec. 29, Hatfield siad.
Teresa Small, a spokeswoman for the CBP Tucson office, confirmed that the agency has been discussing moving its airport customs operation to the unused executive terminal, which would give it more room, but no formal proposals have been floated.
The business news you need
With a weekly newsletter looking back at local history.