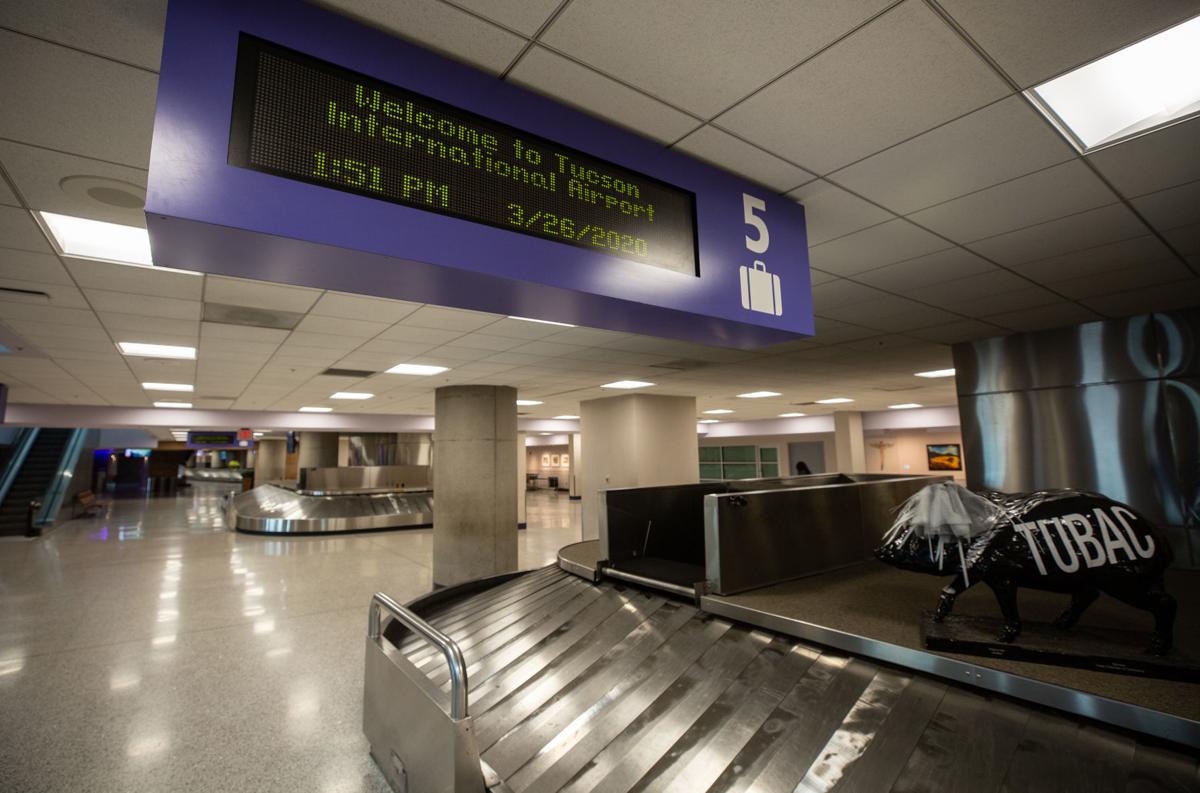 Tucson International Airport will get a $22.6 million emergency federal grant from a Federal Aviation Administration program to help airports respond to the COVID-19 pandemic.
The grant to TIA is part of $225 million in aid to 59 Arizona airports under the Coronavirus Aid, Relief, and Economic Security (CARES) Act Airport Grant Program, which allocates $10 billion nationwide to help airports weather the public health emergency amid mass flight cancellations and plummeting passenger counts.
Phoenix Sky Harbor International Airport is being awarded the state's largest grant of $148 million under the program, while Phoenix-Mesa Gateway Airport will get $20.5 million, according to the FAA.
Among other Southern Arizona Airports, Tucson's Ryan Airfield and Marana Regional Airport each are being awarded $69,000; Nogales International Airport and Benson Municipal Airport will each get $30,000; and Pinal Airpark is due $20,000.
After marking its fifth-busiest year in 2019, Tucson International Airport has seen its passenger numbers plummet more than 90% as airlines have dropped flights amid the COVID-19 pandemic, Tucson Airport Authority President and CEO Danette Bewley said in a community message last week.
Airports around the globe have reported similar drop-offs.
The Airport Authority relies on revenue from the airlines, concessionaires and other tenants who pay rent, fees and other charges to support the airport system operations.
Bewley said TIA continues to operate as normally as possible, with a focus on safety, security and customer service.
To help reduce the spread of the coronavirus, the airport has curtailed some services, including temporarily closing most concessions and the military lounge; suspended its volunteer Airport Ambassador program; and closed the TAA administration offices to the public, though the agency can still be reached by phone or email.
The FAA says the grant funding is available for airport capital expenditures, airport operating expenses including payroll and utilities, and airport debt payments.
The aviation agency also announced that the CARES Act provides funds to increase to 100% the federal share of FAA grants awarded under 2020 appropriations for airport improvement projects.
The FAA's Airport Improvement Program and related supplemental discretionary grant program normally cover 75% to 80% of project costs, with the airports paying the rest.
The change would benefit TIA as it is in the final design phase of a $218 million airfield safety enhancement project including construction of a new parallel main runway — the biggest project in the airport's history.