A 20-story tower, more than 20 years in the making, may soon grace a prominent Tucson intersection.
On Tuesday, the Tucson City Council is to vote on a plan to build the 20-story tower on the northwest corner of Campbell Avenue and Speedway that will feature residential, office, retail and open space with an emphasis on public transit.
Local developer and Tucson native Richard Shenkarow bought the 2.5-acre site — where the Palm Shadows and Babcock apartments are currently — more than 20 years ago with the hopes of one day developing something iconic.
"The goal was to design a gateway to the University of Arizona," he said.
"The university, as well as the city, will have a mixed-use building like no other in Tucson, or Phoenix for that matter."
The project's ground floor would be two stories in height with an open plaza, grocery store and retail. Above that would be four stories of office and retail.
A 250-foot tower, set back from the intersection, would have apartments or condominiums.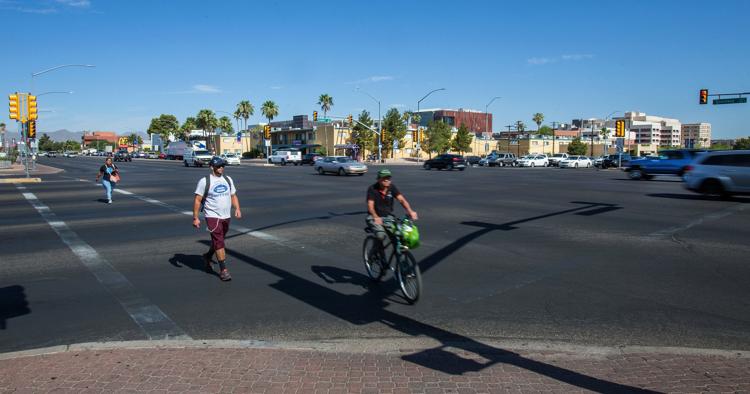 A local firm, Rick Joy Architects, is designing the building with louvers to create a porous look, versus a giant concrete appearance, said architect Matt Luck.
"You won't be constantly walking around the perimeter," he said. "You'll be able to weave in and out and cut through the property."
The colors and design are intended to reflect desert tones, Luck said.
"We want the building to have a sense of place," he said. "Yes, it's a large project, but very specific to Tucson."
MAKING CONNECTIONS
While parking spaces would be incorporated, the project aims to discourage vehicle use.
A streetcar stop on the north side, a bus stop on Speedway and bike-sharing stations as well as ride-sharing cars that could be borrowed for a few hours would be featured amenities.
"We're going to do everything we can to push public transit," Shenkarow said.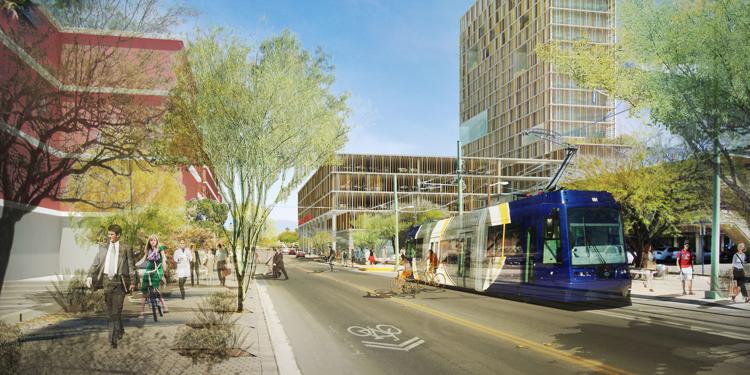 For example, he said, there will be specific language in the leases of office-space users to encourage employees to use public transportation by providing streetcar or bus passes for them.
All elements of the project are a result of the feedback from neighbors, Shenkarow said. He has spent the past four years meeting with neighbors.
Mike Crawford, president of the Jefferson Park Neighborhood Association, said no official position was taken on the project.
"As expected, there's been mixed reaction," he said. "Some people like it, some people don't."
Personally, Crawford said, he is pleased to see urban-density development.
"I am about urban growth in the correct locations," he said. "This is a major intersection in this community and the neighborhood will be buffered by Banner (hospital's buildout)."
Crawford gave a nod to the developer's outreach to neighbors.
"The overall concept is a good one," he said. "We need, in the right location, more urban density to make the city functional and sustainable."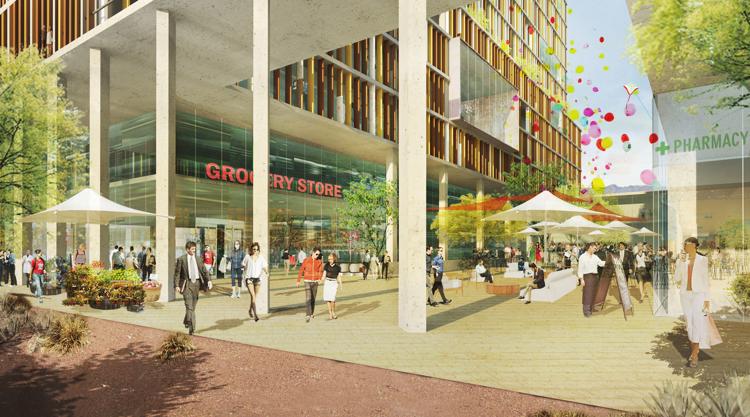 PERSONALLY INVESTED
Shenkarow grew up in the Sam Hughes Neighborhood and now lives near the Arizona Inn.
"I am blocks away from where this is going to be built," he said. "So I'm not going to build something stupid."
Among the local projects Shenkarow has developed are the Casas Adobes Plaza, San Clemente, Sunrise Village, Saguaro Vista, El Dorado Square and Main Gate Apartments.
If the council approves the Speedway-Campbell plan on Tuesday, the building could be completed by 2022.
Shenkarow estimates the project's budget at about $300 million.
"It will be the culmination of my life's work in the city and in this region," he said.
"At the end of the day I believe everyone is going to be very proud of what's there."
The council meeting begins at 5:30 p.m. Tuesday at City Hall, 255 W. Alameda St.