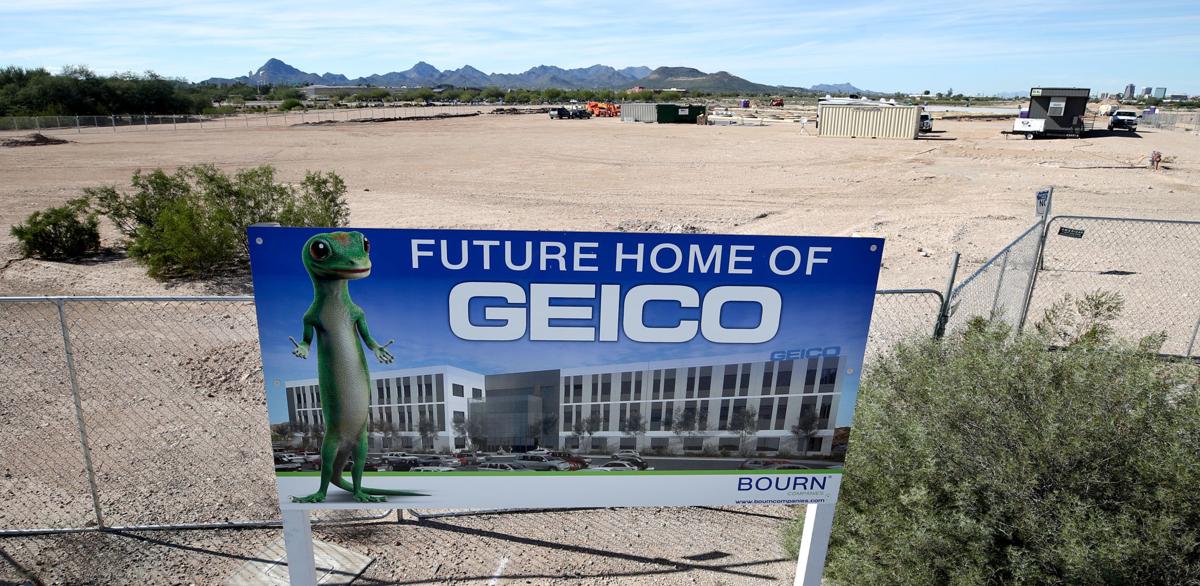 Work is underway on a new regional office for one of Tucson's largest employers.
A $26.5 million building permit has been issued for a 200,000-square-foot office building to house Geico, which has been in Tucson since 2003 and employs more than 2,000 workers.
Local developer, The Bourn Companies, is building the project on 20 acres at The Bridges, near 36th Street and Kino Parkway. The Bridges is comprised of the retail center, Tucson Marketplace and the University of Arizona Tech Park.
Bourn further plans to develop more office space, multifamily units and a community park on an additional 95 acres there in the future.
Geico will be the first corporate employer in the development and will consolidate its employees in the new office and add about 700 positions over the next few years.
The new regional office is expected to be completed by mid-2019, at the earliest.
Geico's Tucson office is currently in a three-building cluster at 930, 940 and 950 N. Finance Center Drive, near Speedway and Kolb Road.
Other construction activity around town includes:
Encantada Apartments at Continental Reserve got a $35.6 million permit to build 304 units in 16 buildings at 6101 W. Arizona Pavilions Drive.
A $23 million permit was issued to Marana Unified School District for a new K-8 STEM school at 5650 W. Moore Road.
Fico Cold Storage got a $3.9 million permit for a 40,000-square-foot industrial building at 1275 W. Sahuarita Road.
A $1 million, 17,465-square-foot storage building is going up at 516 W. Lester St.
Brake Masters is coming to Green Valley. The $800,000 permit is for a 5,000-square-foot shop at 18835 S. I-19 Frontage Road.
La Paloma Country Club is getting a $726,000 renovation at 3660 E. Sunrise Drive.
Twin Peaks Partnership LLC pulled a $700,000 permit to build a 4,480-square-foot retail shell in the Safeway shopping center at 9140 N. Silverbell Road.
Caid Industries is making $650,000 worth of improvements to its industrial space at 2001 E. Ganley Road.
Popeye's Louisianas Kitchen is moving into the Marana Marketplace at 3814 W. River Road. The $550,000 permit is for a 2,844-square-foot shop.
A $314,682 permit was issued to Mattamy Homes for a sales office at 5700 S. Houghton Road.
The business news you need
With a weekly newsletter looking back at local history.