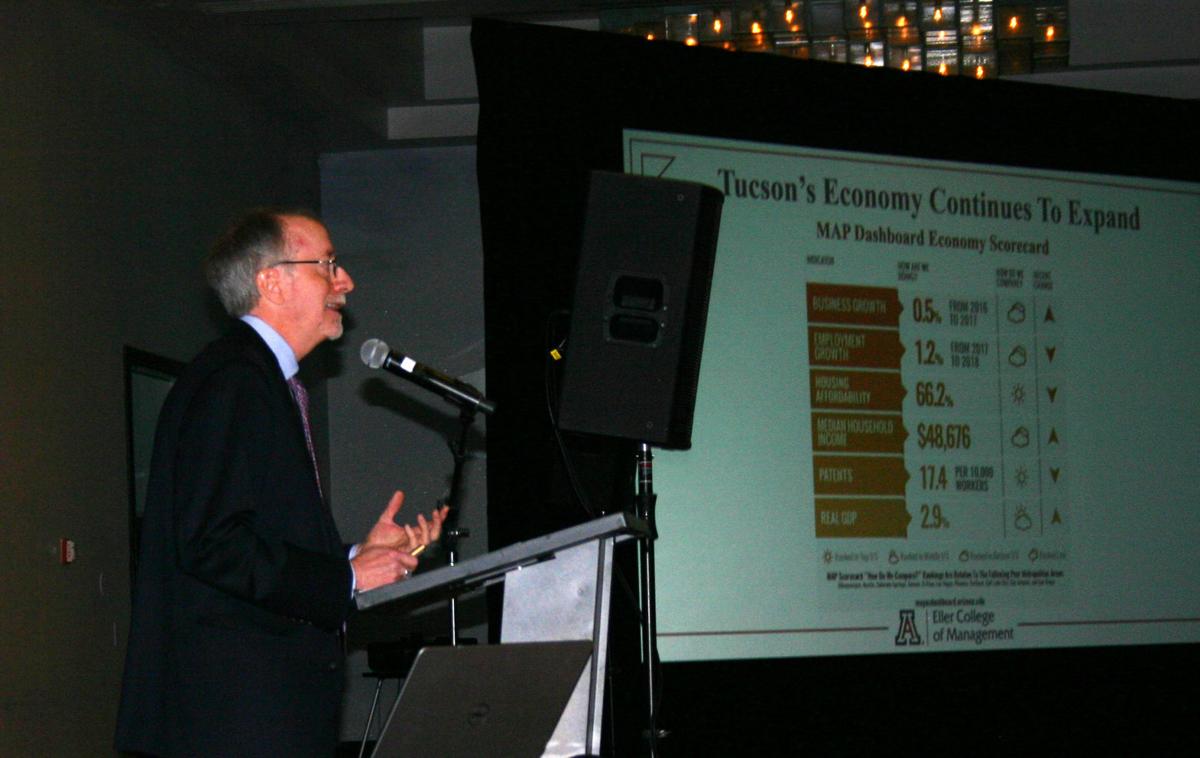 Tucson's economy will continue to grow jobs, population and income over the next few years barring a nationwide recession, though that progress is expected to slow, University of Arizona's top economist said Thursday.
Similarly, growth in the U.S. economy, which is in the midst of an historic expansion, is expected to slow to more sustainable levels over the next few years, a visiting Federal Reserve Bank economist said at the UA's annual "Breakfast with the Economists."
George Hammond, director of the Economic and Business Research Center at the UA's Eller College of Management, noted that the Tucson area generated 4,300 new jobs last year for a growth rate of 1.2%, about the same as 2017.
The construction industry added the most jobs last year, followed by manufacturing, education and health services, and professional and business services.
Tucson has carried that momentum into 2019, with jobs up 5,300 in the first quarter for 1.4% growth. In that time, government added the most jobs, followed by education and health services, manufacturing and construction.
But Hammond said he expects that growth to slow.
"Overall, I think the outlook is solid for 2019, and looks to continue to grow in 2020 and 2021," Hammond said. "But I think growth will be a bit slower than for the past couple of years, and that pattern in the forecast suggests that recession risks are a bit elevated."
He expects the Tucson region to add 4,700 jobs this year, an annual increase of 1.2%.
That's close to what's expected nationally, but well below forecast job increases of 2.4% statewide and 3% in the Phoenix metro area, Hammond noted.
Tucson-area job growth is expected to tail off to 0.9% in 2020 and drop to 0.5% in 2021 before rising again in 2022.
Arizona and the Tucson region's unemployment rate has remained stubbornly high, with Arizona's rate actually ticking up slightly over the past six months, Hammond said.
But that may just be a "side effect" of a strong labor market, as more people look for work here.
"Arizona's robust job growth is attracting more migrants to the state and it's drawing discouraged workers off the sidelines and back into the labor force," Hammond said.
Demographic changes are expected to drive the area's economy in the coming years.
The forecast calls for the number of Tucson-area residents to rise by 0.7% per year this year through 2022, which is close to national growth but well below expected state gains, Hammond noted.
Population gains will be primarily driven by positive net migration into the Tucson Metropolitan Statistical Area – which comprises all of Pima County – offsetting lower birth rates and higher death rates as the Baby Boomer generation ages, he said.
Population growth will support construction activity, Hammond said, but Tucson-area housing permits are expected to gradually decline from about 3,900 this year to 3,600 permits annually during the next three years.
Technological change such as emerging artificial intelligence applications and automation will increasingly affect Tucson's labor market over the next decades, Hammond said
He cited recent estimates suggesting that as many as 154,000 jobs, or 42.4% of employment in Tucson, could be at "high risk" of automation in the next 20 to 30 years.
But that's less than the estimated impact or 45.7% of jobs affected in the U.S.
Jobs that may face the highest risk from automation are in leisure and hospitality, along with trade, transportation and utilities and natural resources and mining industries. Education and health services, information and government jobs face lower risk.
Sylvain Leduc, executive vice president and director of research for the Federal Reserve Bank of San Francisco, said the U.S. economy in July will set a record for the longest economic expansion, surpassing the 1990-2001 expansion.
"It's been steady, and we've created a lot of jobs," Leduc said, noting that the U.S. lost nearly 9 million jobs during the during the Great Recession of 2008-2009 but has since created about double that number of jobs.
The U.S. has created so many jobs that the nationwide unemployment rate dropped to 3.6% as of April, far below the 4.5% mark that is considered "full employment."
"We don't see these numbers very often, you have to go back to the 1960s," Leduc said.
The nationwide unemployment rate has plunged even though more workers – including those who stopped looking for a job during the recession – are participating in the labor market by holding or searching for a job, he noted.
"This is really, really positive, because it tells us we have room to grow," Leduc said.
Taking into account expected gains in labor force participation and productivity that has been muted in recent years, Leduc forecast that the growth in the nation's gross domestic product, a key measure of economic output, will fall from about 3% recently to about 1.75%.
"The forecast is for growth to continue but at a more moderate pace, at a pace that will come closer to what we think is sustainable," Leduc said.
The Fed official said he expects the inflation rate, excluding food and energy costs, to stay close to the annual target of 2% that suggests stable prices, after staying just below 2% for much of the past decade.
The economy does face some risks amidst global tensions over issues like the battle over Brexit and the ongoing tariff fight with China that has rattled Wall Street recently, Leduc said.
But he said its important to note that although China comprises about two-thirds of U.S. exports, the overall trade sector represents about 25% of the overall economy.