Tucson's summer swelter and lashing monsoon storms can wreak havoc on power grids, but Tucson Electric Power Co. says it's ready.
TEP says it is boosting its reliability by upgrading lines and equipment, by spending some $1 billion over five years on system improvements, including $260 million this year alone.
Upgrades such as new substations and redundant distribution lines help avoid outages and allow TEP to restore service more quickly, Joe Barrios said.
"Our facilities are under constant stress, especially during the summer when demand for power is high," Barrios said. "Projects like these give us more flexibility to avoid outages and to restore service when they happen."
In an annual summer preparedness report to the Arizona Corporation Commission, TEP said it has lined up enough generating resources to provide a 15 percent reserve over expected peak demand.
Last year, TEP hit a record for peak demand on June 20, when the high temperature hit 116, and broke it again the next day when it was 115 and demand peaked at 2,406 megawatts.
The usage peaks occurred during a record-setting, nine-day stretch when Tucson temperatures exceeded 100 degrees every day and never dropped below the 80s.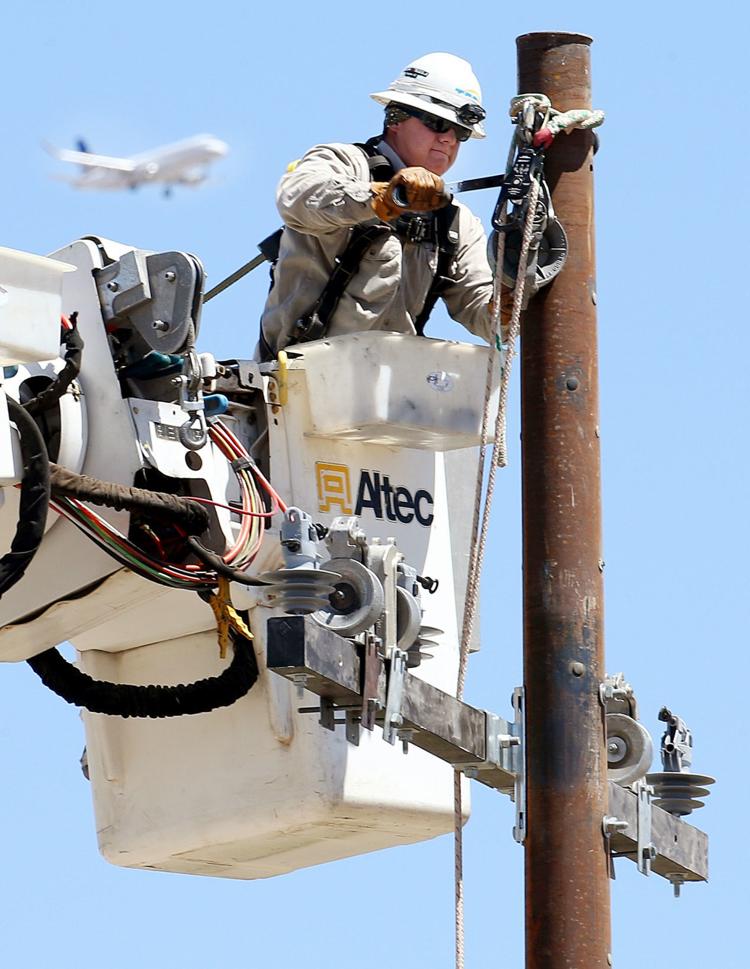 Given the unpredictable nature of weather patterns, TEP has contingency plans and can act swiftly to meet demand beyond any expected peak, Barrios said.
"We already have arrangements to provide more power than we think we need, but we will add to that if it looks like we're going to experience another heat wave."
Behind the scenes, TEP and other utilities plan their responses to demand spikes and major outages early on and coordinate their efforts all summer.
For TEP, which serves as the power grid "balancing authority" for southeastern Arizona, those efforts include participation in regional power-plant restarting drills, a daily conference call with the Western regional power transmission authority, weekly reliability conference calls with other Arizona utilities and quarterly meetings with a group of emergency responders.
SHORTENING OUTAGES
Though outage frequency and duration can vary significantly by system size and weather, TEP generally rates among the best for outage frequency and duration in industry surveys.
In fact, Arizona utilities generally fare comparatively well in such reliability measures because the state typically doesn't endure the kind of storms, snow and ice that utilities in many other states face.
In 2017, TEP had an average systemwide outage time of just over 65 minutes, virtually unchanged from 2016.
A separate measure of the average outage duration that any given customer would experience improved to 70.5 minutes, from 71.3 minutes in 2016.
The frequency of sustained outages per customer increased slightly in 2017, to just under one for each of TEP's roughly 426,000 customers.
While those figures track "sustained" outages of at least five minutes, TEP customers on average experienced 3.76 shorter, "momentary" power interruptions in 2017, up slightly from 2016.
Systemwide, TEP experienced 1,729 sustained outages in 2017, up from 1,662 in 2016 and each affecting an average of about 246 customers.
But thousands of customers can be affected by a single outage, such as one on May 29 that left 6,000 customers on Tucson's south side without power for about an hour during midafternoon after a substation cable failed.
According to U.S. Energy Administration data for 2016 — the most recent year for which nationwide data is available — TEP had the shortest average systemwide outage duration of all U.S. utilities with 400,000 or more customers, at just over 24 minutes, when days with major weather events are excluded.
Including "major event days," TEP's average outage time was 89 minutes in 2016, fifth-best among those biggest utilities, according to a Star analysis of the federal data.
Tempe-based Salt River Project led all major utilities in that 2016 measure with an average outage duration of 46 minutes.
UNS Electric, a TEP sister company that serves Santa Cruz and Mohave counties, had a systemwide outage duration of 62.5 minutes in 2016, the federal data show.
Among other Arizona utilities in 2016, Arizona Public Service Co., the biggest state-regulated power company, ranked 11th among 33 utilities with a million or more customers, with an average systemwide outage duration of 119 minutes including major-event days, and 87 minutes excluding major events.
Trico Electric Cooperative, which serves outlying areas of Pima County, reported an average systemwide outage duration of 41 minutes and didn't report any major-event days in 2016.
MAJOR UPGRADES
Some of TEP's recent and ongoing system upgrade projects include:
Recently completed construction of the 138-kilovolt Orange Grove Substation on the southwest corner of West Orange Grove and North La Canada roads at a cost of $14 million;
A recently completed, $10 million upgrade at the Vail Substation near Interstate 10 and South Rita Road, including the installation of new breakers, electrical switches, protective devices and communications equipment to help operators remotely operate power equipment;
Nearly completed, $2.8 million upgrade of an existing 138-kV transmission line that connects TEP's North Loop Substation, near West Tangerine Road and Interstate 10, to the Rancho Vistoso Substation in Oro Valley, where a $2.4 million upgrade was recently finished;
An ongoing upgrade and installation of new overhead and underground power lines in the Midvale Park Neighborhood, part of a nearly $1 million upgrade taking place along and near West Irvington and South Midvale Park roads over the next several weeks.
RUNNING ON BATTERIES?
Utilities are increasingly exploring the use of battery systems to store power from renewable as well as traditional generating resources, which on a larger scale could provide extra power during demand peaks and forestall the need to fire up gas generators or other resources.
TEP installed 20 megawatts of battery storage at two local sites last year, but they are mainly to provide fast, on-demand power to manage the intermittency of solar and wind generating resources.
TEP's next big storage project is a 30MW battery system that will store power generated by a 100 MW solar farm being built by Florida-based NextEra Energy Resources near South Wilmot Road and Interstate 10.
That solar and battery system, expected to go online by the end of 2020, will be big enough to provide significant amounts of power to the grid during demand peaks, Barrios said.
Meanwhile, TEP is turning to more efficient natural-gas peaking resources, with the planned installation of 10 quick-starting reciprocating internal combustion engines to replace two big gas turbines at the H. Wilson Sundt power plant on Tucson's south side.